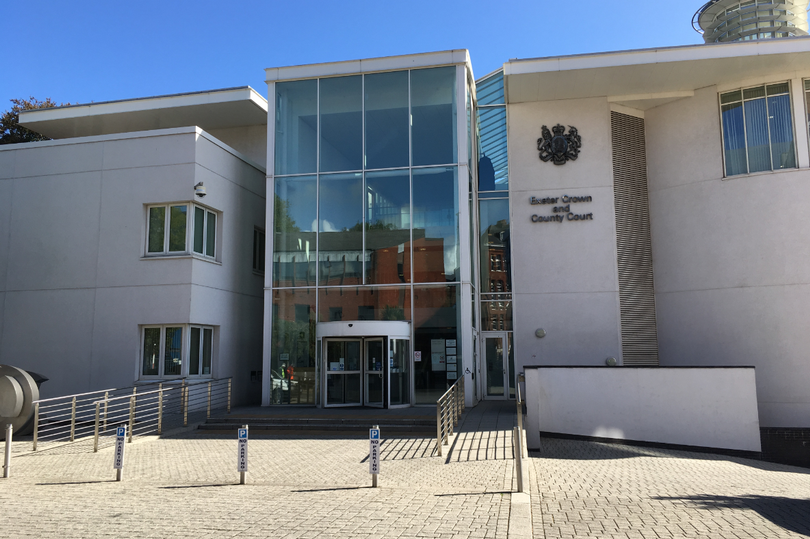 Prosecution
HIV man admits breaking order which bans him from relationships
July 30, 2020
An HIV positive man has admitted breaking an order which forbids him from starting relationships with women without telling them he is infected.
J.D. broke a Sexual Offences Prevention Order (SOPO) within months of being freed from a prison sentence for an identical offence.
He is a notorious sex offender who changed his name to try to hide his past and has been jailed once for abusing children and four times for breaking the SOPO.
D., aged 59, formerly of Brixham but now of no fixed abode, admitted a single count of breaking the SOPO by having contact with a woman in Paignton on June 29 this year.
He appeared at Exeter Crown Court by video link from the city's prison and was remanded in custody until his sentencing hearing by Judge Peter Johnson.
He ordered a psychological report and said: "He has made a number of appearances before the court and there is a growing list of convictions for breaching this order.
"Rather than just proceeding straight to sentence, I want to see what the underlying cause or causes are that lie behind his offending."
Mr Jason Beal, prosecuting, said a second charge of breaking the conditions of the sex offenders register between June 16 and 29 is not being pursued.
He said it was not in the public interest to have a trial on the issue in the light of D's plea to the SOPO offence.
Miss Ceylan Bayram, defending, said a psychological report would be more helpful than one from a psychiatrist but is likely to take eight weeks to obtain.
D. was last jailed for two years and eight months at Exeter Crown Court on February 15, 2019, after he admitted breaking the same order.
On that occasion he met a 62-year-old great grandmother through a dating website and they had a short physical relationship which fell short of full sex.
He is banned from having any contact with women without telling them of his HIV status by a Sexual Offences Prevention Order (SOPO) which was imposed after he infected an 82-year-old widow with the virus.
He met the woman in Brixham in August 2018 through the dating website Plenty of Fish.
He told her she looked lovely and asked to meet. He touched her intimately and kissed her without telling her of the order or his HIV status. He later claimed he was no longer infectious.
He also had contact with her two-year-old granddaughter, who he dangled on his lap, bounced on his knee and played with during a family wedding.
His order required him not to have any contact with a child under 16 without informing their parents, the police and social services about his previous offending.
D. has a history of violence, dishonesty and sexual offending and was made subject to the order in 2005 when he was jailed for inflicting grievous bodily harm on an 82-year-old woman by infecting her with HIV.
He had previously been jailed in 1989, when he was living in Ilfracombe, for under age sex. He was jailed again in 2009, 2013 and 2015 for breaching the SOPO.
Sentencing
Serial love rat who infected gran, 82, with HIV jailed over new relationship
February 15, 2019
X was sentenced to 32 months after breaching court orders which meant he must disclose to any woman he meets that he is HIV positive
A HIV-positive serial love rat who infected an 82-year-old grandmother with the virus has been jailed for his relationship with another woman.
X was sentenced to 32 months after breaching court orders which meant he must tell any woman he meets that he is HIV positive.
The order was first made in 2005 when he infected an 82-year-old woman with the virus after having sex with her.
Since then X has breached the Sexual Offences Prevention Order (SOPO) and Sexual Harm Prevention Order (SHPO) on various occasions.
Those orders banned him for engaging in sex with anyone if he had not told them he was HIV positive, and associating with children under 16 in a public or private place.
Yesterday Judge Paul Cook jailed him for a total of 32 months.
X met his latest victim after setting up a profile on the dating website Plenty of Fish.
He told his victim she "looked lovely" and he met the woman and visited her and her family on four occasions.
Judge Paul Cook said: "You engaged in sexual activity with her which involved intimate kissing.
"The sexual activity was intimate but it fell short of penile penetration."
The judge said he also played with her two-year-old great granddaughter, bouncing her up and down on his knees and playing with her toys.
He said he infected the 82-year-old woman with HIV when he was 44 and in 2015 he had a sexual relationship with a 65-year-old woman.
Prosecutor Mary McCarthy said X has a long history of offending including violence, dishonesty and sexual offences.
In 2009 he breached the orders four times when he undertook work for an elderly lady.
In 2012 after he was freed from jail he associated with a vulnerable female family member.
In 2014 he breached it by going to Guernsey with a woman with whom he had unprotected sex.
And again in 2014 he befriended a woman who had children.
Exeter Crown Court said his police offender manager investigated last September that X had begun a relationship with a 62-year-old woman in Brixham, Devon.
Miss McCarthy said: "It quickly developed into a relationship but not a sexual one. They were close quite quickly and there was kissing and sexual touching.
"She had not been informed he was HIV positive."
X was arrested but told police he had informed the woman of his HIV status.
And he said their relationship was a friendly one where he pecked her on the cheek – and denied it was a sexual relationship.
Kevin Hopper, defending, said: "There is a theme here of the same old offences committed time and time again.
"The terms of the order have been made crystal clear to him."
He said X, of Brixham, Devon, claims the chances of passing on his viral infection are zero.
Mr Hopper said: "He does not consider himself a sex offender.
"The order is an albatross around his neck."
He said if 57-year-old X discloses his sexual status to anyone it marks "the end of the relationship before it has started".
X admitted breaching the SOPO in October 2017 and breaching the SHPO in January 2019.
The judge told him: "You have persistently breached the order since 2005. The public are entitled to protection because you have infected someone in the past.
He said X had retreated from the last relationship just as police began investigating him.
Trial
Brixham repeat HIV sex offender faces 'significant' jail term
January 19, 2019
A man living with HIV is facing a "significant jail term" for having sex with a woman without telling her he has the virus.
Under the terms of a sexual offences prevention order (SOPO), the man, 57, has to tell anyone he is in a relationship with about his condition.
X, from Brixham, Devon, admitted breaching the order between 18 August and 4 September, at Exeter Crown Court.
He has served two previous prison sentences for breaching the order.
The court heard he pleaded guilty at an earlier hearing to a second breach of the SOPO by having contact with a child under the age of 16 without the contact being approved by social services and without the person supervising knowing about his convictions.
Judge David Evans ordered the preparation of a pre-sentence report on X "dealing specifically" with the risk he poses to others.
"You have pleaded guilty to both of these serious offences," he said.
"You understand that you will be sentenced to a significant term of custody in due course."
In 2005, X, who then went by another name, became one of the first people in Britain to be convicted of recklessly infecting someone with HIV.
The then 44-year-old infected admitted knowingly infecting an 82-year-old woman.
He was jailed for three years and three months and made a subject of the SOPO.
He previously admitted breaching the order in September 2014 by having sex with a woman without telling her about his condition and was also jailed.
He was remanded into custody and will be sentenced on 15 February.
Prosecution
Man with HIV accused of having sex without telling woman about virus
October 11, 2018
X, 57, will stand trial in February accused of breaching a sex ban notification order.
An HIV positive man from South Devon will stand trial accused of having sex with a woman without informing her about the virus.
X, 57, appeared at Exeter Crown Court via video link from prison charged with breaching the terms of his Sexual Offences Prevention Order.
It is alleged that he engaged in sexual relations with a woman without informing her of his HIV status, something he is required to do by an order imposed in 2005.
X entered a not guilty plea to the charge.
He was represented in court by Ms Ceylan Bayram who said the defendant maintained his innocence.
Prosecutor Ms Caroline Bolt said there would have to be a trial.
Judge Timothy Rose remanded X in custody.
A trial lasting two days will take place on February 13 next year.