Can you fill the GAP?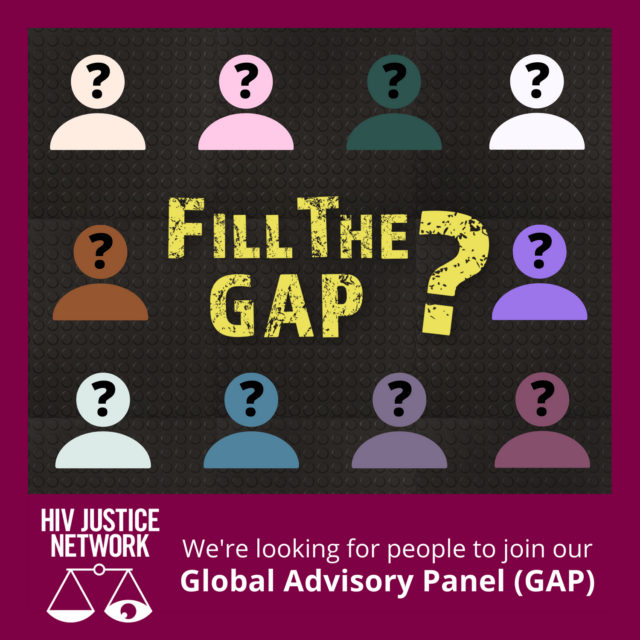 We are recruiting new members to join our Global Advisory Panel (GAP)
This is a voluntary position
The Global Advisory Panel (GAP) is the HIV Justice Network's international expert group comprising individuals working on HIV and intersectional criminalisations from all regions of the world.
There are currently 13 GAP members. We are looking for at least 7 more.
The Global Advisory Panel Terms of Reference is provided below. We suggest you read this, and key requirements and person specification, before submitting your application.
Key requirements
Having an interest in HIV criminalisation, and how this intersects with other social justice issues and movements.
Ability to work in English and have an internet connection suitable for taking part in online meetings: the work of the GP happens almost exclusively 'virtually'.
Ability to commit at least 12 hours a year and to serve a two- year term.
Person specification
Members of the GAP serve in an individual capacity, rather than as organisational representatives.
We are committed to ensuring that the composition of the GAP is diverse. We particularly welcome applications from people openly living with HIV, women, people who are not based in high-income countries, people under the age of 30, members of criminalised key population communities and other inadequately served communities, including people currently and formerly incarcerated.
Application process
The application deadline is Saturday 20th August 2022.
Applications will be carefully reviewed, and all applicants contacted in the first two weeks of September.
For any queries or clarifications regarding the work of the GAP, or the application process, please fee free to contact HJN's GAP Co-ordinator Julian Hows at julian@hivjustice.net
---
Terms of Reference of HJN's Global Advisory Panel
Functions
Assisting HJN in better delivering on its mission and objectives by:
Providing feedback on HJN's current work, activities and outputs.
Being both a 'critical friend' as well as ambassadors for the ways that HJN is delivering on its mission, strategically and operationally (as co-ordinator of the global movement to end HIV criminalisation).
Assisting HJN with building strategic alliances and future funding opportunities.
NB: The GAP is not a governance panel with legal responsibilities for oversight but rather a reference group.
Membership
The GAP comprises a maximum of twenty individuals, selected to be part of the GAP on the basis that they have specific skills, interests, and knowledge of the issues that HJN works on, and how this intersects with other social justice issues and movements. The membership is chosen by HJN's Management and Supervisory Boards to ensure a diversity of skills, experience, geography, and identity.
Additionally
In the composition of the GAP, HJN will seek to ensure:
An appropriate balance of individuals, so that the work of the GAP will include but not be limited to legal knowledge, human rights expertise, global funding, and the policy environment as well as lived experience and knowledge of HIV and key population criminalisation.
That the majority of people serving on the GAP are living with HIV and/or have lived experience or academic knowledge of the impact of the criminal law on the HIV response in diverse settings.
Diversity of geography that includes people from all regions including the Global South and countries with varying income levels (according to the World Bank classifications).
Inclusion of all key populations adversely affected by HIV criminalisation
Members of the GAP are not organisational representatives, though there will be synergies in many cases with the professional, voluntary, and representative roles that members they may also have. Neither are they expected as individuals to 'represent' a particular demographic or 'identity' that they may be perceived to be part of or feel affinity with.
Input and commitment required
All members of the GAP will be expected to:
Provide details, including a brief bio and photo, so that HJN can show the composition of the GAP on its website (of course this is subject to, and can be modified for reason of, individual security and safety of GAP members).
Make a Declaration of Interests upon joining the GAP, to be renewed annually, and to make a further declaration prior to any discussion in which they, their employer or organisation have an interest or may be perceived to have an interest. NB: Although GAP members serve as individuals, where a GAP member (as an employee or member of an organisation under discussion) has a conflict of interest with the interests of the HJN, they should recuse themselves from discussion of the relevant material.
Give a minimum of 12 hours per year to the work of the GAP, after any time spent on completing the bio details and induction process. This is expected to take the form of at least four teleconferences per year of no more than two hours, plus periodic (via email, survey, and possible one on one or group conversations) requests from HJN.
Remuneration
Involvement with and serving on the GAP is not a remunerated position. However:
No individual is expected to be out of pocket for any activities entered into or undertaken on behalf of the GAP. Such remuneration may include, and not be limited to, reimbursement of telecommunication or web access costs. These would need to be agreed with HJN in advance.
Serving as a member of the GAP does not preclude being employed by HJN as a consultant or contracting service to HJN though the provision covering Making a Declaration of Interests at Item 2 above (in Input and commitment required) will apply.
Length of office
GAP members are appointed for an initial term of two years, although this can be renewed.