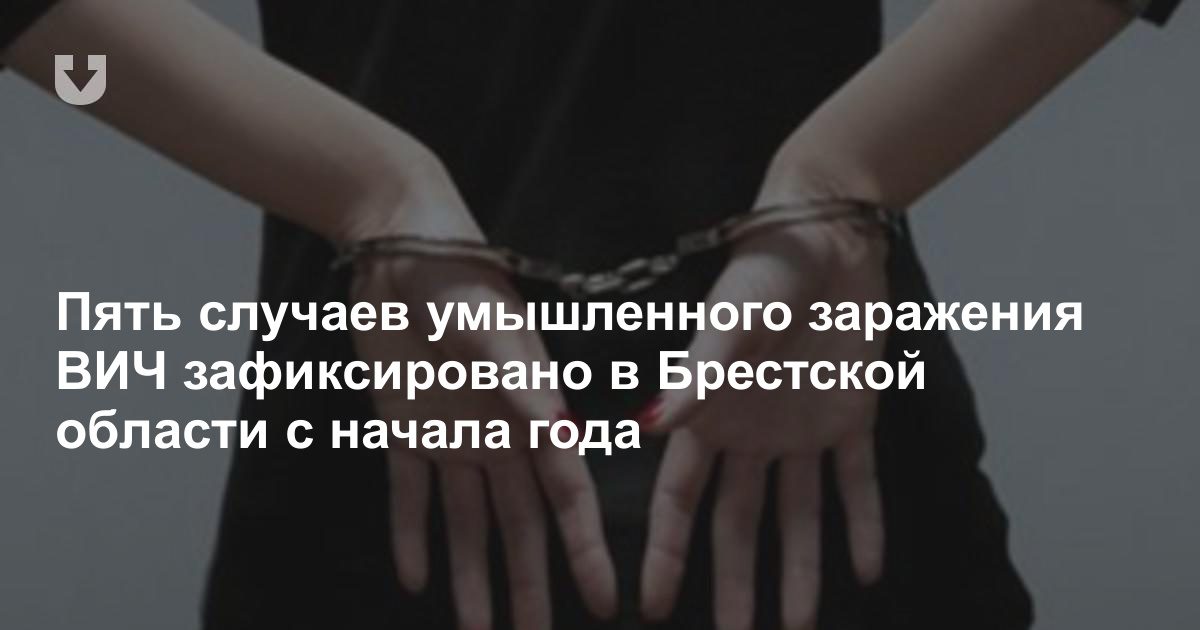 Prosecution
Five cases of deliberate HIV infection recorded in the Brest region since the beginning of the year
November 27, 2017
Google translation - Scroll down for article in Russian
Since the beginning of 2017, trials on five cases of deliberate HIV infection have been held in the Brest region, the perpetrators were punished. This was announced by the head of the HIV / AIDS prevention department of the regional center of hygiene, epidemiology and public health Leonid Glebko at a press conference on World AIDS Day.
Police officers establish yet another fact of HIV infection in a resident of one of the districts of the Brest region, the senior operative of the drug control and anti-trafficking department of the criminal police of the police department of the regional executive committee Oles Stepanova said. "The police received a statement from a local resident. The man suggests that he was infected with HIV during unprotected sexual contact. An audit is underway, "she said.
According to experts, in recent years, sexual contact is the main way of transmitting HIV infection – in the Brest region this year in 82.4% of cases were thus infected in this way. As of November 1, 1,434 people were living in the region with HIV. In January-October, 142 new cases of HIV were detected, including one case in the 15–19-year-old age group. For 9 months, 146 thousand people were tested for HIV in the region – an increase of 3.7% compared to the same period in 2016. "We will expand the survey. It is necessary to identify all persons who do not yet know their HIV status or are leaving the test. Unfortunately, there are some, "said Leonid Glebko.
In the region for the second year on a voluntary basis examined the sexual partners of pregnant women. This also gives a result. Thus, in the current year, 4 cases of HIV infection were detected. During the year, more than 15 cases of HIV infection are detected among pregnant women. "In 2016, out of 27 HIV-positive pregnant women, for the first time, 13 people recognized their status when registering for pregnancy — almost half. In 2017, this figure is about 38.8%. The fact that the sexual partners of pregnant women are examined is very correct, "added Lyudmila Kostyukevich, an infectious diseases specialist at the regional consultative dispensary office for providing medical care to HIV-infected and AIDS patients.
The majority of HIV-infected people in the Brest region are people aged 15–49. According to experts, in recent years there has been a tendency to shift the age of detection of HIV infections from 15–29 years to an age of 30 years and older. The proportion of women in the overall morbidity structure for January-October was 32.6%.
---
Пять случаев умышленного заражения ВИЧ зафиксировано в Брестской области с начала года
Читать

В Брестской области с начала 2017 года состоялись суды по пяти случаям умышленного заражения ВИЧ-инфекцией, виновные понесли наказание. Об этом сообщил заведующий отделом профилактики ВИЧ/СПИДа областного центра гигиены, эпидемиологии и общественного здоровья Леонид Глебко на пресс-конференции, посвященной Всемирному дню борьбы со СПИДом.
Сотрудники милиции устанавливают еще один факт заражения ВИЧ жителя одного из районов Брестской области, сообщила старший оперуполномоченный управления по наркоконтролю и противодействию торговле людьми криминальной милиции УВД облисполкома Олеся Степанова. «В милицию поступило заявление от местного жителя. Мужчина предполагает, что во время незащищенного сексуального контакта был заражен ВИЧ-инфекцией. Проводится проверка», — сказала она.
По словам специалистов, в последние годы сексуальный контакт является основным путем передачи ВИЧ-инфекции — в Брестской области в текущем году таким образом заразились в 82,4% случаев. По состоянию на 1 ноября в регионе с ВИЧ проживали 1434 человека. За январь-октябрь выявлено 142 новых случая ВИЧ, в том числе один случай в возрастной группе 15−19 лет. За 9 месяцев в области обследованы на ВИЧ 146 тыс. человек — на 3,7% больше по сравнению с аналогичным периодом 2016 года. «Мы будем расширять обследование. Необходимо выявить всех лиц, которые еще не знают свой ВИЧ-статус или уходят от обследования. Есть и такие, к сожалению», — отметил Леонид Глебко.
В регионе уже второй год на добровольной основе обследуют половых партнеров беременных женщин. Это тоже дает результат. Таким образом в текущем году были выявлены 4 случая ВИЧ-инфекции. За год среди беременных выявляется более 15 случаев заражения ВИЧ. «В 2016 году из 27 ВИЧ-положительных беременных женщин впервые свой статус узнали при постановке на учет по беременности 13 человек — почти половина. В 2017-м этот показатель составляет порядка 38,8%. То, что обследуются половые партнеры беременных женщин, очень правильно», — дополнила врач-инфекционист областного консультативно-диспансерного кабинета по оказанию медицинской помощи ВИЧ-инфицированным и больным СПИДом Людмила Костюкевич.
Большинство ВИЧ-инфицированных в Брестской области — люди в возрасте 15−49 лет. По словам специалистов, в последние годы наблюдается тенденция смещения возраста выявления случаев ВИЧ-инфекции с 15−29 лет на возраст 30 лет и старше. Удельный вес женщин в общей структуре заболеваемости за январь-октябрь составил 32,6%.