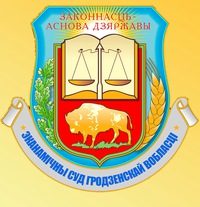 Report
BELARUS INVESTIGATES FIVE CRIMINAL CASES ON THE FACT OF INTENTIONAL HIV INFECTION
January 28, 2016
Google translation - Scroll down for article in Russian
In the Hrodno region of Belarus, five criminal cases on the fact of deliberate HIV infection are being investigated, according to Victor Morozov, prosecutor in Hrodno Region .
'About a year ago, a creation of a public council was initiated to assist law enforcement agencies in the fight against crimes at the prosecutor's office of the Hrodno region. It addresses sensitive issues, including HIV. HIV problem in the region is not so acute, but one should not forget about it. Especially now, in this area the number of criminal cases is growing', IA Belta quotes Mr. Morozov.
In particular, it is about an inhabitant of Grodno, who is suspected in deliberately transmitting HIV to at least four women. He was registered as HIV-positive in 2003, but concealed his disease from sexual partners. With respect to his criminal case under Article 175 of the Criminal Code of Belarus, providing for the punishment of imprisonment for a term from 5 to 12 years. Criminal cases on charges for deliberate HIV transmission were initiated against inhabitants of Slonim, Lida and Hrodno regions.
Russia has also registered cases of intentional HIV transmission, for example, a resident of Kemerovo region was sentenced to three years of prison for the same crime.
---
В Беларуси, в Гродненской области расследуются пять уголовных дел по факту умышленного заражения ВИЧ. Об этом сообщил прокурор Гродненской области Виктор Морозов.
«Около года назад было инициировано создание общественного совета для оказания содействия правоохранительным органам в борьбе с преступностью при прокуроре Гродненской области. На заседаниях рассматриваются в том числе деликатные вопросы, например, тема ВИЧ. Проблема ВИЧ в регионе стоит не настолько остро, но и забывать о ней не стоит. Тем более что сейчас в этой сфере возбужден ряд уголовных дел», – приводит ИА «БЕЛТА» слова Морозова.
В частности, речь идет о жителе Гродно, который подозревается в умышленном заражении ВИЧ как минимум четырех женщин. Уточняется, что он стоял на учете как ВИЧ-инфицированный с 2003 года, однако скрывал свое заболевание от половых партнеров. В отношении него возбуждено уголовное дело по ст. 175 УК Беларуси, предусматривающее наказание в виде лишения свободы на срок от 5 до 12 лет. Кроме того, уголовные дела по факту умышленного заражения ВИЧ возбуждены в отношении жителей Слонимского, Лидского и Гродненского районов.
В России также зарегистрированы случаи умышленного заражения ВИЧ, например, житель Кемеровской области за такое преступление был осужден на три года колонии.