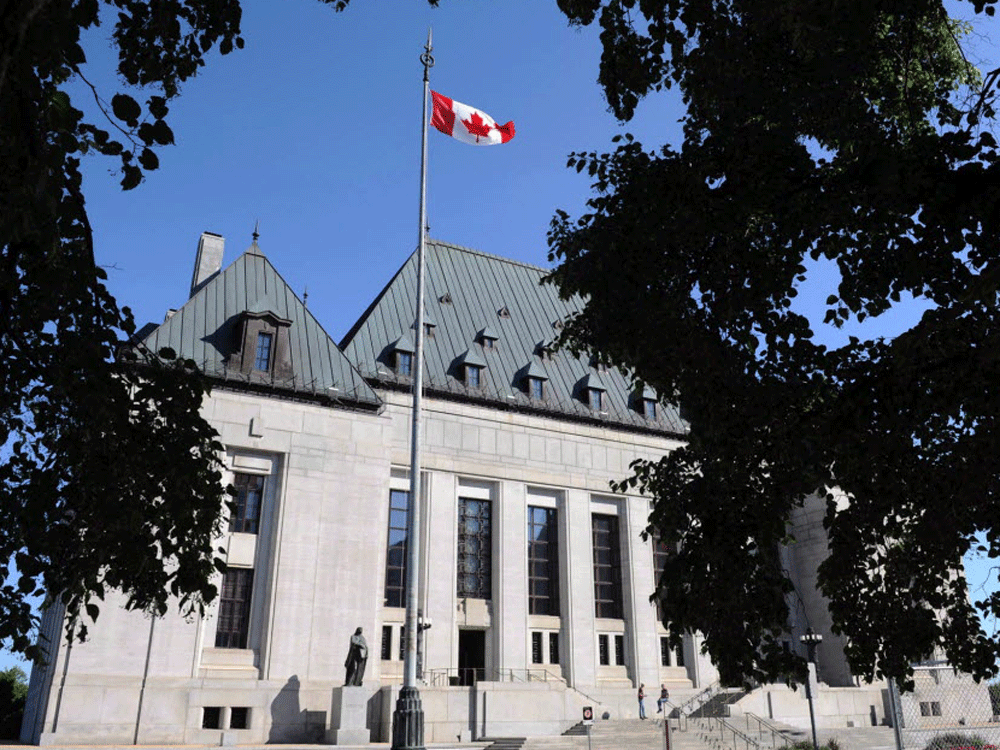 Appeal lost
Ontario man with HIV still guilty of aggravated sex assault despite using condom: court
August 7, 2020
Source:
The Canadian Press
Ontario's top court rejected arguments that condom use is a sure fire way to prevent transmission of the virus that can lead to AIDS.
TORONTO — An HIV-positive man who had protected intercourse with three women without telling them about his health status has had his aggravated sexual assault conviction upheld.
In dismissing his appeal, Ontario's top court rejected arguments that condom use is a sure fire way to prevent transmission of the virus that can lead to AIDS.
"There is no dispute that a perfectly functioning latex condom provides a perfect barrier to HIV transmission," the Appeal Court said. "(But) condoms do not always work as they are intended to work."
For one thing, the court said, if a person is unaware of the risk, he or she may also not be as vigilant when using a condom.
Trial evidence was that the man, identified only as N.G., had been warned in October 2013 to tell prospective partners he was HIV-positive. He failed to do so, despite having repeated sex with the three women over several months.
They complained they would not have had intercourse with him had they known. One contracted HIV after sex with N.G., but it's not known whether he infected her. Another said she felt suicidal while awaiting test results.
At trial, N.G. argued condom use made HIV transmission impossible. However, Superior Court Justice Edward Gareau rejected the argument in November 2017. While condoms can prevent HIV transmission, Gareau found they are only 80 to 85 per cent effective in real world circumstances.
Citing a 2012 Supreme Court of Canada ruling known as Mabior, the judge found a "realistic possibility" of HIV transmission existed when N.G., who was highly contagious, was having sex with the women. The 2012 ruling also made it clear that the failure to tell a partner about one's status amounted to legal "fraud" that negated consent to sex.
Gareau convicted the accused but before sentencing him to 42 months, N.G. tried to reopen the trial by arguing the Supreme Court jurisprudence should be modified. He called in one expert on whom the top court had previous relied, Dr. John Smith from Winnipeg. Smith testified his thinking on condom use had evolved in recent years.
"An individual who always uses a condom and is careful in its use can be almost 100 per cent sure that the HIV virus will not be transmitted," Smith said.
Interveners such as the HIV Legal Network also argued proper condom use alone should be enough to remove a "realistic possibility" of transmission for criminal law purposes.
Both Gareau and the Appeal Court rejected the assertion given the potential for condom failure.
"The Mabior decision reflects the Supreme Court's appreciation for the fact that perfectly operating latex condoms provide a perfect barrier to the transmission of HIV," the Appeal Court said. "It also reflects the court's understanding that sex happens in the real world and that, in that world, human error and condom failure are concerns across the population."
In this case, the appellate court said, N.G. had intercourse with the women at a time his viral load — a strong indicator of infectiousness — was not low. Wearing a condom did not definitively rule out a realistic possibility of HIV transmission, it said.
The interveners also argued that criminalizing people with HIV who use condoms is bad public policy and only adds to their stigmatization. While the issue might one day be reconsidered, the Appeal Court found no reason to do so in the current case.
Appeal
Criminal appeal could set a new precedent for HIV patients who use condoms during sex
February 12, 2020
A 2012 Supreme Court ruling said HIV patients are not always obligated to disclose their condition
A group of HIV/AIDS organizations is hoping to establish a new legal precedent that would keep people with HIV from facing criminal charges if they use a condom during sex.
The group will make its argument Wednesday at an ongoing case at the Ontario Court of Appeal in Toronto.
The appeal was launched by a man who was convicted of aggravated sexual assault in 2017 after three complainants said he did not disclose his HIV diagnosis before their sexual encounters.
The man, identified by the initials N.G., used a condom and did not transmit the virus to any of them. He was sentenced to 42 months in prison, short of the life sentence possible after an aggravated sexual assault conviction.
"There should not have been a prosecution. The law should not be criminalizing people who use condoms," said Richard Elliott, executive director of Canadian HIV/AIDS Legal Network, one of three groups intervening in the appeal.
"We know that the risk of transmission in such circumstances is zero."
The HIV & AIDS Legal Clinic Ontario and the Coalition des organismes communautaires québécois de lutte contre le sida (COCQ-SIDA) are also involved.
The groups say more than 200 people in Canada have been unfairly prosecuted for non-disclosure of their HIV status.
N.G. was found guilty after a judge determined he was obligated to disclose his condition to his partners.
But the judge's ruling, Elliott argues, was based on an incorrect reading of the law, which allows for people with HIV to not disclose their condition to sexual partners in certain cases.
The Supreme Court of Canada ruled in 2012 that HIV patients were only obligated to disclose their condition if there was a "realistic possibility of transmission." The court also acknowledged that advances in treatment of HIV may narrow the circumstances where there is a duty to disclose.
In December 2017, the Department of Justice said that criminal law should "generally not apply" to people with HIV if they have small amounts of the virus, or if they properly use a condom during sex.
However, the judge ruled N.G.'s condom use did not meet the threshold for non-disclosure, since he was not being treated for HIV and was carrying higher levels of the virus than is considered safe.
Elliott called that a "highly discriminatory application of criminal law" that does not account for the latest scientific data on HIV transmission and condoms.
"That's why I think this case is so important, because it's going to squarely revisit this question of whether condoms actually will suffice to preclude a criminal conviction," he said.
The ruling could set a precedent for other HIV non-disclosure cases across Canada, he said.
'Fear and hysteria'
Mark Tyndall, an HIV expert and professor at the University of British Columbia's public health department, said condoms are "100 per cent" effective at preventing the transmission of HIV.
He has served as an expert witness in several criminal cases involving non-disclosure, in which he said outdated fears about the disease have led to needlessly harsh punishments.
"We should have put this scientifically to rest decades ago," Tyndall said. "To change the fear and hysteria around HIV takes decades, we're hopefully at the tail end of this."
Many HIV experts, including Tyndall, say the disease should be treated as a public health, rather than criminal, issue, especially in cases when the person with HIV took precautions to protect their sexual partners.
The threat of criminal prosecution "creates a context of fear" among people with HIV, says Alex McClelland, which may prevent some from disclosing their condition to partners and discourage others from being tested.
McClelland contracted HIV more than 20 years ago from a partner who did not disclose their condition. He now studies the criminal justice system as a postdoctoral fellow at the University of Ottawa.
"Me going to the police about that would not solve anything, would not make anything better for me," he told CBC Toronto.
Appeal
Man convicted of not disclosing HIV status released pending appeal
January 21, 2019
He was sentenced to 3.5 years in November.
The province's top court has released XX from custody pending the Sault Ste. Marie man's appeal of his aggravated sexual assault convictions.
Superior Court Justice Edward Gareau sentenced him to 3.5 years in prison on Nov. 19 for failing to disclose his HIV status to three sexual partners.
The Ontario Court of Appeal granted the 28-year-old bail last month as he awaits a hearing on his appeal, his lawyer Jennifer Tremblay-Hall said Monday.
X was convicted of three counts of aggravated sexual assault, following a trial where the court heard testimony from a trio of women who met him through a dating website.
The offences occurred between July 2013 and April 2014.
Conviction
Man with HIV guilty of aggravated sexual assault
November 24, 2017
A Sault Ste. Marie man was found guilty of aggravated sexual assault after having sex with three women and not telling them he was HIV-positive.
One of the women learned she had HIV after her relationship with X ended.
He had oral and vaginal sex separately with the victims between July 2013 and April 2014.
They cannot be identified under a publication ban.
A public health laboratory found X tested positive for human immunodeficiency virus in October 2013.
Algoma Public Health contacted X in January 2010 telling him he was named as a contact in a non-confirmed case of HIV, Superior Court of Justice Edward Gareau notes in his 21-page decision dated Nov. 15.
A registered nurse at APH advised X he should get tested for HIV, tell any sexual partners about his HIV status and use a condom for any acts of oral, vaginal and anal intercourse.
X met again with a public health nurse at APH in October 2013 after his HIV diagnosis.
"X was advised of the importance of not putting anyone at risk of the disease and advised to either abstain from sexual relations or to use a condom during all acts of sexual relations," said Gareau. "X was told of the importance of disclosing to all sexual partners his HIV status and that X indicated he understood this."
X met two of the women through an online dating site. The third was introduced to X by his brother.
No one was interested in a long-term relationship.
The sole purpose of the encounters between the three complainants and X was to have sexual relations," said Gareau.
One woman said X did not wear a condom during oral sex. He wore a prophylactic during vaginal intercourse.
A second female offered similar testimony. X used a condom during sexual intercourse, but he did not wear a rubber sheath when she performed fellatio on him. She sometimes spit out his ejaculate. The woman said he didn't share his HIV status.
Due to a previous health condition, she has tests done annually. She tested negative for HIV during her relationship with X between July 2013 and March 2014, but positive in October 2014.
A third woman's testimony detailed X not wearing a condom during oral and vaginal sex in December 2013 and January 2014. X, she said, did not disclose he was HIV-positive.
"She indicated in her testimony that had she known X was HIV-positive and that had that been disclosed to her, she would not have had sexual relations with X," said Gareau.
The woman learned of his HIV status in a press release from Sault Ste. Marie Police Service. She tested negative for HIV.
Gareau expressed concern about the third victim's lack of clear memory about her sexual relations with X.
"Not using a condom during vaginal sexual intercourse was not part of X's modus operandi," he said. "I have concerns about accepting her evidence that a condom was not used during acts of sexual intercourse and I do not accept that evidence."
Infectious disease specialist Dr. Wendy Lee Wobeser told court a condom, when used properly and no breakage occurs, is 100 per cent effective at stopping HIV transmission.
Gareau found X knew he was HIV-positive when he had sex with the women and did not disclose his condition. He didn't start antiretroviral medication and treatment until April 2014 after his sexual relationships with the trio. By May 2014, "his viral load would have dropped to the point where if he was using a condom the risk of transmission would be very low, reaching the point where there was no realistic possibility of transmission of the HIV virus," said Wobeser.
The case was heard over seven days in June and July.
X is believed to be the first Sault resident to be charged with having sex with someone without disclosing their human immunodeficiency virus status.