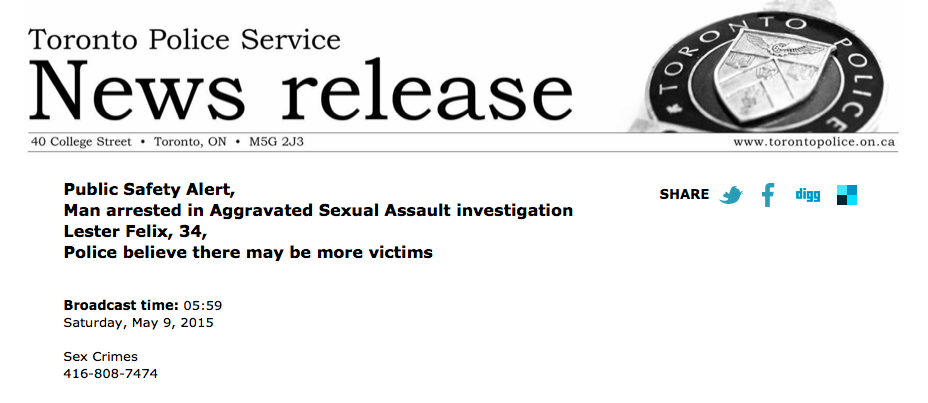 Arrest
Man arrested in aggravated sexual assault investigation
May 10, 2015
Toronto police are alerting the public after a man previously charged for not disclosing his HIV status to a sexual partner allegedly broke his bail conditions. Toronto police say another police service charged the man with aggravated sexual assault in 2013 after he allegedly had unprotected sex without disclosing his HIV status to his partner.
In a news release issued Saturday, police said they became involved in an investigation on April 9 which led to them to believe the man had breached his bail conditions in February 2015. Police did not specify which bail condition they believe he violated.
In their release Saturday, police said the man had been arrested. X, 34, of Toronto has been charged with two counts of fail to comply recognizance.
He made a court appearance April 21.
Police have released a photo of X and say they believe there may be more victims. They are advising anyone who has had a relationship with X to seek medical attention and to contact police.
Charged
Police seek HIV+ man's partners
August 26, 2009
Toronto police have charged a man with aggravated assault after he allegedly had unprotected sex with a woman without telling her he had been diagnosed with HIV.
The man met the victim through the online chat site meetmeinto.com and they corresponded for four years before meeting, said Det. Mark Charuk.
Police said they are worried there may be more victims.
The man was diagnosed with HIV in 2005.
X, 28, of Toronto faces one count of aggravated assault, two counts of failing to comply with probation and one count of common nuisance.
Police are releasing X's photo and urging anyone who has had sexual contact with him to seek medical advice and contact police.