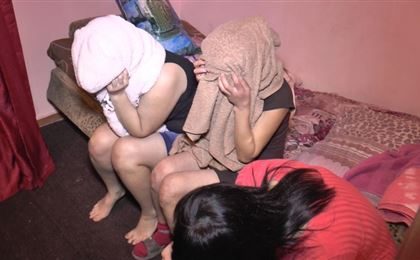 Other
Almaty police revealed positive HIV status in 98 prostitutes
February 12, 2015
The data are reported by the Department of Internal Affairs of Turksib district of Almaty.
Almaty police counted in Turksib District 98 girls of easy virtue, who provide sexual services, who are infected with HIV, according to Caravan.kz with reference to the press service of the city's Department of Internal Affairs.
As head of the Internal Affairs of Turksib district police Daniyar Mendybayev as a result of local and targeted detentions girls of easy virtue left across the roadway Seifullin Avenue.
'They have relocated their permanent place of work to roadside cafes, hotels, bars and apartments, rent hourly grid. The so-called hot spots are also revealed in the course of raids, their owners and administrators for maintaining premises for the provision of sexual services are involved in both the administrative and criminal liability', he said.
However, to sex workers for engaging in these activities, the measures were not provided, except for the fact of their molestation to citizens in public places, which is governed Article 449 ( "Soliciting in public places") of the Administrative Code. In this case, the offenders are subject to administrative liability.
'After identifying the persons providing sexual services, they are delivered to the district department of internal affairs, and within three hours, by law, their identity is confirmed and data validation is performed on all available account on involvement in any crimes and offenses. Among them are frequent violations of migration legislation by foreign citizens and by our compatriots who do not have permanent residence in Almaty', said Mendybayev.
Also, the police carried out joint activities with the doctors from the City Center for prevention and control of AIDS. To date, HIV was diagnosed in 98 women providing sexual services.
'Such information is made public by us for the purpose of warning people about the serious diseases in girls of easy virtue. Perhaps, therefore, persons who use the services delivered by the representatives of this kind of activity, determine for themselves the important priorities for the preservation of your health and do not commit rash acts. In this regard, it is worth noting also that alleged HIV infection by a person who has information about the disease, is a criminal offense and entails criminal liability, respectively,' summed up the Colonel Mendybayev.
---
Такие данные приводит Управление внутренних дел Турксибского района Алматы.
Алматинская полиция насчитала в Турксибском районе 98 девушек легкого поведения, которые оказывают интимные услуги, которые инфицированы ВИЧ, передает Caravan.kz со ссылкой на пресс-службу ДВД города.
Как отметил начальник УВД Турксибского района подполковник полиции Данияр Мендыбаев, в результате локальных и целенаправленных отработок девушки легкого поведения ушли с проезжей части проспекта Сейфуллина.
«Они передислоцировали место своей постоянной работы в придорожные кафе, гостиницы, бары и квартиры, сдаваемые в наем почасовой сетке. Так называемые злачные места тоже выявляются в ходе рейдов, их владельцы и администраторы за содержание притонов для оказания интимных услуг привлекаются как к административной, так и уголовной ответственности», – сказал он.
Однако, к самим представительницам коммерческого секса за занятие этой деятельностью меры не предусмотрены, за исключением фактов их приставания к гражданам в общественных местах, что регламентируется статья 449 КРКобАП ("Приставание в общественных местах"). В этом случае правонарушители привлекаются к административной ответственности.
«После выявления лиц, оказывающих интимные услуги, они доставляются в районное управление внутренних дел и течение трех часов, предусмотренных законодательством, устанавливается их личность и осуществляется проверка данных по всем имеющимся учетам на причастность к каким-либо преступлениям и правонарушениям. Среди них нередки факты нарушения миграционного законодательства иностранными гражданами и нашими соотечественницами, которые не имеют в Алматы постоянной регистрации», – сообщил Мендыбаев.
Также полицейские проводят совместные мероприятия с врачами из городского Центра профилактики и борьбы со СПИД. На сегодняшний день ВИЧ выявлен у 98 девушек, оказывающих интимные услуги.
«Такие сведения озвучены нами с целью предупреждения граждан о серьезных заболеваниях у девушек легкого поведения. Возможно, таким образом, лица, прибегающие к услугам представительниц этого рода деятельности, определят для себя важные приоритеты для сохранения своего здоровья и не совершат необдуманных поступков. В этой связи, также стоит отметить, что умышленное заражение ВИЧ-инфекцией лицом, располагающим сведениями о своем заболевании, является уголовно-наказуемым деянием и влечет за собой уголовную ответственность соответственно», – подытожил подполковник Мендыбаев.