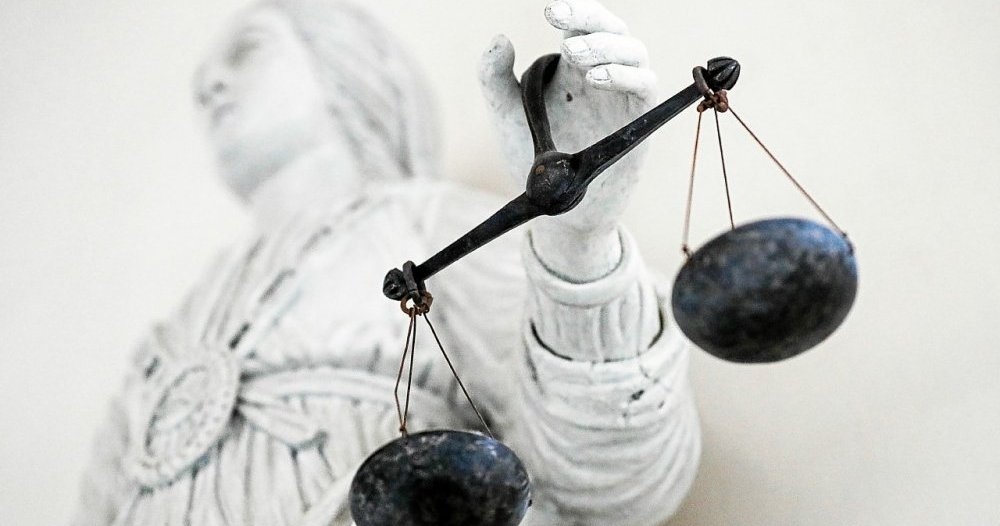 Sentencing
Court of Quimper: HIV positive, she is sentenced for having infected her ex-boyfriend
December 21, 2021
Source:
https://www.letelegramme.fr/finistere/quimper/tribunal-de-quimper-seropositive-elle-est-condamnee-pour-avoir-contamine-son-ex-compagnon-21-12-2021-12893999.php
Automated translation via Deepl.com - For original article in French, please scroll down
A 41-year-old woman from Concarn was sentenced to 30 months in prison, 24 of which were suspended, on Tuesday 21 December, by the court in Quimper. The forty-year-old woman was prosecuted for "administration (to her ex-spouse) of harmful substance followed by incapacity higher than 8 days".
The complex case had been examined in a correctional hearing, last November 29, in Quimper. The man at the origin of the legal procedure, contaminated by his seropositive ex-girlfriend, had then assured that the defendant had not disclosed to him that she had HIV. A version refuted by the latter. At the end of the hearing, the judgement had been put under consideration. It was thus returned this Tuesday December 21.
The forty-year-old will carry out her six months of detention, not in prison, but at home, under electronic surveillance.
---
Tribunal de Quimper : séropositive, elle est condamnée pour avoir contaminé son ex-compagnon
Une Concarnoise de 41 ans a été condamnée à 30 mois de prison dont 24 avec sursis, ce mardi 21 décembre, par le tribunal de Quimper. La quadragénaire était poursuivie pour « administration (à son ex-conjoint) de substance nuisible suivie d'incapacité supérieure à 8 jours ».
L'affaire, complexe, avait été examinée en audience correctionnelle, le 29 novembre dernier, à Quimper. L'homme à l'origine de la procédure judiciaire, contaminé par son ex-compagne séropositive, avait alors assuré que la prévenue lui avait caché être porteuse du VIH. Une version réfutée par cette dernière. Au terme de l'audience, le jugement avait été mis en délibéré. Il a donc été rendu ce mardi 21 décembre.
La quadragénaire effectuera ses six mois de détention, non pas en prison, mais à domicile, sous surveillance électronique.
Trial
Had she informed her partner of her HIV status?
November 29, 2021
Automated translation via Deepl.com. For article in French, please scroll down.
Did the defendant hide her HIV status or did her contaminated partner always know? A sensitive case examined in a court hearing on Monday, and on which the judges of Quimper will not rule until December 21.
The atmosphere was heavy in the courtroom of the Quimper courthouse, this Monday 29 November, when Judge Benech and her assessors opened this case.
It plunged into the complexity of a mechanism leading to the irreparable. The atmosphere was as heavy as the charge for which this forty year old woman is appearing: "Administration of a harmful substance resulting in Total Incapacity to Work of more than eight days by a person who was her partner".
As heavy as the demands of the public prosecutor: five years in prison demanded by the prosecutor Tailhardat, at the end of meticulous, precise and dignified debates. Justice must be seen to be unvarnished in the intimate. The very intimate, even. Justice that first took the path of the Finistère Assize Court…
But, this Monday, it is indeed in the correctional court that the two scenarios will be examined, at the end of a long, very long procedure: the facts reproached are identified as having taken place between 2006 and 2009. "The first of these scenarios is drawn by the ex-cohabitant of the defendant. The man at the origin of the legal proceedings is HIV-positive, contaminated by his ex-partner. She had always hidden her HIV status from him, even after the birth of their daughter. "One day, I felt abnormally tired," he explained to the judges. Tests ordered by the occupational physician during a routine visit revealed that he was HIV-positive. "At no time did my partner tell me she was HIV positive. We never had protected sex. She is lying," the man added before being questioned by his lawyer in front of the judges: "Have you ever seen your partner take her AIDS treatment?" "No, never…"
"Condom accidents"
The woman standing on the stand on Monday gave a completely different version to the court: "Yes, I knew I was carrying HIV, contaminated by the man I was living with before and who died of it. "Yes, I informed my new partner of my condition at the beginning of our relationship: he said that it would not change anything, that we would stay together. "Yes, we always had safe sex. The birth? Well, it was a condom accident. There was another one. That's probably how I gave him the virus.
Pushing into the chronological details, cross-referencing the statements of the defendant's doctor, Judge Benech gently confronts the defendant's statements with the facts. But nothing moves. The strategy of doubt
Later on in the debates, Me Busine, the defence lawyer, relied on the consistency of his client's statements. Before succeeding in casting doubt on the sincerity of the victim: "He learnt that he was infected by his partner in 2010 and only leaves her in 2011… I can't explain this discrepancy".
A strategy aimed in particular at cracking the concrete slab poured by the public prosecutor's office, having asserted a few minutes earlier: "There is not much discussion about what the facts say. They are exceptionally serious: this man is condemned for life. A life ravaged by the attitude of his companion who continues to deny it", the prosecutor Tailhardat cried, using the term "viral bomb" several times to designate the defendant: "She knew she was dangerous but she continued in her erring ways".
Why did she do this? No explanation crystallized during the hearing. The case was adjourned until 21 December. ",
---
Avait-elle informé son concubin de sa séroposivité ?
La prévenue a-t-elle tu sa séropositivité ou bien son compagnon contaminé l'a-t-il toujours su ? Une affaire sensible examinée en audience correctionnelle, ce lundi, et sur laquelle les juges quimpérois ne se prononceront que le 21 décembre.
L'atmosphère est lourde dans la salle d'audience correctionnelle du palais de justice de Quimper, ce lundi 29 novembre, au moment où la juge Benech et ses assesseurs ouvrent ce dossier.
Il plonge dans la complexité d'une mécanique conduisant à l'irréparable. Atmosphère aussi lourde que la prévention pour laquelle comparaît cette quadragénaire : « Administration de substance nuisible ayant entraîné une ITT supérieure à huit jours par une personne ayant été son concubin ».
Aussi lourde que les réquisitions du ministère public : cinq ans de prison ferme réclamés par le procureur Tailhardat, au terme de débats méticuleux, précis et dignes. La justice doit passer sans fard dans l'intime. Le très intime, même. Justice qui a d'abord pris le chemin de la cour d'assises du Finistère…
Mais, ce lundi, c'est bien en correctionnelle que finissent par être examinés les deux scénarios, au terme d'une longue, très longue procédure: les faits reprochés sont identifiés entre 2006 et 2009. « Elle ne m'a jamais dit avoir le Sida » Le premier de ces scénarios est dessiné par l'ex-concubin de la prévenue. L'homme à l'origine de la procédure judiciaire est séropositif, contaminé par son ex-compagne. Elle lui aurait toujours caché être porteuse du VIH, y compris après la naissance de leur fille. « Un jour, je me suis senti anormalement fatigué », explique-t-il aux juges. Des examens déclenchés par le médecin du travail à l'occasion d'une visite de routine révèlent sa séropositivité. « À aucun moment ma compagne ne m'a dit être porteuse du VIH. Nous n'avons jamais eu de rapports protégés. Elle ment », ajoute l'homme avant d'être interrogé par son avocate devant les juges : « Est-ce que vous avez déjà vu votre compagne prendre son traitement contre le Sida ? » « Non, jamais… »
« Accidents de préservatif »
La femme debout à la barre, ce lundi, restitue une tout autre version au tribunal : « Oui je me savais porteuse du VIH, contaminée par l'homme avec qui je vivais avant et qui en est mort ». « Oui j'ai informé mon nouveau compagnon de mon état au début de notre relation : il a dit que ça ne changerait rien, qu'on resterait ensemble ». « Oui nous avons toujours eu des rapports sexuels protégés. La naissance ? Eh bien, c'est un accident de préservatif. Il y en a eu un autre. C'est sans doute comme ça que je lui ai transmis le virus ».
Poussant dans les détails chronologiques, recroisant les déclarations du médecin de la prévenue, la juge Benech confronte doucement aux faits les déclarations de la prévenue. Mais rien ne bouge. La stratégie du doute
Plus loin dans les débats, Me Busine, l'avocat de la défense, s'appuiera d'ailleurs sur la constance des propos de sa cliente. Avant de parvenir à immiscer le doute quant à la sincérité de la victime : « Il apprend avoir été contaminé par sa compagne en 2010 et ne la quitte qu'en 2011… Je ne m'explique pas ce décalage ».
Une stratégie visant notamment à fissurer la dalle de béton coulée par le ministère public?, ayant asséné quelques minutes auparavant « Il n'y a pas beaucoup de discussion sur ce que disent les faits. Ils sont d'une gravité exceptionnelle : cet homme est condamné à vie. Une vie ravagée par l'attitude de sa compagne qui continue de marquer un déni », s'empourpre le procureur Tailhardat, utilisant à plusieurs reprises le terme de « bombe virale » pour désigner la prévenue : « Elle savait qu'elle était dangereuse mais elle a continué dans ses errements ».
Pourquoi ? Aucune explication n'aura cristallisé à l'audience. L'affaire a été mise en délibéré au 21 décembre. ",