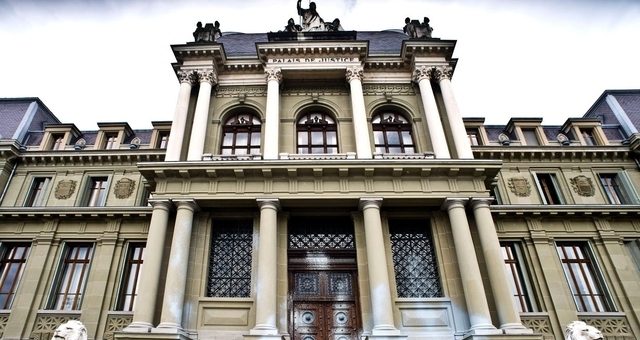 Trial
A case of HIV transmission continues to embarrass justice
October 5, 2017
Google Translation; for original article, scroll down.
The Lausanne Correctional Court is compelled to have new trial for HIV sufferer who was acquitted a little too quickly thanks to a new law.
"This is the fifth time that a tribunal has met to judge you!" said Prosecutor Laurent Contat to Jonas *, a thirty-year-old Mauritian with absent eyes, white jeans and sneakers. The magistrate was not the only one to hope that this was the last round. Nothing is less certain, even if the person concerned, in an illegal situation, is supposed to be returned to his country on 18 October.
Michèle *, the young Vaudoise who accuses her ex-husband of having transmitted the HIV virus to her five years ago, would also like to turn the page. Supposedly. The triple therapy she has to take for life marks her daily life with nausea and dizziness. And if the child she has had since is healthy, there is no guarantee that the next one will be healthy.
Over time, a second plaintiff, who was Jonas's companion after her divorce from Michèle, filed a complaint after accidentally discovering that she was infected.
The matter is not simple. It is characterized by both its legal and medical aspects. Jonah should have been tried in the spring of 2015 but he did not attend his trial. And he was also absent at the resumption the following year. In the meantime, the Penal Code had changed. Since January 2016, Only people who have, "out of baseness of their character" propagated a disease dangerous to man can be punished. A moral rather than a legal notion, this "baseness of character", implies, according to jurists, that the person concerned acted "out of hatred or vengeance". Mere negligence is no longer punishable.
In the absence of evidence able to demonstrate any "baseness of character" for the accused judged by default, the court acquitted him in May 2016.
Michele appealed. She succeeded in having the case reopened, this time from the point of view of bodily harm. A new correctional hearing was therefore held last May … to be suspended in order to clarify the medical situation of the second complainant. The latter had been fortunate enough to escape the transmission of HIV, but is suffering from hepatitis, it was a question of whether she had inherited that from Jonas.
For the prosecutor, there is no doubt that the accused must have known that he was infected when he married Michele. First because of his bisexual behaviour in Mauritius. Then, because he was a blood donor in his country, he was contacted by the hospital after a donation and had not responded. Finally, because he was then treated at the CHUV for a herpes zoster that is known to be considered a symptom of infection. This is sufficient, in the eyes of the Crown, to ascertain, if not the baseness, at least the simple bodily injuries through negligence because of what his ex-wife endures.
Jonas got away this time because he claims to have discovered with amazement his infection during his consultation for shingles and not before. A defence system that is worthless in the the case of his later companion. "He knew he had both HIV and hepatitis C and had unprotected intercourse," the prosecutor observes, allowing us to consider transmission through "baseness of character" at least to the degree of attempting transmission. It appeared that the second complainant was infected with a different hepatitis strain. A "baseness of character" that the defence strongly contests. They maintain that if Jonas did not reveal his HIV status, it's because he was afraid of losing hisr partner.
Laurent Contat is asking for 1 year of imprisonment, 6 months of which is firm. The Verdict is due on Friday.
---
Une affaire de transmission du sida n'en finit pas d'embarrasser la justice
Le Tribunal correctionnel de Lausanne contraint de rejuger depuis jeudi un sidéen qui avait été acquitté un peu trop vite grâce à la nouvelle loi.
«C'est la cinquième fois qu'un tribunal se réunit pour vous juger!» lance le procureur Laurent Contat à Jonas*, trentenaire Mauricien au regard absent, jeans et baskets blanches. Le magistrat n'était pas le seul jeudi à espérer que ce soit le dernier round. Rien n'est moins sûr, même si l'intéressé, en situation illégale, est censé être renvoyé dans son pays le 18 octobre.
Michèle*, la jeune Vaudoise qui accuse son ex-époux sidéen de lui avoir transmis le virus VIH il y a maintenant cinq ans, voudrait elle aussi tourner la page. Façon de parler. La trithérapie à vie jalonne son quotidien de nausées et de vertiges. Et si l'enfant qu'elle a eu depuis est en bonne santé, rien ne garantit que les prochains qu'elle espère seront sains.
Au fil du temps, une seconde plaignante, qui fut compagne de Jonas après son divorce d'avec Michèle, a porté plainte après avoir découvert par hasard qu'il était infecté.
L'affaire n'est pas simple. Elle se caractérise tant par son aspect juridique que médical hors du commun. Jonas aurait dû être jugé au printemps 2015. Il n'était pas venu à son procès. Et il était aussi absent à la reprise, l'année suivante. Or entre-temps, le Code pénal avait changé. Depuis janvier 2016, n'est punissable que celui qui a, «par bassesse de caractère» propagé une maladie de l'homme dangereuse. Notion plus morale que juridique, la «bassesse de caractère», implique selon les juristes que l'intéressé a agi «par haine ou par vengeance». La simple négligence n'est désormais plus punissable.
Faute d'éléments pouvant démontrer une quelconque «bassesse de caractère» du prévenu jugé par défaut, le tribunal l'avait acquitté en mai 2016.
Michèle a fait appel. Elle a obtenu que le dossier soit rouvert, cette fois sous l'angle des lésions corporelles. Une nouvelle audience en correctionnelle a donc eu lieu en mai dernier… pour être suspendue afin d'éclaircir la situation médicale de la seconde plaignante. Cette dernière avait eu la chance d'échapper à la transmission du VIH, mais souffrant d'hépatite, il s'agissait de savoir si elle avait hérité de celle de Jonas.
Pour le procureur, il ne fait aucun doute que l'accusé devait savoir qu'il était contaminé lorsqu'il a épousé Michèle. D'abord en raison de ses mœurs bisexuelles à Maurice. Ensuite parce que, donneur de sang dans son pays, il avait été contacté par l'hôpital après un don et n'y avait pas donné suite. Enfin, parce qu'il s'est fait ensuite traiter au CHUV pour un zona facial qu'on sait pouvoir être considéré comme un symptôme d'infection. Cela suffit, aux yeux du ministère public, pour retenir sinon la bassesse à tout le moins les lésions corporelles simples par négligence en raison de ce qu'endure son ex-épouse.
Jonas s'en est tiré cette fois parce qu'il soutient avoir découvert avec stupéfaction sa contamination lors de sa consultation pour son zona et non avant. Un système de défense qui ne vaut rien pour le cas de sa compagne ultérieure. «Il se savait alors atteint à la fois du virus VIH et de celui de l'hépatite C et il a entretenu des rapports non protégés», observe le procureur pour considérer qu'ici il y a bien «la bassesse de caractère» nécessaire pour retenir la contamination, à tout le moins au stade de la tentative. Il est en effet apparu que la seconde plaignante était infectée d'une souche d'hépatite différente. Une «bassesse de caractère» que conteste vivement la défense. Elle soutient que si Jonas n'a pas révélé sa séropositivité, c'était par craindre de perdre sa compagne.
Laurent Contat a requis 1 an de prison, dont 6 mois ferme. Verdict vendredi.
Trial
The court in Lausanne has acquitted a man who infected his wife because the law no longer allows Convictions for negligence.
May 9, 2016
Google Translation; for original article, scroll down.
Since 1 January 2016, HIV transmission is criminally punishable if the perpetrator acted with malicious intent. Thus was the intention of the legislature when they removed the section of the Criminal Code on transmission due to negligence.
No more convinced that the prosecutor before him – who could not be convinced that the acts of the accused were "due to villainy" (= malicious intent) – the Criminal Court of Lausanne acquitted the man held last week for transmitting AIDS to his wife, who had lodged a complaint.
This verdict was rendered by default, as the person did not, yet again, appear before the judges. He had indeed already been conspicuously absent last year, which had caused a postponement of the hearing in accordance with the law
In this case, this absence has had a particular impact: as the defendants are being tried under the law which is most favorable at the time of trial, the applicant has avoided the sentence that he would have received in 2015, according to the law in force at the time.
Malicious intent by the Mauritian national was more difficult to demonstrate as it had not been possible to state that he knew he was infected when he transmitted the virus to his wife. There was indeed an email from a doctor in his native country, but this has not convinced the court.
Counsel for the complainant, Ms. Sandra Gerber does not exclude an appeal. The prosecutor Laurent Contat neither, as he had requested a conviction for simple bodily harm by negligence.
---
Le tribunal de Lausanne a acquitté un homme qui a contaminé son épouse car la loi ne permet plus de condamner la négligence.
Depuis le 1er janvier 2016, la transmission du virus VIH n'est pénalement répréhensible que si l'au­teur a agi «par bassesse de caractère». Ainsi l'a voulu le législateur en supprimant de l'article du Code pénal la notion de contamination par négligence.
Pas plus persuadé que le procureur avant lui – faute d'avoir pu se convaincre que le prévenu avait agi par «bassesse de caractère» –, le Tribunal correctionnel de Lausanne a acquitté l'homme jugé la semaine dernière pour avoir transmis le sida à son épouse, laquelle avait porté plainte.
Ce verdict a été rendu par défaut, l'intéressé ne s'étant une nouvelle fois pas présenté devant les juges. Il avait en effet déjà brillé par son absence l'année dernière, ce qui avait provoqué un renvoi de l'audience en vertu d'un droit quasi acquis des accusés absents d'obtenir l'ajournement de leur procès.
Dans le cas lausannois, cela a eu une incidence particulière. Les prévenus étant jugés selon la loi qui leur est la plus favorable au moment du procès, l'intéressé a évité une condamnation qu'il aurait écopée à coup sûr en 2015, selon la loi en vigueur à l'époque.
La «bassesse de caractère» de ce ressortissant mauricien a été d'autant plus difficile à démontrer qu'il n'a pas été possible d'affirmer qu'il se savait contaminé au moment où il a transmis le virus à son épouse. Il existait bien un e-mail émanant d'un médecin dans son pays natal, mais cela n'a pas emporté la conviction du tribunal.
Avocate de la plaignante, Me Sandra Gerber n'exclut pas de faire appel. Le procureur Laurent Contat non plus, car il avait requis une condamnation pour lésions corporelles simples par négligence. (24 heures)