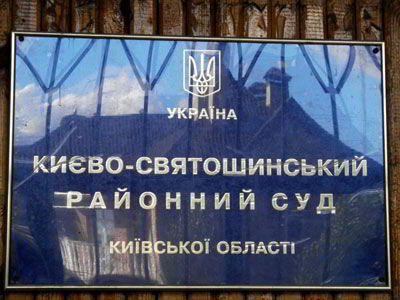 Sentencing
June 11, 2009
Source:
reyestr.court.gov.ua
The Kiev Sviatoshynsky District Court of Kyiv region sentenced an HIV-positive man to five years in prison for committing an intentional HIV exposure of four police officers. After the man was beaten by the police who kept him in the police station, he, being intoxicated with alcohol, by biting did sore on the arms of police officers when the latter tried to put handcuffs on him. In this case, the sentenced informed them that he was a carrier of HIV. Immediately after the incident, the HIV-positive man was taken to the Central Hospital, where he was tested for HIV with a positive result. The police officers were given " three pills as a preventive measure against HIV." Later, after tests at the Kyiv City Clinical Hospital # 5, the victims were tested HIV-negative. The Court ruled that they received the test results and were not confirmed HIV-positive. Doctors recommended them passing the tests again in three months. The condemned was released on probation with a suspended sentence of two years.
---
Вирок Києво-Святошинського районного суду Київської області, яким засуджено ВІЛ-позитивного чоловіка до 5 років позбавлення волі за вчинення ним закінченого замаху на зараження ВІЛ працівників міліції. Після того, як чоловік був побитий працівниками міліції, утримуючись у райвідділі, він, перебуваючи у стані алкогольного сп'яніння, наніс кусані рани рук працівникам міліції, коли останні намагалися надягнути на нього наручники. При цьому, засуджений повідомив їм, що він є носієм ВІЛ-інфекції. Одразу після інциденту ВІЛ-позитивного чоловіка було доставлено до центральної лікарні, де йому зробили тест на ВІЛ, який виявився позитивним. Потерпілим працівникам міліції видали «…по три пігулки, як профілактичний засіб від ВІЛ-інфекції.». В подальшому, після обстежень, проведених у Київській міській клінічній лікарні № 5, було встановлено, що аналізи на ВІЛ-інфекцію дали негативний результат у потерпілих. Суд встановив, що «14.01.2009 року вони отримали результати аналізів, в яких не підтвердилась наявність ВІЛ інфекції у них, але лікарі рекомендували здати повторно аналізи через три місяці.».
Засудженого було звільнено від відбування покарання з випробування з іспитовим строком 2 (два) роки.