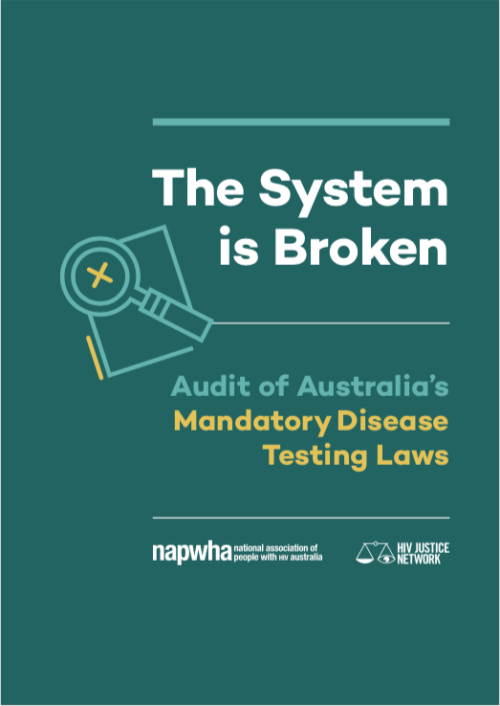 Five Australian states currently have laws that allow for mandatory testing of a person whose bodily fluids come into contact with police and/or emergency service personnel. A recent push by police unions and member organisations has resulted in the introduction of new laws specifically relating to assaults against emergency services personnel in South Australia and Western Australia (2015), and in the Northern Territory (2016). Notably, all these laws are uniformly focused on the rights and health of the person who has come into contact with bodily fluids, not the person being tested.
The adoption of new laws in this area is both perplexing and problematic, given existing criminal laws that can be applied against a person who assaults police or other emergency services workers, but particularly when considered through the lens of modern HIV treatments.
The results of this audit, led by Sally Cameron, HIV Justice Network's Senior Policy Analyst, on behalf of HJN and the National Association of People with HIV Australia (NAPWHA) are concerning. Our investigations reveal that mandatory testing laws are at odds with national HIV testing policy and are operating outside the structured and highly successful HIV responses managed by clinicians and departments of health. The audit found that in many instances, the laws, their implementation, and monitoring include numerous structural failures, usually occurring in multiple states.
Consequently, the National Association of People with HIV Australia and the HIV Justice Network recommend consideration of the following:
1. Repeal of all mandatory testing laws used to test people for HIV following a possible exposure of a person to another's bodily fluids, given only a remote possibility of transmission and the availability of post-exposure prophylaxis to prevent HIV acquisition. These laws criminalise behaviour that is already criminalised. They cannot prevent HIV transmissions where no risk exists.
2. Immediate review of current systems regarding use of mandatory testing laws given clear overuse in some locations, use to test for 'all' possible diseases regardless of risk events, lack of a successful interface with clinicians and health departments, disregard for the welfare of persons being tested, and a lack of mechanisms scrutinising the use and effectiveness of these laws.
3. Amendment of mandatory testing laws so that all mandatory/forced testing requires the order of a judge and the affirmative recommendation of a qualified medical specialist, with police officers prevented from ordering mandatory tests, to ensure the tests cannot be misused as extra-judicial means of punishment.
4. Amendment of mandatory testing laws to communicate consent (or the absence of consent) and the means by which consent was gained be recorded and communicated to staff undertaking pathology and delivering results.
5. Amendment of mandatory testing laws to include robust monitoring requirements (factors to be monitored), with a condition that results of monitoring be published annually.
6. Amendment of mandatory testing laws to restrict mandatory testing for any transmissible infection to situations where there has been a real risk of transmission (as confirmed by a medical specialist) of that specific infection.
7. Review of clinical and other support procedures, including application of occupational PEP guidelines, to ensure effective treatment of emergency services workers who fear they have been put at risk of HIV transmission.
8. Scaling up of education targeting emergency services workers' organisations and media regarding current science on HIV risk and treatments to alleviate fears of occupational HIV exposure and transmission and to enable a better understanding of the realities of living with HIV.
Read the report below, or download the pdf here.