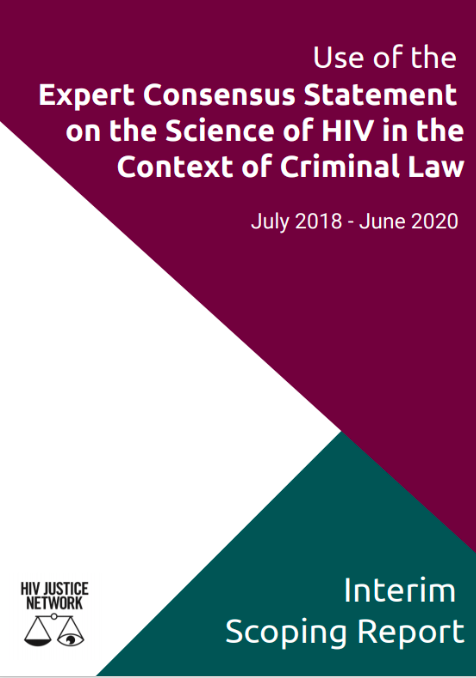 Two years ago this month saw the launch of the Expert consensus statement on the science of HIV in the context of criminal law (Expert Consensus Statement) at a press conference during AIDS2018 in Amsterdam, published in the Journal of the International AIDS Society (JIAS), and translated into French, Russian and Spanish.
Authored by 20 of the world's leading HIV scientists, and endorsed by more than 70 additional expert scientists, as well as IAPAC, IAS and UNAIDS, the Expert Consensus Statement described current evidence on HIV transmission, treatment effectiveness and forensics so that HIV-related science may be better understood in criminal law contexts.
The Expert Consensus Statement was the end result of a multi-year process developed by a partnership comprising the International AIDS Society (IAS), the International Association of Providers of AIDS Care (IAPAC), the Joint United Nations Programme on HIV/AIDS (UNAIDS) and the HIV JUSTICE WORLDWIDE Steering Committee.
The HIV Justice Network has now published an interim scoping report, written by HJN's Senior Policy Analyst Sally Cameron, that explores the impact of the Expert Consensus Statement in the two years since its publication.
The report concludes that the Expert Consensus Statement is meeting both its primary aim (to support defence arguments in HIV criminalisation cases) and its secondary aim (supporting lobbying for law and policy reform) in many jurisdictions. But it also found that the process of developing and promoting the content of the Expert Consensus Statement has delivered additional benefits that further support advocacy efforts to end HIV criminalisation.
In summary, the Expert Consensus Statement is being used to:
Assist HIV criminalisation defence arguments and strategic litigation, changing courts' understanding of transmission risks associated with HIV and the effectiveness of modern treatments.
Shape advocacy for law and policy reform, including mobilising stakeholders to lobby for reform, delivering law and policy reform, improving legal and judicial practice, facilitating community advocates' access to government and judicial bodies, and gaining support from public health bodies and customary and religious leaders.
Inform scientific and medical thinking, including being cited in many peer reviewed articles and in scientific and medical press, being hosted on the sites of scientific/medical/academic organisations, and being ranked the #1 JIAS article to date.
Develop stronger relationships that cross silos and advance capacity, enabling efficient and informal communications between partners to rapidly move projects forward, with Expert Consensus Statement authors supporting community organisations by assisting in defence cases, answering ad hoc questions and co-authoring abstracts, presentations and articles.
Disseminate accurate, positive messages about people living HIV and the issue of HIV criminalisation, including facilitating keynote addresses and presentations at notable conferences and meetings, and generating global mainstream, community and social media. Ultimately, interest in the Expert Consensus Statement has elevated the global conversation about HIV criminalisation, with co-ordinated messaging translating into a powerful positive narrative in many sites.