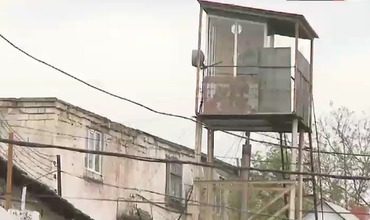 Sentencing
In Moldova, a AIDS patient bit the prison guard
May 23, 2011
Google translation; for original article, please scroll down.
It happened in the women's prison "Ruska". In the belongings of a 28-year-old convict with robbery and drug trafficking charges, AIDS patient, a penitentiary employee found a mobile phone that is not allowed in prison. Phone hostess refused to give it, resisted and in the heat of battle bit the officer by her arm.
– The convict who served five years in prison was left only one month to complete her sentence, – told us in the press service of the Prosecutor General of Moldova. – Instead, the court ruled a new term, sentencing her to a new four years and eight months imprisonment.
It is not clear whether infected after being bitten by an employee of the women's prison. The incubation period of HIV infection ranges from six months to a year. Only after this period, it will be known, is the employee of the prison healthy or not.
---
Пока не ясно, заразилась ли после укуса сотрудница женской тюрьмы.
Это случилось в женской тюрьме «Руска». У 28-летней осужденной за разбой и распространение наркотиков, больной СПИДом, в личных вещах сотрудница пенитенциарного учреждения нашла мобильный телефон, который запрещено иметь в местах лишения свободы. Хозяйка телефона отказалась его отдавать, стала оказывать сопротивление и в пылу борьбы укусила надзирательницу за руку.
– Осужденной, получившей пять лет лишения свободы, оставалось сидеть всего месяц, – рассказали нам в пресс-службе Генеральной прокуратуры Молдовы. – Вместо этого, суд дал ей новый срок, приговорив к 4 годам и восьми месяцам лишения свободы.
Пока не ясно, заразилась ли после укуса сотрудница женской тюрьмы. Период инкубации ВИЧ-инфекции составляет от полугода до года. Лишь после этого срока станет известно, здорова или нет сотрудница пенитенциарного учреждения.