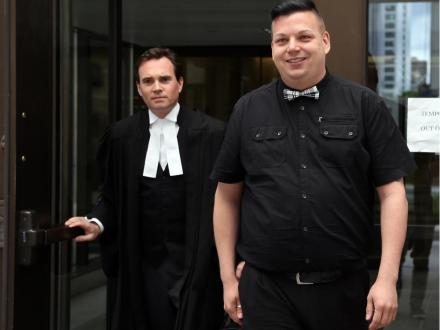 Charges dropped/acquittal
Ottawa gay activist Youden found not guilty in HIV-assault case
June 4, 2014
Gay activist not guilty in sexual assault case says police equated his HIV positive status with being a criminal and had no evidence against him.
Ottawa gay activist Elliott Youden has been found not guilty of aggravated sexual assault after a second trial in which prosecutors alleged he failed to declare his HIV-positive status to a sex partner he met online.
The first trial ended abruptly in January because of a "juror issue," but the Ottawa Crown attorney's office rejected the option of having the judge alone rule on the case and insisted on a second trial.
"In my opinion, it was really unnecessary," Youden said after the verdict. "The Crown didn't present any new evidence. It's been extremely stressful and has been a huge financial burden. It's caused me a lot of sleepless nights and left a lot of HIV-positive people feeling that they're vulnerable."
Youden said the only evidence police had against him were his medical records.
"It's essentially all they needed to go on — the fact that I was HIV positive," he added. "They equated HIV positive with being a criminal, and I think there are serious questions to be asked about the police in this matter. One simple allegation and you're in court and there's absolutely nothing you can do about it. It's a really unfortunate situation."
The case against Youden was a "he said, he said" scenario in which his accuser alleged that Youden did not tell him he was HIV positive before an afternoon of sex at Youden's apartment in July 2010
The accuser, a cash-strapped Carleton University engineering student, testified that the two exchanged flirtatious emails on the website Gay411 before he agreed to meet Youden and, for a fee, give him a massage.
The student, whose name is protected by a publication ban, testified he initially had no intention of engaging in a sexual liaison, though he did admit that he was not a trained masseur and had taken condoms with him to the encounter.
Youden, 33, denied failing to declare his HIV-positive status – the alleged failing that led to the assault charge — and that Gay411 was a place where gay men go to find sexual partners.
According to the student, the fee was re-negotiated when the massage turned sexual and the two engaged in five sexual acts, including intercourse, one of which was unprotected.
Youden said they had sex twice and that he wore condoms both times.
There was no mention of money changing hands until the sex had ended, said Youden, and the student demanded $500 and threatened "serious consequences."
According to the student, they had agreed on a fee of $300 for the sex.
After persuading the student that he needed to find an ATM to get the money, Youden slipped away from him on Elgin Street.
Both men said key evidence that would have corroborated each of their stories died on the Gay411 website, where messages between subscribers are killed immediately as conversations are updated.
Youden testified that he had told the student of his HIV positive status during their initial conversations and the student claimed that Youden had written to him after their encounter and apologized for not giving him the agreed fee.
Prosecutor David Elhadad had argued that it made no sense for the student to have unprotected sex with a man he knew to be HIV positive.
But the student was not being truthful, said defence lawyer Ian Carter, and it was "ludicrous" to suggest that he went to Youden's apartment not expecting sex.
Ontario Superior Court Justice Monique Metivier said she couldn't rely on the evidence of either Youden or the student and that the Crown had failed to convince her beyond a reasonable doubt that Youden was guilty.
Charges dropped/acquittal
Judge declares mistrial in HIV disclosure sex assault trial
January 17, 2014
A defence lawyer quoted former Prime Minister Pierre Trudeau in his closing arguments Thursday while defending a man accused of not disclosing his HIV-positive status to a sexual partner. "The state has no business in the bedrooms of the nation," said Ian Carter, whose client, Elliott Youden, is facing an aggravated sexual assault charge. "All that matters is that he disclosed his status."
Youden, 32, pleaded not guilty to the charge at the onset of the jury trial on Monday. The complainant, whose identity is protected by a publication ban, alleges Youden lied about his medical condition when the two had sex twice on July 18, 2010 in Youden's apartment. The man also alleges Youden did not use a condom during the second round of intercourse.
But Carter argued the contrary to the 12-person jury, saying his client was told by his doctor to practice safe sex after his diagnosis in 2008 and that he used his own condoms each time he had sex with the complainant. "He had no desire to hurt anyone," said Carter.
The two met on a website for gay men in the summer of 2010 and the complainant agreed to go to Youden's apartment to give him a massage. Youden told the jury he tried to break the ice by writing in a chat message, "You can't get HIV from a massage" prior to the July 18 meeting. The massage turned into sex, after which the complainant made an unwarranted and surprise demand for $500 for the encounter, Youden testified. Youden initially said no, but after being threatened, he brought the complainant to an ATM to withdraw money, he testified. He then made a run for it after telling the man to wait outside a community centre on Elgin Street.
The complainant told police in an Aug. 6, 2010 interview that he would "definitely" hand over chat messages from an online conversation in which Youden apparently apologized to the complainant for not paying up. But he never sent it to police. In his testimony, he told the jury, "He had a lot on his mind." Crown prosecutor David Elhadad argued that the man was, in fact, struggling at school and in his personal life and had every reason not to be in the right state of mind to go through with his promise. On top of that, the complainant's mind was also preoccupied with medical follow-ups out of concern of possibly having contracted HIV, the Crown added.
The jury started their deliberations Thursday afternoon but Judge Robert Maranger was forced to declare a mistrial Friday after an unreportable jury issue arose a scant 24 hours after the chosen dozen began deliberating. And that means Youden will likely face a second trial. Defence lawyer Ian Carter was willing to have Maranger decide the case himself, but Crown prosecutor David Elhadad wasn't on board. Maranger was left fuming as the hitherto smooth-running trial collapsed.