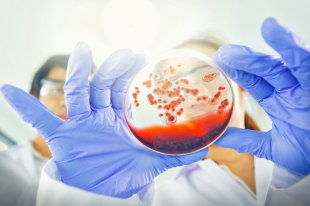 Arrest
In Leningrad region, the court will consider the case of a donor with HIV
August 28, 2019
Google translation - For Russian article, please scroll down
In the Leningrad Region, a criminal case is being prepared for submission to court under Article 122 of the Criminal Code of the Russian Federation "Infection with HIV infection". According to the regional prosecutor's office, a resident of the city of Volosovo is accused of committing this crime.
According to the materials of the supervisory authority, a 40-year-old woman decided to become a donor and deliberately hid the fact that she is a carrier of the human immunodeficiency virus from doctors. At the same time, in March 2019, the accused received a medical warning against her diagnosis and responsibility for infecting another person.
"The fact of the presence of HIV infection in a woman's donated blood was established only during laboratory testing, which jeopardized potential patients requiring blood transfusion," the prosecutor's office said.
According to the law, an HIV-infected person in this case can face up to a year of imprisonment – such a punishment is provided for by the Criminal Code if "the deliberate putting another person in danger of HIV infection" is recorded. But if the infection did happen, the perpetrator could face up to five years in prison.
---
В Ленобласти суд рассмотрит дело о доноре с ВИЧ
В Ленинградской области готовится к передаче в суд уголовное дело, возбужденное по статье 122 УК РФ "Заражение ВИЧ-инфекцией". Как сообщили в региональной прокуратуре, в совершении данного преступления обвиняется жительница города Волосово.
Как сказано в материалах надзорного ведомства, 40-летняя женщина решила стать донором и умышленно скрыла от медиков факт, что она является носителем вируса иммунодефицита человека. При этом в марте 2019 года обвиняемая получила под роспись предупреждение медиков о своем диагнозе и об ответственности за заражение другого человека.
– Факт наличия ВИЧ-инфекции в донорской крови женщины был установлен только при лабораторной проверке, что поставило под угрозу заражения ВИЧ-инфекцией потенциальных пациентов, нуждающихся в переливании крови, – сообщили в прокуратуре.
По закону носительнице ВИЧ в данном случае может грозить до года лишения свободы – такое наказание предусмотрено УК, если зафиксировано "заведомое поставление другого лица в опасность заражения ВИЧ-инфекцией". А вот если бы заражение все-таки произошло, виновному может грозить до пяти лет лишения свободы.