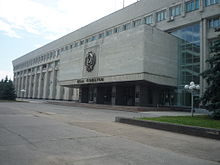 Charged
Trial of a woman living with HIV in Ulyanovsk. Status of the partner was not reported.
November 8, 2018
Google translation - For Russian article, please scroll down
A woman with a positive HIV status has entered into a sexual relationship with a man, but forgot to notify him about the risks, and therefore put her partner ar risk. "In 2005, a resident of Ulyanovsk found out about her HIV status. In 2016, she met a man with whom she met for two years closer to marriage and reported her illness," the prosecutor's office said. Now she faces up to 1 imprisonment. The case went to court.
---
Суд над ВИЧ-инфицированной в Ульяновске. Не сообщила о статусе партнеру
Женщина с положительным ВИЧ-статусом вступила в сексуальные отношения с мужчиной, но забыла уведомить о рисках, в связи с чем поставила своего партнера под "удар". "В 2005 году жительница Ульяновска узнала о своем ВИЧ-статусе. В 2016 году она познакомилась с мужчиной, с которым встречалась на протяжении двух лети ближе к замужеству сообщила о своем заболевании", – сообщает прокуратура. Теперь ей грозит до 1 лишения свободы. Дело передано в суд.