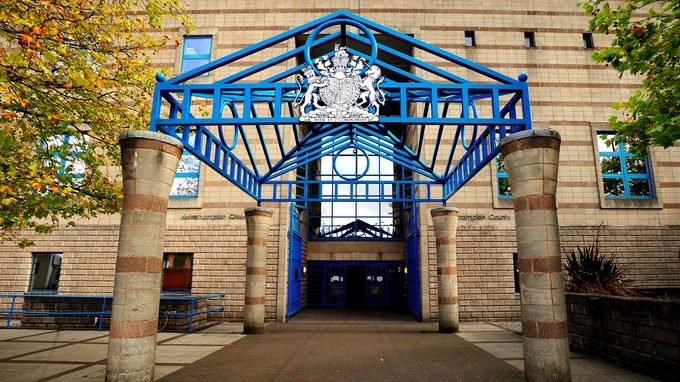 Conviction
JAILED: HIV positive mother flicked blood at bailiffs
May 3, 2019
A HIV positive mother-of-two who deliberately flicked her infected blood at two bailiffs has been jailed for three years.
Dean Allen and Bryan Wall were so alarmed by the behaviour of 34-year-old X that they locked themselves in the bathroom of her home until police arrived.
They went to her Darlaston Road, Bilston, address on September 11, 2014, to claim cash or goods to cover the cost of an eight-month-old unpaid parking ticket, that had soared in value to around £400 with court and bailiff costs, the court heard.
The two men maintained they had made a 'peaceful' entry to the property which the law entitles them to do but the defendant accused the pair of 'bully boy tactics', maintaining they forced their way inside as she tried unsuccessfully to close the front door on them.
She said a glass she had been holding at the time broke during the confrontation, cutting her hand, while the enforcement agents insisted she tried to stab one of them after deliberately smashing the tumbler against the wall.
X then started flicking blood from the wound at the men.
Film from a body camera worn by Mr Wall showed his colleague using a towel to wipe away the blood, while they were holed up in the bathroom.
X could be heard screaming and shouting in the background, while she threatened to keep 'flicking' and warned them to 'get your blood tested'.
She was convicted by the jury of administering a poison or noxious substance – her inflected blood – with intent to Mr Allen and Mr Wall.
But she was cleared of attempting to wound Mr Allen with the broken glass during the incident.
On Wednesday at Judge Michael Challinor sentenced her to three years in prison.
In victim impact statements read to the court, both men said the incident had had a profound effect on them – suffering from anxiety, affecting their relationships and leaving them unable to work.
Mr Wall said his relationship had broken down, he now struggles with mental health and said he didn't think it fair 'to be put through this stress just for doing my job', the court was told.
While, Mr Allen said the incident had had a major impact on him and since the trial he had to relive the events and could not go back to work.
Defending, Mr Devon Small, said: "On reflection she feels she may have over-reacted and she feels sincerely sorry that happened. In her report, she explains she feels regret to anyone involved including the victims.
"It was an isolated incident and totally out of character. She has been out of trouble for some time. Her record as a 19 to 20-year-old does not reflect the 34-year-old woman here today."
Judge Challinor said: "It was quite clear you wanted them to understand they were in danger. It took three months before they were given the all clear by the hospital.
"This was a sustained attack. It is clear you intended to flick the blood at them.
"I can see no reason to suspend the sentence, it was a very serious offence of its type. It had a significant impact on two people who were doing nothing more than their job."
Judge Challinor also commended the enforcement officers and as a token of the court's regard for their actions, he awarded them both £500 each out of public funds.
He added: "During this incident they showed commendable restraint in the face of extreme provocation and at all times behaved appropriately and professionally.
"It saddens me to learn that they have been so adversely affected by this incident that they are not at present working as enforcement officers.
"It is people like them who are ideally suited for this difficult and at times dangerous job."