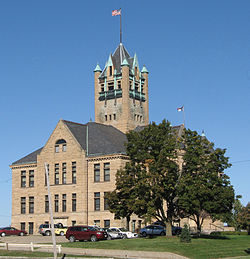 Trial
Man accused of spreading HIV accepts plea deal
October 28, 2016
A Coralville man accused of knowingly spreading HIV has pleaded guilty to two lesser charges this week.
AX, 34, accepted a plea deal, according to online court documents filed Monday, in which he pleaded guilty to two lesser charges, both being reckless exposure to contagious disease not resulting in infection. The charge is a serious misdemeanor.
Court documents say that the state recommends Musser serves one year in jail for each charge concurrently, and that he should be credited with time served. X was initially arrested on Aug. 24, 2015. X was set to face trial on Oct. 25.
X had been charged with two counts of criminal transmission of contagious or infectious disease to another, a Class D felony. He had entered a plea of not guilty this past August.
In August 2015, X was arrested and charged with criminal transmission of an infectious disease after he had unprotected sex with a woman over 40 times after telling her he was HIV-free, according to police complaints. A week later, more charges were added after X told a separate woman he had sex with five times that he was HIV-free.
HIV, the human immunodeficiency virus, can lead to AIDS.
X had been convicted of multiple counts of criminal transmission of a contagious or infectious disease in 2004 and was sentenced to 50 years in prison. He appealed his sentence each year and was released on work release in October 2012.
Trial
Trial reset to October for Coralville man accused of exposing women to HIV
July 15, 2016
IOWA CITY — A trial for a Coralville man, accused of having sex with women while he was infected with HIV has been reset to Oct. 25, and one of the charges against him may be dismissed, court documents show.
AX, 35, is charged with four counts of criminal transmission of a contagious or infectious disease to another, all Class D felonies. X is accused of exposing at least five women, and one man, to the disease with the intent that the uninfected person contract the disease by having unprotected sex with X.
The criminal complaints show X had unprotected sex in 2015 with a woman in May through June, one woman from June 20 through July 20, and another woman from July through Aug. 6.
Another complaint shows X also exposed a male friend because the friend had sex with the same two women X did from June 24 through Aug. 6, and the friend wasn't aware X was HIV positive.
Assistant Johnson County Attorney Anne Lahey filed a motion asking the court to dismiss that charge regarding the male, stating the witness didn't want to testify at trial.
Sixth Judicial District Judge Marsha Bergan hasn't made a ruling on that motion.
The trial was set to start July 12 but X's attorney, Douglas E. Johnston, filed a motion July 8, saying the state has added numerous witnesses less than a month before and the defense is in the process of obtaining one or more expert medical witnesses to review depositions of state's expert witnesses. Johnston said he needed more time to complete this.
On July 11, Bergan granted the continuance based on Johnston's motion and because the state didn't resist resetting the trial.
X was originally arrested by Coralville police on Aug. 9, 2015 after an investigation showed he had unprotected sex with a victim about 40 times in June and July of 2015, while claiming to be disease-free. Later, Iowa City police charged X after a second victim came forward.
According to court records, X was sentenced to 50 years in 2004 for four counts of criminal transmission of HIV. He filed multiple appeals of his sentence, but those appeals were overturned. He was released from prison in October 2012, according to the Iowa Department of Corrections' records.
Other
Praise and concern as Iowa's HIV transmission law is put to the test
October 16, 2015
Source:
Iowa City Press Citizen
Iowa has convicted just one person since changing a state law last year covering the criminal transmission of infectious diseases such as HIV.
Adam Musser could become the second.
Musser, 34, of Coralville is accused of exposing multiple partners to HIV despite, police say, knowing he was infected. At least five women have brought charges against him, claiming he had unprotected sex with them and lied when asked if he was disease-free. He has pleaded not guilty to all counts.
His case, which is set to go to trial in January, is something of a test for the new law, which advocates, public health officials and legislators have praised for its basis in science rather than fear and its potential to reduce the stigma associated with HIV, the precursor to AIDS.
However, the law is also a product of political compromise.
Under the old law, Musser would have faced a 25-year prison sentence for each charge if convicted. Since the Iowa Legislature passed a revised law in 2014, however, the sentence is no longer one-size-fits-all. Many advocates criticized the old law for its rigidity and arbitrary punishment, which allowed for the full sentence even if the accused used a condom or didn't actually infect anyone. And anyone convicted under the law was automatically placed on the sex offender registry.
The new law established multiple tiers of punishment, depending on whether the offender intended to infect another person — a class B felony; simply acted "with a reckless disregard" for that person's safety — a class D felony; and whether anyone actually contracted an infection. The new law also added other diseases, including hepatitis and tuberculosis, to the formerly HIV-only law.
Of the five counts Musser faces, four are class D felonies carrying a five-year prison sentence, and one is a class B felony, which would result in 25 years if he is convicted.
A higher standard
Those changes were about reforming a law that was based in hysteria when it passed in 1998, said State Sen. Rob Hogg, D-Cedar Rapids.
"Iowa had what many people considered a draconian law on the criminal transmission of HIV," said Hogg, the floor manager for the bill passed by the Senate last year.
Tami Haught, a community organizer for the Community HIV and Hepatitis Advocates of Iowa Network and a major part of the new law's negotiation, said that while many advocates wanted to get rid of the old law all together, that wasn't an option.
"It wasn't long into the process that we fully realized that repealing was not an option, not a political reality in the state," Haught said.
Instead, legislators settled on a tiered system that sets guidelines for prosecutors about what sort of offenses fall into each category.
"We wanted to have clear guidelines for prosecutors so they actually have to prove their cases," Haught said.
Most advocates, even those who support a tiered system with some level of criminal penalty, believe 25 years in prison to be excessive for transmitting a disease that is no longer considered a death sentence.
"We're not totally convinced that those punishment levels totally fit the crime," said Keenan Crow, the Deputy Director of One Iowa, an LGBT rights group that fought to change the law.
Johnson County Attorney Janet Lyness said the law sets a higher bar for convictions, since prosecutors must prove the victim contracted the disease and that the suspect intended to infect them.
"It's a much stronger, harder standard to prove than what it was before," she said.
Musser's lawyer, Brandon Schrock, declined to comment for this story, but Musser has entered a plea of "not guilty" on all charges. In each, he is accused of lying to women when asked if he had HIV and then having unprotected sex with them.
Simply lying about his HIV status is not enough to prove Musser intended to transmit the disease, according to the law. Besides, Haught cautioned that it can be difficult to tell whose version of events is truthful in many of these cases.
"If the accuser is (HIV) positive, was she positive from Adam or was she positive before?" Haught asked, adding that the prosecution will have to answer a number of tough questions to meet the law's standard for conviction.
Lyness would not comment directly on Musser's case, but speaking generally she said prosecutors will not pursue charges unless they feel they have a chance of convicting.
Scott Schoettes, a senior attorney and the HIV Project Director at Lambda Legal who helped craft the new law, said prosecutors often bring the highest charges that they think they can convict on. In Musser's case, the potential for a long, 25 year sentence makes it all the more important that prosecutors present compelling evidence, he said.
"I think the state has a serious burden to prove the intent to transmit in this case," Schoettes said.
It would be better, he said, if defendants could only be convicted when they actually intended to cause harm, rather than under the reckless disregard clauses that exist in the current law.
"We want prosecutions based on HIV status to end where there is not an intent to transmit," he said.
An uncommon crime
Musser may be the only person Johnson County has convicted under the old law as well. In 2004, he was sentenced to 50 years in prison after being found guilty on multiple counts of criminal transmission of a contagious or infectious disease, according to court records. After years of appeals, Musser left prison on work release in October 2012 and until this summer has been on and off parole and work release programs.
Since May 2014, when Iowa's new law went into effect, only Randall M. Streeter, 43, in Pottawattamie County has been found guilty of spreading an infectious or contagious disease, and court records do not show whether he was charged for spreading HIV or another disease covered under the statute.
The rarity of the charges has led advocates to question the need for a disease-specific law at all, when offenders who actually cause harm could be prosecuted under other statutes. Singling out disease transmission, they say, stigmatizes people living with HIV and undermines public health efforts.
Hogg said he feels comfortable with keeping a disease-specific statute since the new law includes what he calls "safe harbor" for anyone who can show they were following their doctor's recommendations and using a condom.
"I personally think if somebody sets out with the intent to transmit a disease, and then transmits that disease, I think that's a pretty serious offense," Hogg said.
Schoettes said he would like to see the safe harbor clause changed to apply to defendants either using condoms or following a treatment regimen to reduce the amount of HIV in their blood. Currently the clause requires both, but in either case there is little chance of spreading the disease.
That may prove damaging to Musser, since police reports say he did not use a condom during his sexual encounters. But if he was taking medicine, Schoettes said, it shouldn't matter from a safety standpoint because there would be virtually no chance of spreading the disease.
"Achieving a suppressed viral load is just as effective as using a condom," he said.
Police reports have not specified whether Musser was taking medication to reduce the amount of virus in his system at the time was accused of exposing his partners to the disease.
"There are so many unknowns," Haught said of Musser's case. "We don't know if he was on medication."
Hopefully, she said, those facts will come out during the case, and the verdict will be fair. Either way, Haught hopes the new law succeeds in reducing unjustified convictions, and that people will remember that — just like with any community — there are very few bad apples among people living with HIV.
"If you are a bad actor then you do have to pay," she said, "but that doesn't happen often."
"So much hate … so much stigma"
While ideally Iowa wouldn't need a law just for the spreading of disease, advocates say it's more complicated than that.
"This law is also to protect us," Haught said. "Everybody thinks we're such a danger to everyone else, but no, actually we need this law to help protect us against overzealous prosecution."
Charging someone under a more general assault law ignores the public's longstanding prejudice about HIV, Schoettes said, and prosecutors and juries may not fully understand the modern science around the disease.
"When you just throw it out there and let it happen in the context of a reckless endangerment statute or an assault statute those prosecutions end up being influenced by those same misperceptions about HIV," he said.
There is also disagreement about whether the inclusion of other infectious diseases — like tuberculosis and hepatitis — is a good thing.
The theory against prosecuting the spreading of disease is that it is counterproductive to apply criminal laws to what should be a public health issue, and that the threat of prosecution keeps people who might have HIV from getting tested and getting treatment.
"It extends to all those other types of diseases that same approach which public health experts say is so problematic," said Rita Bettis, the legal director for the American Civil Liberties Union of Iowa.
Randy Mayer, who runs the Bureau of HIV, STD and Hepatitis for the Iowa Department of Public Health, said the new law is much better because it places less emphasis on whether someone has disclosed their HIV status and focuses more on what actions they have done to keep their partner safe.
"Overall I will say that yes, from a public health point of view we were pleased with the statute that got passed," he said. While he said he could see both a positive and negative side of including other diseases under the law, he didn't see any reason to single out HIV.
Still, criminal cases like Musser's overshadow medical advances related to HIV and the stories of everyday people living with the disease, associating HIV with criminality and perpetuating a negative public image of HIV-positive people, Haught said.
"They don't hear our stories," said Haught, who has been living with HIV for 22 years. "The only stories that are usually covered are these criminal cases that are being brought."
State program treats, assists HIV-positive prison inmates
The Department of Public Health has an AIDS Drug Assistance Program that provides case management services for people with HIV, including prison inmates.
Federal funding supports the program, which serves people with incomes up to 400 percent above the poverty line.
Prisoners are told of the program and make contact with the department while serving their sentences so they can set up a care plan for when they are released. A case manager will check in with them to make sure they have somewhere to live and access to medication.
It works in one of two ways. Either the program will buy medication directly for the person enrolled in the program, or it will purchase health insurance for them, which is more common now since the Affordable Care Act made it illegal to treat diseases like HIV as preexisting conditions.
"Our whole goal with our prevention is to have as many people as possible to achieve viral suppression," so there's no chance of infecting anyone, Mayer said.
Fred Scaletta, an Iowa Department of Corrections spokesman, has said that in general inmates with medical issues are treated and provided with a 30-day supply of needed medications upon release, as well as two 30-day prescription refills.
Charged
More charges for man accused of spreading HIV
August 25, 2015
Source:
Iowa City Press Citizen
Coralville police have brought additional charges against a man they say knowingly exposed multiple partners to HIV. AX, 34, of Coralville was charged on Friday with three counts of criminal transmission of an infectious disease. Two of those counts are class D felonies, punishable by five years in prison, and one is a class B felony, punishable by 25 years in prison.
According to Coralville police complaints, X had a relationship with one woman from 2013 until early 2015, having unprotected sex with her multiple times and failing to disclose he had HIV. "The defendant was asked on different occasions if he was disease free. Each time the defendant was asked, he denied being sick. In all the defendant and victim's sexual encounters, the defendant did not offer to use protection," police said in the complaint.
In another charge, police said X was seeing two women at the same time, without telling those women he was with another partner. According to police, X had unprotected sex with both the women and, on two separate occasions each, convinced each of them to have sex with X and a friend of his at the same time. Police said X did not tell either woman or his friend that he had HIV and he did not know whether the women had contracted the virus.
In a third charge, police say X had a relationship with a woman between July and August during which time they had unprotected sex multiple times. Police said the woman asked X if he was disease free when they met, and he said he was.
Earlier this month, Iowa City Police charged X with two counts of criminal transmission of an infectious disease related to separate incidents with two women.
According to court records, X was sentenced to 50 years in prison starting in 2004 for multiple counts of criminal transmission of a contagious or infectious disease. He appealed his sentence each year and the Iowa Department of Corrections website shows he was let out on work release in October 2012 and has been on and off parole and work release programs in recent years.
X is currently being held in the Johnson County Jail on a $92,500 bond.
Appeal lost
Iowa HIV Law Not Vague or Overbroad, Says Eighth Circuit
June 25, 2013
The Eighth Circuit Court of Appeals ruled that Iowa's HIV law was not unconstitutionally vague as to AX, who was convicted of HIV non-disclosure to four women. X was convicted in four separate trials of 'criminally transmitting HIV' in violation of Iowa Code § 709C.1.
For purposes of this appeal, X didn't dispute the facts underlying his convictions — he admitted to having unprotected sex with four women when he knew he was HIV-positive and without informing the women of his condition.
X claims that the Iowa statute doesn't provide fair notice of what acts are prohibited because the phrases "intimate contact" and "in a manner that could result in the transmission of [HIV]" are vague and sweep too broadly.
X argues that the vague statute unconstitutionally prohibits certain activities — e.g., accidentally bleeding on another individual after an automobile accident or during a sporting competition, kissing, and breast-feeding — because "all the state needs to do is find an expert to say that such contact 'could' transmit [HIV]."
But the court wasn't buying his hypotheticals. It focused on his case. He slept with four women when he knew he was HIV-positive and didn't tell them about it. He wasn't in a car accident or a sporting competition. He was definitely not breast-feeding.
To the contrary, the court held his "intimate contact" was anything but vague. Because X knew his HIV status to be "positive" and engaged in the type of "intimate contact" that the statute was plainly intended to prohibit, the court ruled the statute is not unconstitutionally vague as applied to him.
In his overbreadth challenge, X was "targeting the right of two persons to engage in private, intimate contact." Unfortunately for X, that right is recognized under the substantive component of the Due Process Clause.
The overbreadth doctrine is concerned with facial challenges to laws under the First Amendment, not substantive Due Process. His argument needed to demonstrate how the statute would compromise his recognized First Amendment protections.
Since X didn't raise any First Amendment concerns, he was precluded from asserting an overbreadth challenge to the statute.
The takeaway point here is that attorneys who want to assert an overbreadth challenge need to remember that the doctrine is restricted in its application, and is "not recognized…outside the limited context of the First Amendment."
Accordingly, the Eighth Circuit affirmed the lower court.
Appeal lost
50-Year Sentence in Iowa HIV Criminalization Case Upheld by Federal Judge
April 17, 2012
A federal judge upheld a 50-year sentence for AX, an Iowa man living with HIV who was found guilty of having unprotected sex with several female partners.
The Associated Press reported:
X was convicted on four counts of criminally transmitting HIV for failing to disclose to female sexual partners in 2002 and 2003 that he carried HIV. X had been diagnosed with HIV and was taking medication for it at the time.
After the Iowa Supreme Court upheld his conviction and sentence, he appealed to federal court. [U.S. District Judge James] Gritzner says X's 50-year prison term was reasonable, noting he repeatedly subjected women to health risks. He says X's rights were not violated.
X was originally convicted in 2003. The Centers for Disease Control and Prevention reported on the original case:
AX, 22, of Iowa City, Iowa, has been charged with criminal transmission of HIV, a felony. X became the second person in Johnson County, Iowa, to be charged with knowingly transmitting the virus. Arrested Friday, he is being held without bond and faces up to 25 years in prison. According to police, X allegedly had "intimate contact" with an individual twice in April. The individual was later told by friends of X that X was HIV-positive. Court records say that X allegedly admitted that he had HIV when he was arrested.
Three of the complainants came forward after learning about X's arrest from news reports. One of the complainants, who tested HIV positive after having sexual contact with Xr, appeared on a local television program encouraging other women who may have slept with X to come forward and press charges.
In 2006, X appealed his case with the state appellate court, calling the Iowa law of partner notification unconstitutional. The court ruled against him. MSNBC.com reported:
The high court rejected several constitutional arguments in X's appeal, including that the state law requiring a carrier of HIV to notify a partner violates the First Amendment protection against forcing speech against one's will. The court ruled that the state law promotes a compelling state interest and is narrow enough in scope to be constitutional.