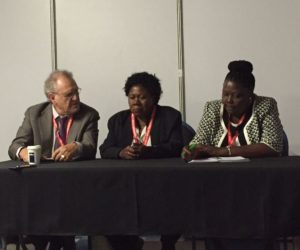 Other
AIDS 2016: Victimized, vilified by law and media, a nurse faces an uncertain future
July 19, 2016
Source:
Science Speaks Blog
Journalists apologize to Rosemary Namubiru, but the damages they dealt her career, reputation, and morale persist
DURBAN, South Africa – Rosemary Namubiru is a nurse, a job too few want or have trained for in Uganda, home to a still-escalating HIV epidemic, and to inequities that put preventive health care out of reach for many.
It is a job that offered the rewards of providing desperately needed services, and of supporting her family, who depended on her. Work in an under-staffed, over-busy clinic, helping people who were sick and scared, was how she made her world a little better, healthier, than it would otherwise be. You would think anyone who knew the importance of her work would celebrate her as one of her community's heroes.
You would think, at the very least, they would give her the benefit of the doubt. Instead, police, prosecutors, and reporters — all people with better information than they used, took her life apart, after a workplace accident one day in early 2014 when the needle she was using to inject a feverish struggling child, instead pierced her own skin. Ms. Namubiru lives with HIV, and was on antiretroviral treatment. And Uganda politicians, who, challenging donor disapproval of the latest version of their "Antihomosexuality Act" (which substituted life imprisonment for a too-controversial death penalty for same sex relationships), were pushing a new, equally demagogic HIV criminalization act. And that was Ms. Namubiru's bad luck. After the child's parent apparently expressed concern over whether Ms. Namubiru had changed the needle before proceeding with the injection, police arrested Ms. Namubiru. They called journalists, who relied on their relationship with them for "news" and they paraded her in front of them, her head pulled back by an obliging policewoman to show her face. They searched her apartment and found her antiretroviral medicine, and although that made it all the more likely her virus posed a threat to no one, they used it as evidence against her. The headlines, which preceded Ms. Namubiru's conviction called her "killer nurse" and provided vivid, false accounts of her drawing her own blood to inject into the child. She was sentenced to three years in prison. A judge freed her 10 months after her arrest, saying only that the punishment did not fit the "crime." Although the child never contracted HIV, the headlines included: "Nurse accused of infecting baby with HIV freed." The journalists kept their jobs.
On Sunday, Ms. Namubiru participated in a pre-conference here on the impacts of HIV criminalization laws. On Monday she made herself available to reporters in a press conference with AIDS-free World co-founder and director Stephen Lewis and regional director of the International Community of Women Living with HIV Eastern Africa Lillian Mworeko. Mr. Lewis described how in a meeting arranged by his organization, media editors finally heard her story and apologized to her. But while their apologies offered some hope for their future journalistic efforts, they did nothing for her future.
Ms. Namubiru, a grandmother, looks young for her years and strong.
"I am fine," she said.
I asked her what she does now. "I am a nurse," she said. "but I stay at home and do nothing." She had thoughts for a while of opening a clinic in her community. "But I am HIV positive," she said, and her voice drifted off. You don't want to invade her privacy by asking any more. But she is not fine. And neither is the community that has one less nurse, for now, to tend its ills.
Appeal
HIV blood nurse appeals jail sentence
August 13, 2014
Rosemary Namubiru, a nurse who was sentenced for injecting a 2-year old baby with a needle contaminated with HIV blood has appealed against her three year jail sentence and conviction.

Namubiru through her lawyer Ladilus Rwakafuzi is challenging her conviction and sentence on grounds that court was unfair on her. The nurse filed the notice of appeal at the High Court in Kampala.
Speaking to the New Vision Wednesday, Rwakafuzi said they appealed on grounds that the offence Namubiru was charged with does not relate to HIV but to contagious diseases such as Ebola and measles. She also applied for bail pending hearing of her appeal.
Buganda Road Chief Magistrate Olive Kazaarwe Mukwaya on May 19 this year convicted and sentenced Namubiru after she was found guilty of unlawfully doing a negligent act of spreading the infectious disease.
Prosecution told court that Namubiru unlawfully and negligently injected a baby with a needle contaminated with her HIV blood while knowing the action could likely spread the infection of HIV, a disease dangerous to life. Namubiru pricked her index finger before using the same cannula to prick the vein of the baby.
The nurse committed the offence on January 7, 2014 at Victoria Medical Center located at lumumba avenue in Kampala. The trial magistrate convicted Namubiru after prosecution led by Lillian Omara closed her case with nine witnesses who pinned Namubiru.
Namubiru was arrested by police on January 7, 2014 after the parents of the baby pinned her saying that she first pricked herself and then turned the needle on the infant.
Meanwhile after the sentence, Namubiru's case raised public debate and the human rights activists condemned the act, saying Namubiru did not deserve such a sentence and she was stigmatization.
Sentencing
Ugandan nurse Rosemary Namubiru faces three years in prison, while charge against her remains misreported, misunderstood
May 20, 2014
Source:
Science Speak Blog
Rosemary Namubiru, a nurse in her mid-60s living with HIV, who was charged with criminal negligence after a workplace accident involving an injection, was sentenced to three years in prison in a Ugandan court today.
Arrest
Woman arrested for injecting baby with HIV infected blood
January 13, 2014
The police have arrested a 65 year old woman, Rosemary Namubiru for allegedly injecting a two year-old baby with blood infected with HIV/AIDS. According to police, she was arrested on Monday in Victoria Medical Centre on Lumumba road, Kampala where she reportedly committed the alleged crime.
The woman was arrested following complaints from the child's parents who found her injecting their child. When the police subjected her to a test, she was found to be carrying the HIV virus. Speaking to the New Vision at Central Police Station in Kampala on Saturday, Kampala Metropolitan spokesman Ibin Ssenkumbi said Namubiru will soon be arraigned in courts of law for prosecution once investigations into the matter are concluded. "She was caught injecting the baby with a syringe that she had earlier used on herself. When the investigations are over, police will send the file to the Directorate of Public Prosecution for sanctioning," said Ssenkumbi.
The suspect is still held at Wandegeya police station, as investigations in the matter intensify. Police is also investigating allegations that the woman has been engaging in the act for pretty a long time. In her defense, Namubiru said she did not intend to inject the baby with the blood but had pricked herself by accident.