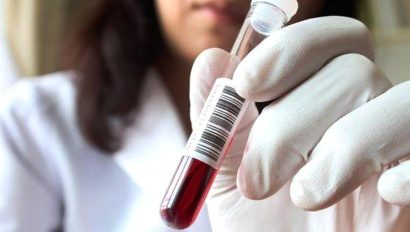 Prosecution
Emergency in Lori region. 35-year-old prostitute suspected of prostitution at Belisimo, Kamar, Malibu saunas infected several citizens with AIDS 
March 1, 2018
Google translation, please scroll down for article in Armenian
According to SHAMSHYAN.com, a criminal case was opened at the Lori Regional Investigation Department of the Armenian Investigation Committee under Article 123, Part 2.
As reported by photojournalist Gagik Shamshyan, the mentioned case was initiated by Vanadzor resident, 35-year-old S. K. who was infected with sexually transmitted infections.
According to Shamshyan's information, as a result of the criminal case initiated as a result of the investigation, it was found out that S. Hovhannisyan had been arrested. K. received treatment for STIs in Yerevan for several months, but during the treatment she had sexual intercourse with 7 different citizens, as a result of which these 7 citizens were infected with a human immunodeficiency virus.
On December 27, 2017, it was revealed that S. K. was registered with the State AIDS Prevention Center of the Ministry of Health of the Republic of Armenia as a non-communicator of the human immunodeficiency virus and was well aware of this and clearly anticipated the consequences, from November 2016 to 2017 During the period of August 2010, Vanadzor resident, 34-year-old Vanadzor, had a sexual relationship with her for money without the use of a condom.
It turned out that H. was infected with a human immunodeficiency virus.
According to the photojournalist, on February 28 of this year, the investigation group of the Lori Regional Police Department of the Lori Regional Investigation Committee of the Armenian Investigation Committee initiated operative investigations, which resulted in factual information that "Belisimo", Vanadzor town of Vanadzor. , For several years in Malibu saunas and a number of public service establishments, for the appropriate amount; K. was often provided with rooms that engaged in prostitution in these rooms and promoted prostitution.
C. According to Shamshyan, Belisimo's property is owned by former Vanadzor Mayor Samvel Darbinyan, while Kamar and Malibu are saunas.
Notification. The person suspected or accused of the alleged crime shall be presumed innocent until proven guilty in accordance with the procedure established by the Criminal Procedure Code of the Republic of Armenia by a legally valid court verdict.
---
Արտակարգ դեպք Լոռու մարզում. 35 –ամյա մարմնավաճառը կասկածվում է «Բելիսիմո», «Կամար», «Մալիբու» շոգեբաղնիքներում մարմնավաճառությամբ զբաղվելու մեջ. նա մի քանի քաղաքացիների վարակել է «ՍՊԻԴ»-ով
SHAMSHYAN.com-ի տեղեկություններով՝ Հայաստանի քննչական կոմիտեի Լոռու մարզային քննչական վարչությունում հարուցվել է քրեական գործ՝ ՀՀ քր. օր.-ի 123 հոդվածի 2-րդ մասի հատկանիշներով: Ինչպես հայտնում է ֆոտոլրագրող Գագիկ Շամշյանը, նշված քրգործը հարուցվել է Վանաձոր քաղաքի բնակչուհի, 35-ամյա Ս. Կ.-ի նկատմամբ, ով սեռական վարակով վարակված է եղել: Գ. Շամշյանի տեղեկություններով՝ հարուցված քրեական գործի շրջանակում, քննչական գործողությունների արդյունքում պարզվել է, որ Ս. Կ.-ն մի քանի ամիս սեռավարակների դեմ բուժում է ստացել Երևան քաղաքում, սակայն բուժման ընթացքում նա 7 տարբեր քաղաքացիների հետ ունեցել է սեռական հարաբերություն, ինչի հետևանքով այդ 7 քաղաքացիները վարակվել են մարդու իմունային անբավարարության վիրուսի հարուցիչով: 2017 թ.-ի դեկտեմբերի 27-ին պարզվել է, որ Ս. Կ.-ն հաշվառված լինելով ՀՀ Առողջապահության նախարարության ՁԻԱՀ-ի կանխարգելման հանրապետական կենտրոն պետական ոչ առևտրային կազմակերպությունում՝ որպես մարդու իմունային անբավարարության վիրուսի հարուցիչի վարակակից և նա, քաջ տեղեկացված լինելով այդ մասին, հստակ նախատեսելով հետևանքների առաջացումը, 2016թ-ի նոյեմբերից մինչև 2017 թ-ի օգոստոս ամիսն ընկած ժամանակահատվածում պարբերաբար՝ առանց պահպանակի օգտագործման, բնական ճանապարհով, գումարի դիմաց սեռական հարաբերություն է ունեցել Վանաձոր քաղաքի բնակիչ, 34-ամյա Վ. Հ.-ի հետ: Պարզվել է, որ Վ. Հ.-ն վարակվել է մարդու իմունային անբավարարության վիրուսի հարուցիչով: Ֆոտոլրագրողի տեղեկություններով՝ այս տարվա փետրվարի 28-ին Ոստիկանության Լոռու մարզային վարչության, Հայաստանի քննչական կոմիտեի Լոռու մարզային քննչական վարչության քննչական խումբը նախաքննության ընթացքում ձեռնարկել են օպերատիվ-հետախուզական միջոցառումներ, ինչի շնորհիվ փաստական տվյալներ են ձեռք բերվել, որ Վանաձոր քաղաքի «Բելիսիմո», «Կամար», «Մալիբու» շոգեբաղնիքներում և հասարակական սպասարկման մի շարք հաստատություններում մի քանի տարի շարունակ՝ համապատասխան գումարի դիմաց, Ս. Կ.-ին հաճախակի տրամադրել են սենյակներ, ով այդ սենյակներում զբաղվել է մարմնավաճառությամբ և նպաստել պոռնկությամբ զբաղվելուն: Գ. Շամշյանի տեղեկություններով՝ «Բելիսիմո» օբյեկտը պատկանում է Վանաձորի նախկին քաղաքապետ Սամվել Դարբինյանին, իսկ «Կամար»-ը և «Մալիբու»-ն շոգեբաղնիքներ են: Ծանուցում. Ենթադրյալ հանցանքի մեջ կասկածվողը կամ մեղադրվողը համարվում է անմեղ, քանի դեռ նրա մեղավորությունն ապացուցված չէ ՀՀ քրեական դատավարության օրենսգրքով սահմանված կարգով` դատարանի` օրինական ուժի մեջ մտած դատավճռով: © shamshyan.com https://shamshyan.com/hy/article/2018/03/01/1090396/