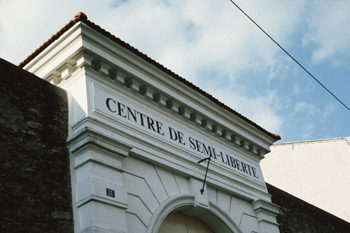 Appeal
Semi-liberté pour l'agresseur porteur du VIH
September 20, 2016
Source:
Journal du Quebec
Google translation. For original in French, scroll down
Day release from prison for HIV Positive aggressor. SX had been sentenced to six years after having sex with 15 men without telling them he was HIV
Sentenced to six years in prison in August 2014 for failing to notify his partners he was suffering from HIV, SX was granted day release from prison, to the dismay of one of his victim who called the decision "irresponsible".
Jimmy (not his real name) has been completely overwhelmed by the decision taken last Friday by the Parole Board of Canada. SX was granted day release for six months during which time he will live in a halfway house and must respect certain conditions.
Fifteen victims
The victim, however, regrets that "fraudsters and thieves remain longer behind bars" than the man he calls "predatory". "He will be released in the coming days, if he is not already. Will someone like him, who has managed to make 15 victims, respect conditions "asked the man, who however did not contract the disease.
The offender was denied day release this past January at its first request. The commissioners had then ruled that this HIV-positive individual represented an unacceptable risk to society, and only granted occasional permissions to leave the prison.
But after appealing the decision, X, who is registered as a sex offender, had his wish granted by two other commissioners. "They assess the risk to public safety, the risk of general recidivism and the sexual and social dangers as low," said the report of 16 September.
Words that disturb Jimmy. "As much justice had been serious with a severe penalty, so they have failed with this release. It's a farce. "
"Bomb in the wild"
The man now is afraid to cross the one "who could have killed him," in addition to fear that other men could fall into his net. "It's a bomb they they have released. It's as he is walking around fully armed. He has a loaded gun that can never be taken away "says Jimmy speaking of the disease that affects X.
SX had pleaded guilty in 2013 to 15 charges of aggravated sexual assault for having unprotected sex while he knew he was HIV positive. One of his victims was subsequently declared positive, but the court had failed to prove that the accused had transmitted the virus. He was sentenced to six years in prison August 29, 2014.
Article original en français paru dans Le Journal du Quebec
Semi-liberté pour l'agresseur porteur du VIH
SX avait été condamné à six ans après avoir eu des relations sexuelles avec 15 hommes sans les aviser qu'il était séropositif
Condamné à six ans de pénitencier en août 2014 pour avoir omis d'aviser ses partenaires qu'il souffrait du VIH, SX s'est vu accorder une semi-liberté, au grand dam d'une des victimes qui qualifie la décision «d'irresponsable».
Jimmy (nom fictif) est complètement dépassé par la décision rendue vendredi dernier par la Commission des libérations conditionnelles du Canada. SX s'est vu accorder une semi-liberté de six mois pendant laquelle il résidera dans une maison de transition et devra respecter certaines conditions.
Quinze victimes
La victime déplore toutefois de voir «des fraudeurs et des voleurs demeurer plus longtemps derrière les barreaux» que celui qu'il appelle «le prédateur». «Il va être libéré dans les prochains jours, si ce n'est pas déjà fait. Quelqu'un qui a réussi à faire 15 victimes comme lui vas tu s'en sacrer des conditions», se demande l'homme, qui n'a toutefois pas contracté la maladie.
Le délinquant s'était vu refuser cette semi-liberté en janvier dernier lors de sa première demande. Les commissaires avaient alors statué que l'individu séropositif représentait un risque inacceptable pour la société, lui accordant seulement certaines permissions de sorties.
Mais après avoir fait appel de cette décision, X, qui est inscrit au registre des délinquants sexuels, a vu son souhait exaucé par deux autres commissaires. «Ils évaluent le risque pour la sécurité du public, le risque de récidive générale et sexuelle ainsi que la dangerosité sociale à faible», peut-on lire dans le rapport du 16 septembre.
Des mots qui renversent Jimmy. «Autant la justice avait été sérieuse avec une peine sévère, autant ils manquent leur coup avec la libération. C'est une farce.»
«Bombe en liberté»
L'homme craint maintenant de croiser celui «qui aurait pu le tuer», en plus de craindre que d'autres hommes tombent dans ses filets. «C'est une bombe qu'ils remettent en liberté. C'est comme s'il se promenait armé. Il a un gun chargé qu'ils ne pourront jamais lui enlever», image Jimmy en parlant de la maladie dont souffre X.
SX avait plaidé coupable en 2013 à 15 accusations d'agression sexuelle grave pour avoir eu des relations sexuelles non protégées alors qu'il se savait porteur du VIH. Une de ses victimes avait ensuite été déclarée positive, mais la cour n'avait pu prouver que l'accusé lui avait transmis le virus. Il avait été condamné à six ans de pénitencier le 29 août 2014.