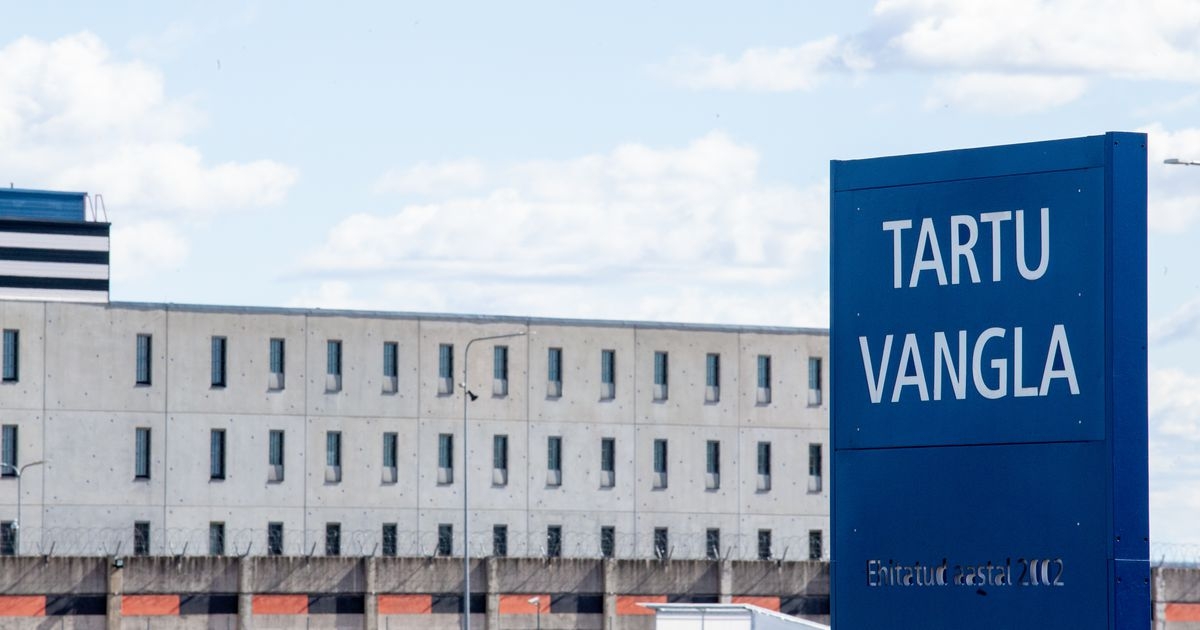 Sentencing
Prisoner who tried to infect a guard with urine received an additional sentence
January 17, 2023
Translated with www.DeepL.com. Scroll down for article in Russian
The Tartu County Court on Monday sentenced to more than two years in prison an inmate who threatened to kill guards in prison and poured urine on one of them to infect him with HIV.
The court found X guilty of threatening, using violence against a representative of authority and attempting to inflict grievous bodily harm. In total, the man was sentenced to two years and six months' imprisonment. Since the criminal case was heard in summary proceedings, one year and eight months of imprisonment will remain as a sentence.
This was added to the eight months and ten days of imprisonment handed down by the Tartu County Court in September of last year. Thus, X will have to spend a total of two years and five days in prison. The punishment will be counted from September 13 last year.
According to the indictment, in 2020 X threatened to break both legs of a prison officer if he met him at large. When X was served with the order to impose measures on him, the man wrote in Russian on it that he undertook to kill the victim.
In the same year, X threatened the prison guard, telling him: "If I get a sentence because of you, I will break your head on the outside". The second time, he told the guard, "I will slit your neck and kill you."
In 2021, X hit a printer in Tartu prison, which ended up bouncing off the hand of a prison employee, causing him to be injured.
Last year, X threatened the doctor on duty: "The time will come, we will meet, and I will settle the score with you. I promise you that." Last year, the man also kicked a senior security guard in the thigh.
In addition, X threw a cup of urine from a cell in Tartu prison in the face of a guard, attempting to infect the victim with HIV. The unlawful act was not consummated.
The judgment, handed down on Monday, has not yet entered into legal force.
---
Заключенный, который с помощью мочи хотел заразить охранника, получил дополнительный срок
В понедельник Тартуский уездный суд приговорил к тюремному заключению сроком более чем на два года заключенного, который в тюрьме угрожал убить охранников и облил одного из них мочой, чтобы заразить его ВИЧ.
Суд признал К виновным в угрозах, применении насилия в отношении представителя власти и попытке причинения тяжких телесных повреждений. В общей сложности мужчина был приговорен к двум годам и шести месяцам лишения свободы. Поскольку уголовное дело рассматривалось в порядке упрощенного производства, то в качестве наказания останется один год и восемь месяцев лишения свободы.
К этому прибавились восемь месяцев и десять дней заключения, согласно решению Тартуского уездного суда, которое было вынесено в сентябре прошлого года. Таким образом, в общей сложности К придется провести в тюрьме два года и пять дней. Наказание будет учитываться с 13 сентября прошлого года.
Согласно обвинительному заключению, в 2020 году К угрожал сломать обе ноги сотруднику тюрьмы, если тот встретится с ним на свободе. Когда К вручили постановление о наложении на него мер, мужчина написал на нем по-русски, что обязуется убить потерпевшего.
В том же году К пригрозил тюремному надзирателю, сказав ему: «Если я из-за тебя получу срок, то на воле разобью тебе голову». Во второй раз он сказал охраннику: «Я перережу тебе шею и убью тебя».
В 2021 году К ударил по принтеру в Тартуской тюрьме, который в результате отскочил по руке работника тюрьмы, из-за чего тот получил травму.
В прошлом году К пригрозил дежурному врачу: «Придет время, мы встретимся, и я сведу с тобой счеты. Я обещаю тебе это». В прошлом году мужчина также ударил старшего охранника ногой в бедро.
Кроме того, К выплеснул чашку с мочой из камеры Тартуской тюрьмы в лицо охраннику, совершив попытку заразить потерпевшего ВИЧ. Противоправный акт не был доведен до конца.
Решение, вынесенное в понедельник, еще не вступило в законную силу.