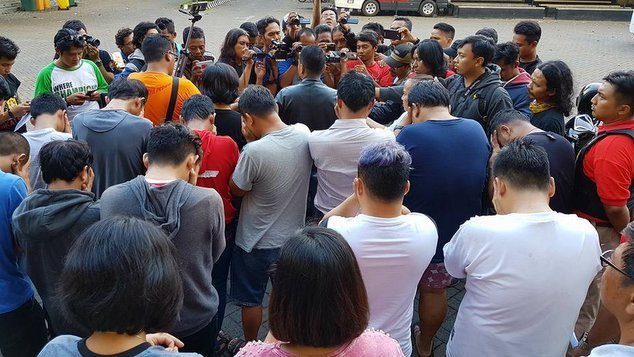 Charged
Gay men arrested in Indonesia forced to undertake HIV tests
May 5, 2017
Human Rights Watch has raised concern that eight men who were arrested for taking part in a 'gay party' in Indonesia were forced to undergo tests for HIV.
Police in the Indonesia city Surabaya announced they arrested fourteen men who were taking part in a 'gay party' last week.
Officers busted in on a party being held in two hotel rooms in Indonesia's second largest city. Fourteen men were reportedly detained by police, who have subsequently indicated that eight of the men were detained on Law on Pornography charges.
Police have said two of them would be charged with organizing the event and providing pornography – offenses carrying prison terms of up to 15 years.
Police paraded the men in front of local media and confiscated materials from the hotel room including mobile phones, USB drives, condoms and the hotel's bedding and television.
Police informed the media that all 14 men underwent tests for sexually transmitted infection, including a rapid test for HIV, and that five had tested HIV positive.
"Indonesian police are again violating the basic rights of LGBT people by invading their privacy," said Phelim Kine, deputy Asia director at Human Rights Watch.
"The Surabaya raid subjected these gay men to traumatic humiliation, puts two at risk of long prison terms, and threatens the privacy rights of all Indonesians."
Mandatory HIV testing is contrary to the ethical and human rights principles of privacy, autonomy, and informed consent. Under the World Health Organization's 2015 Guidelines on HIV Testing and Counseling,
"Mandatory, compulsory or coercive HIV testing is never appropriate." Kine said.
Indonesia has previously acknowledged that the consensual sex between adults should be respected under people's right to privacy.
Kine said this case, and a case earlier this year where authorities in Aceh arrested two men for having sex in their own home were examples of Indonesia not respecting its commitment.
"So long as the government permits police raids on private gatherings under a discriminatory law, it will fail to curb anti-LGBT harassment and intimidation." Kine said. "President Jokowi should make good on his commitments to protect privacy rights and put an end to state-sanctioned discrimination."
While homosexuality is not illegal in Indonesia, pornography is outlawed. The predominantly Muslim region of Aceh operates under a different set of laws than the rest of the country, and homosexuality has been outlawed.