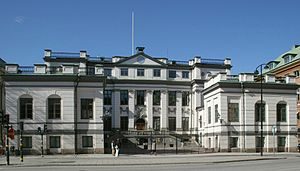 Appeal won
HIV-infected man taking effective HIV treatment is released after unprotected intercourse
June 6, 2018
Google translation - Scroll down for article in Swedish
HIV-infected man taking effective HIV treatment is released after unprotected intercourse
[2018-06-07] Supreme Court
A HIV-infected man taking HIV Medicines had unprotected intercourse with the plaintiff. A well-established HIV treatment means that the risk of transmitting infections when having unprotected intercourse is minimal. The prosecution for endangering others has therefore been rejected.
The man was prosecuted for endangering others. The prosecutor claimed that the gross negligence of the man had exposed the victim to the danger of a serious illness. This had happened because he had unprotected intercourse with the plaintiff on two occasions. The district court and the court of appeal dismissed the prosecution.
Evidence of danger to others is only punishable if there has been a real danger to the effect that is relevant, eg. transmission of a serious disease. In order for it to be a matter of actual danger, the effect has been required. It is also required that there has been a certain likelihood of the effect; It should appear reasonable to expect the effect as a result of the act.
A so-called well-treated HIV treatment requires that the HIV infection during multiple sampling at a certain time interval has a virus level in blood plasma that is continuously at an undetectable level. The HIV-infected person must also take care of his drug treatment, have regular contact with care services and may not have any other sexually transmitted disease. In this case, all criteria for a successful HIV treatment were met.
The Public Health Authority has submitted an opinion to the Supreme Court and medical expertise has been heard in the case. The unique picture of the knowledge situation that has emerged is that the risk of transmission of infection is minimal when someone has a well-defined HIV treatment. There are several extensive international studies that show this.
In the light of this, the Supreme Court finds that there is no concrete danger of transmission of infection as required by the Penal Code when a HIV-infected with HIV-treated treatment has unprotected sexual intercourse. However, if you do not have a properly diagnosed HIV treatment, there may be a specific risk of transmission of infection. As the HIV treatment was well-adjusted, in this case, the Supreme Court dismissed the charge.
Court transcript available here
---
Hivsmittad med välinställd hivbehandling frias efter oskyddade samlag
[2018-06-07] Högsta domstolen
En hivsmittad man som medicinerade mot hiv hade oskyddade samlag med målsäganden. En välinställd hivbehandling gör att risken för att överföra smittan vid oskyddade samlag är minimal. Åtalet för framkallande av fara för annan har därför ogillats.
Mannen åtalades för framkallande av fara för annan. Åklagaren gjorde gällande att mannen av grov oaktsamhet hade utsatt målsäganden för fara för allvarlig sjukdom. Detta hade skett genom att han vid två tillfällen hade haft oskyddade samlag med målsäganden. Tingsrätten och hovrätten ogillade åtalet.
Framkallande av fara för annan är bara straffbart om det har förelegat en konkret fara för den effekt som är aktuell, t.ex. överföring av en allvarlig sjukdom. För att det ska vara fråga om konkret fara krävs att effekten varit möjlig. Det krävs också att det har förelegat en viss sannolikhet för effekten; det ska framstå som rimligt att förvänta sig effekten som en följd av gärningen.
En s.k. välinställd hivbehandling förutsätter att den hivsmittade vid flera provtagningar med visst tidsintervall har en virusnivå i blodplasma som kontinuerligt ligger på en ej påvisbar nivå. Den hivsmittade måste också sköta sin läkemedelsbehandling, ha regelbunden kontakt med vården och får inte ha någon annan sexuellt överförbar sjukdom. I detta fall var samtliga kriterier för en välinställd hivbehandling uppfyllda.
Folkhälsomyndigheten har lämnat ett yttrande till Högsta domstolen och medicinsk expertis har hörts i målet. Den entydiga bild av kunskapsläget som har framkommit är att risken för smittoöverföring är minimal, när någon har en välinställd hivbehandling. Det finns flera omfattande internationella studier som utvisar detta.
Högsta domstolen gör mot den bakgrunden bedömningen att det inte kan anses föreligga någon konkret fara för smittoöverföring på det sätt som krävs enligt straffbestämmelsen, när en hivsmittad med välinställd hivbehandling har oskyddade samlag. Om man inte har en välinställd hivbehandling kan dock en konkret fara för smittoöverföring finnas. Eftersom hivbehandlingen i detta fall var välinställd, ogillar Högsta domstolen åtalet.
Appeal
Appeals against HIV were raised in the Supreme Court
May 17, 2018
Google translation - Scroll down for article in Swedish
On this day, May 15, the Supreme Court handled the appeal against HIV-positive Paul. He was charged with having unprotected sex with another man without informing him that he was HIV positive. Paul was prosecuted for the development of danger to others despite being under treatment, not having measurable viral amounts and therefore, according to available new research, unable to transfer the virus.
Paul has previously been released in both the district court and court court, but the case has subsequently been appealed by the Prosecutor General to the Supreme Court. The decision taken there will be precedent and the case is followed closely by organizations, authorities and many HIV positive.
Sentry.nu has previously written that Paul became HIV positive 2000 and started treatment in 2001. Since he came to Sweden in 2013, he has been treated here. Then his virus levels were slightly elevated, but after substitution of medications they fell to non-measurable, ie fewer than 20 virus copies per ml of blood.
During previous and this negotiations many hearings were held with doctors and expert witnesses. Paul's own doctor gave a basic testimony where she explained that Paul was not contagious anymore.
Anders Tegnell, Department of Public Health Analysis at the Public Health Authority, was an expert witness. To Sentry.nu, he comments that it is important that modern science also penetrates law.
"Now they are taking up modern science about how contagiously treated HIV really is. Here the issue is dealt with in the supreme legal entity, which implies a verdict to be followed by other courts.
The Public Health Authority has investigated on the government's mission that the knowledge base " Infectiousness in Treated HIV infection " is known in the infectious health and justice system and how it is used. The report from March this year states that the legal situation has been clarified and the knowledge of the judiciary needs to be improved.
Paul was obviously nervous during the negotiations and aware that his case may affect the information protection obligation of many HIV-positive people in Sweden.
Science has sprang past the law
Several expert witnesses explained that all research shows that Paul and others undergoing successful treatment are not contagious. The court spent a lot of time discussing the terms "infectious", "low risk" and "minimal sense". The use of the different concepts should be seen in relation to current research and statistics showing that no one has had sex with a man in the same situation as Paul has been infected with HIV. Speculations have occurred that other sexually transmitted diseases occur at the same time would increase the risk, but new studies show that it is not so. Such a study started in 2010 but it is not yet presented.
Andreas Berglöf, a sexual policy expert at RFSU, spoke with Sentry.nu during a break. He tells that RFSU has an interest in having this case come to the Supreme Court when a new precedent is needed. He and many others think that science has sprung past the previous precedent from 2004.
Jobs that I have been chosen for this
Sentry.nu met Paul a few days before the negotiations.
"It feels nervous that the case will now be settled in the Supreme Court. If I get acquitted too here is something good for the country. But if I get settled, the laws will continue to be as they are. I think the law is wrong because HIV-treated people are not infectious. Doctors and researchers want the case to be appealed. I find it hard that I just gotta go through this but it's as it is.
Paul is not angry because he was notified.
– The man who notified me had the full legal right to do so.
Paul explains that it was the man's general practitioner who urged him to make a notification.
"The doctor was not aware that we who are in medication are not contagious. It says a lot about the doctor's knowledge.
All who witnessed earlier were also called to the Supreme Court. Paul has been in contact with doctors who have done similar research in other countries.
.- They have been willing to come to Sweden but there has been a decision for the court.
The prosecutor appealed to the District Court and in court that Paul should be convicted of the threat of another. Prosecutors said that Paul on two occasions in August-September 2014 in Uppsala County had unprotected intercourse with another man. The prosecutor said that Paul was aware that he was HIV positive and thus risked transferring HIV to another. The prosecutor meant that Paul of gross negligence exposed victims of danger of serious illness.
The Supreme Court has not notified when they are notified.
---
Överklagat ärende om hiv togs upp i Högsta domstolen
17 maj, 2018
Häromdagen, den 15 maj behandlade Högsta domstolen det överklagade ärendet om hivpositiva Paul. Han blev åtalad för att han hade haft oskyddad sex med en annan man utan att informera om att han är hivpositiv. Paul blev åtalad för framkallande av fara för annan trots att han står under behandling, inte har mätbara virusmängder och därför enligt tillgänglig ny forskning inte kan överföra viruset.
Paul har tidigare friats i både tingsrätt och hovrätt men fallet har därefter överklagats av Riksåklagaren till Högsta domstolen. Det beslut som fattas där kommer att bli prejudicerande och fallet följs därför noga av organisationer, myndigheter och många hivpositiva.
Sentry.nu har tidigare skrivit om att Paul blev hivpositiv 2000 och påbörjade sin behandling 2001. Sedan han 2013 kom till Sverige har han behandlats här. Då var hans virusnivåer något förhöjda men efter byte av mediciner sjönk de till icke mätbara, dvs färre än 20 viruskopior per ml blod.
Under tidigare och denna förhandlingar hölls många förhör med läkare och expertvittnen. Pauls egen läkare gav ett grundläggande vittnesmål där hon förklarade att Paul inte var smittsam längre.
Anders Tegnell, avdelningschef för folkhälsoanalys vid Folkhälsomyndigheten var ett expertvittn. Till Sentry.nu kommenterar han att det är viktigt att den moderna vetenskapen tränger in också inom juridiken.
– Nu tar de upp den moderna vetenskapen om hur smittsam välbehandlad hiv verkligen är. Här behandlas frågan i högsta juridisk instans vilket medför en dom som ska följas också av andra domstolar.
Folkhälsomyndigheten har på regeringens uppdrag undersökt om kunskapsunderlaget "Smittsamhet vid behandlad hivinfektion" är känt i infektionssjukvården och rättsväsendet, samt hur det används. Rapporten från mars i år konstaterar att rättsläget är opklart och kunskapen hos rättsväsendet behöver bli bättre.
Paul var naturligtvis nervös under förhandlingarna och medveten om att hans fall kan påverka smittskyddslagens informationsplikt för många hivpositiva i Sverige.
Vetenskapen har sprungit förbi juridiken
Flera expertvittnen förklarade att all forskning visar att Paul och andra som står under framgångsrik behandling inte är smittsamma. Domstolen ägnade mycket tid till att diskutera begreppen "smittfri", "låg risk" och "minimal srisk". De olika begreppens användning ska se i förhållande till aktuell forskning och statistik som visar att ingen som har haft sex med en man i samma situation som Paul har blivit smittad av hiv. Spekulationer har förekommit om att andra sexuellt överförbara sjukdomar som förekommer samtidigt skulle öka risken men nya studier visar att det inte är så. En sådan studie påbörjades 2010 men den är inte presenterad ännu.
Andreas Berglöf, sexualpolitiskt sakkunnig vid RFSU pratade med Sentry.nu under en paus. Han berättar att RFSU har ett intresse av att detta fall har hamnat i Högsta domstolen då det behövs ett nytt prejudikat. Han och många andra närvarande menar att vetenskapen har sprungit förbi det tidigare prejudikatet från 2004.
Jobbigt att jag har blivit utvald för detta
Sentry.nu träffade Paul några dagar innan förhandlingarna.
– Det känns nervöst att fallet nu ska upp i Högsta domstolen. Om jag blir frikänd också här är det något bra för landet. Men om jag blir fälld kommer lagarna fortsätta vara som de är. Jag anser att lagen är fel eftersom hivpositiva som är under behandling inte är smittsamma. Läkare och forskare vill att fallet överklagas. Jag tycker att det är jobbigt att det blev just jag som måste gå igenom detta men det är som det är.
Paul är inte sur för att han blev anmäld.
– Mannen som anmälde mig hade den fulla lagliga rätten att göra det.
Paul berättar att det var mannens allmänläkare som uppmanade honom att göra en anmälan.
– Läkaren var inte insatt i att vi som går under medicinering inte är smittsamma. Det säger mycket om den läkarens kunskaper.
Alla som vittnat tidigare blev kallade också till Högsta domstolen. Paul har varit i kontakt med läkare som har gjort motsvarande forskning i andra länder.
.- De har varit villiga att komma till Sverige men det har varit ett beslut för domstolen.
Åklagaren yrkade i tingsrätten och i hovrätten att Paul ska dömas för framkallande av fara för annan. Åklagare menade att Paul vid två tillfällen under augusti-september 2014 i Uppsala län har haft oskyddade samlag med en annan man. Åklagaren menade att Paul var medveten om att han var hivpositiv och därmed har riskerat att föra över hiv till annan. Åklagaren menade att Paul av grov oaktsamhet utsatt målsäganden för fara för allvarlig sjukdom.
Högsta domstolen har inte meddelat när dom meddelas.
Appeal
"Supreme Court review is welcome - do not prosecute people living with HIV if transmission has not occurred"
May 17, 2018
Google translation. For original article in Swedish, scroll down
RFSU, RFSL and HIV-Sweden are pleased with the statement that the Supreme Court issued a probationary permit in a case relating to a person living with HIV and where the infection was not transmitted but charged with the accusation of danger to another. This means that the Supreme Court also considers that the current precedent NJA 2004, p.176, is no longer considered sufficient to guide the judiciary's handling of people living with HIV and is undergoing well-treated treatment.
Today, there is a highly unsatisfactory situation where similar situations are handled differently, and some people are charged with the risk of transmitting HIV, where the medical evidence does not indicate that there has been an actual risk, but older practices have addressed the issue differently.
Finally, the conditions for people living with HIV can be properly managed in Swedish justice. A treatment that over the years has contributed to stigma for people living with HIV, which is also indebted when there has been no risk of transferring HIV to another.
People undergoing treatment with low levels of viruses are not considered to constitute a real risk of transmission of HIV to another, even if condoms are not used. Many important medical advances have thus made the infectiousness of well-treated treatment today classified as minimal.
It has not been possible for medical science to promise zero risk of transmission on well-treated treatment, although all modern studies point to it. The Swedish knowledge base from 2013 therefore says minimal risk.
Swedish courts' handling today is based on a precedent that – as regards medical development – is highly perverted. The question for the Supreme Court now becomes how this negligible risk of transfer is to be assessed in this type of case.
We want to clearly point out that we do not consider the person to be sentenced. On the contrary, the three organizations consider that there is a need for clarification by the Supreme Court not to prosecute people living with HIV where HIV transmission has not taken place.
Prosecutor Anders Perklev has already realized that the situation is highly unsatisfactory due to legal certainty for people living with HIV and that it is difficult to guide prosecutors in the country when there is an unprecedented precedent.
The fact that the Supreme Court can give a review of the matter can not be interpreted otherwise than that the Supreme Court also considers that NJA 2004 p. 176 is no longer applicable.
————————————————
"HD:s prövning är välkommen – åtala inte personer som lever med HIV om överföring inte har skett"
RFSU, RFSL och Hiv-Sverige är nöjda med beskedet att högsta domstolen givit prövningstillstånd i ett mål som rör en person som lever med hiv och där infektionen inte överförts men som åtalats för framkallande av fara för annan. Det betyder att även Högsta domstolen ser att nuvarande prejudikat NJA 2004 s.176 inte längre anses tillräckligt för att vägleda rättsväsendets hantering av personer som lever med hiv och står på välinställd behandling.
Idag råder en högst otillfredsställande situation där likvärdiga situationer hanteras olika, och där vissa personer blir åtalade för risk att överföra hiv, där medicinska underlaget inte ger vid handen att det funnits en faktisk risk, men där äldre praxis har hanterat frågan annorlunda.
Nu ges äntligen förutsättningar för att personer som lever med hiv ska kunna få en korrekt hantering i svenskt rättsväsende. En hantering som genom åren har bidragit till stigma för personer som lever med hiv, som skuldbeläggs även när det inte funnits någon risk att överföra hiv till annan.
Personer som står på välinställd behandling och har låga virusnivåer bedöms inte utgöra en reell risk för överföring av hiv till annan, ens om kondom inte används. Många viktiga medicinska framsteg har således gjort att smittsamheten vid välinställd behandling idag klassas som minimal.
Det har inte från medicinvetenskapen gått att lova noll risk för överföring vid välinställd behandling, även om alla moderna studier pekar däråt. Det svenska kunskapsunderlaget från år 2013 säger därför minimal risk.
Svenska domstolars hantering idag utgår från ett prejudikat som – sett till den medicinska utvecklingen – är mycket förlegad. Frågan för Högsta domstolen blir nu hur denna försumbara risk för överföring ska bedömas i den här typen av rättsfall.
Vi vill tydligt poängtera att vi inte anser att personen ska bli dömd, tvärtemot anser vi tre organisationer att det behövs ett klargörande från högsta domstolen att man inte ska åtala personer som lever med hiv där överföring av hiv inte skett.
Riksåklagare Anders Perklev har redan insett att situationen är högst otillfredsställande utifrån rättssäkerheten för personer som lever med hiv, och att det är svårt att vägleda åklagare i landet när det finns ett icke uppdaterat prejudikat.
Att Högsta domstolen ger prövningstillstånd i ärendet kan inte tolkas på annat vis än att även Högsta domstolen anser att NJA 2004 s. 176 inte längre är aktuellt.