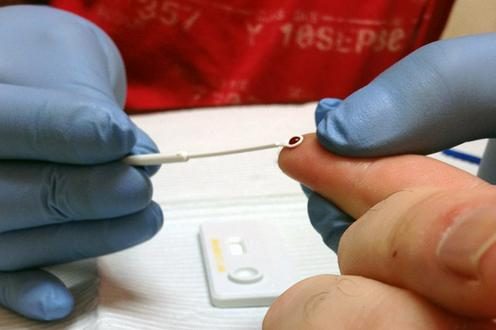 Arrest
Prostitute in Tajikistan detained for spreading HIV
May 29, 2019
Fergana News, May 29, 2019 Google translation. For original article, please scroll down
Police in the city of Kulyab in the Khatlon region of Tajikistan detained a local woman who was engaged in prostitution, despite the diagnosis of HIV. A woman is suspected of deliberately infecting another person with an infection, Avesta reports, citing the press service of the republic's Ministry of Internal Affairs.
It is noted that on May 18 of the current year, a 28-year-old suspect had sex without protection with a 30-year-old resident of Kulyab, which could have caused her partner to become infected with HIV. It is emphasized that the woman has been registered at the Center for HIV-infection since November last year and knew about her illness.
A criminal case was initiated against the suspect under Part 1 of Article 125 ("The deliberate exposure of another person to the risk of becoming infected with HIV") of the Criminal Code of Tajikistan, the investigation is underway.
In 2018 in Tajikistan, the initiation of criminal cases on charges of intentionally acquiring HIV infection for became known for the first time. The accused are predominantly women in prostitution. Criminal cases against HIV-infected people can have the opposite effect, community activists say. Fearing persecution, prostitutes and drug addicts will avoid testing, and HIV-infected people will go into the shadows, hide their status from others and, accordingly, receive less information and assistance.
According to estimates of the Joint United Nations Program on HIV / AIDS (UNAIDS), in Tajikistan at the beginning of 2018, there were about 14 thousand people infected with HIV. According to the official statistics of the Republican Center for the Prevention and Control of AIDS (RC AIDS), as of October 1, 2018, 10,842 HIV-infected were registered in the country. Since 1991, 2,816 people have died from HIV / AIDS in Tajikistan. And at last, terminal, stage of the disease no more than 35% survived, the rest died from concomitant diseases or accidents.
---
Проститутку в Таджикистане задержали за распространение ВИЧ
Сотрудники милиции города Куляба Хатлонской области Таджикистана задержали местную жительницу, занимавшуюся проституцией, несмотря на диагноз ВИЧ. Женщину подозревают в умышленном заражении инфекцией другого человека, сообщает «Авеста»со ссылкой на пресс-службу МВД республики.
Отмечается, что 18 мая текущего года 28-летняя подозреваемая вступила в половой контакт без средств предохранения с 30-летним жителем Куляба, что могло стать причиной заражения ВИЧ-инфекцией ее партнера. Подчеркивается, что женщина стояла на учете в Центре борьбы с ВИЧ-инфекцией с ноября прошлого года и знала о своей болезни.
В отношении подозреваемой возбуждено уголовное дело по части 1 статьи 125 («Заведомое поставление другого лица в опасность заражения ВИЧ‐инфекцией») УК Таджикистана, ведется следствие.
В 2018 году в Таджикистане впервые стало известно о возбуждении уголовных дел по обвинениям в умышленном заражении ВИЧ-инфекцией. Среди обвиняемых — преимущественно женщины, занимавшиеся проституцией. Уголовные дела в отношении ВИЧ-инфицированных могут привести к обратному эффекту, считают общественные активисты. Опасаясь преследования, проститутки и наркоманы будут избегать тестирования, и ВИЧ-инфицированные станут уходить в тень, еще больше скрывать от окружающих свой статус и, соответственно, получать меньше информации и помощи.
По оценочным данным Объединенной программы ООН по ВИЧ/СПИД (UNAIDS), в Таджикистане на начало 2018 года насчитывалось около 14 тысяч человек, зараженных ВИЧ. Согласно же официальной статистике Республиканского центра по профилактике и борьбе со СПИДом (РЦ СПИД), на 1 октября 2018 года в стране было зарегистрировано 10 842 ВИЧ-инфицированных. Начиная с 1991 года от ВИЧ/СПИД в Таджикистане умерли 2816 человек. Причем до последней, терминальной, стадии болезни дожили не более 35%, остальные скончались от сопутствующих заболеваний или несчастных случаев.