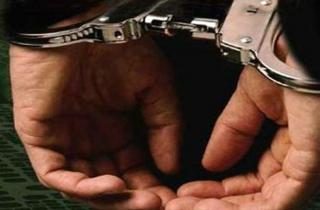 Charged
Man accused of using alleged HIV needle in robbery charged in Naperville crime
November 22, 2016
A man who used an alleged HIV-tainted hypodermic needle to steal over-the-counter medication from businesses in Niles and Chicago has been charged with doing the same thing last week at a Naperville drug store, according to Naperville police and DuPage County Circuit Court records.
"That is our guy," Naperville police Cmdr. Jason Arres said of X, who "fit(s) the (suspect) description from our robbery" Nov. 15 of the CVS store at 1299 E. Ogden Ave.
X, 49, of the 300 block of North Pulaski Road in Chicago, is being held in Cook County jail on $100,000 bail following his arrest Friday night inside a Jewel-Osco store at 2940 N. Ashland Ave. on Chicago's North Side.
Additionally, Arres said a DuPage County warrant has been issued for the arrest of X's alleged accomplice in the Naperville crime. Former Elmhurst resident and convicted burglar Janine I. Gurgone, 32, of the 3600 block of North Pulaski Road in Chicago, has been charged with armed robbery, DuPage County court records showed.
Two workers at the Naperville store told police the man, now identified as X, "threatened (the employees) … with a hypodermic needle alleged to be infected with HIV," the virus that causes AIDS, Arres said.
The thieves "stole numerous medications from the business" before fleeing, Arres said.
In the Niles crime, a man and woman on Nov. 14 allegedly took $600 worth of over-the-counter medication from the shelves of the CVS store at 9640 N. Milwaukee Ave., concealing it inside bags they had brought with them.
They tried to leave but were confronted by an employee, who demanded they put the drugs back, a Niles police spokesman said. The man reportedly pulled out a hypodermic needle from his pants pocket, pointed it at the employee and said, "You don't want what I have." The couple then left with the medication.
Niles police on Monday charged X with felony armed robbery.
In the Chicago case, a 29-year-old Jewel-Osco employee confronted X, who allegedly threatened him with an unspecified, "dangerous weapon" prior to his arrest. X in that incident is charged with felony robbery with a dangerous weapon, aggravated battery to a merchant and retail theft greater than $300.
A Chicago police news affairs officer on Tuesday said X alone was arrested, and that there was "no mention anywhere" of Gurgone in the police case report.
Niles police Sgt. Robert Tornabene said Tuesday he knew nothing of Gurgone or her possible involvement in the theft from the CVS in that village.
In April 2008, Gurgone was sentenced to three years in prison for the December 2007 burglary of a residential garage and a 1997 Toyota 4-Runner in Elmhurst, according to DuPage court records.