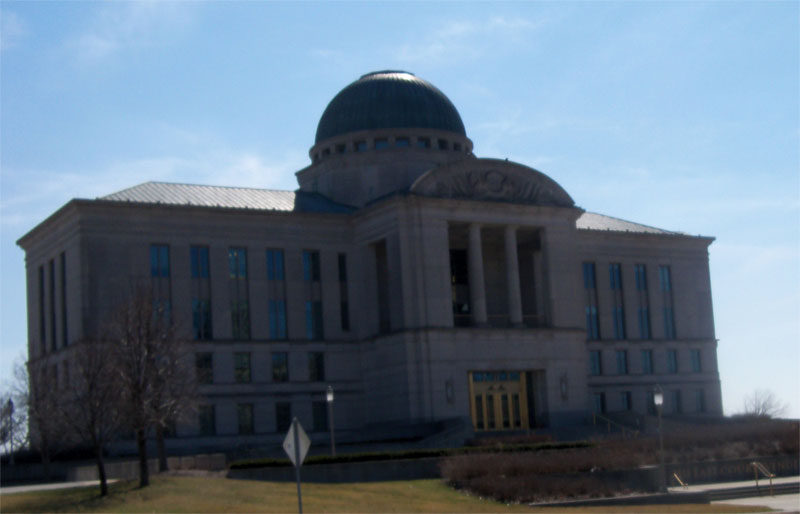 Appeal won
Man convicted of HIV crime but later vindicated cannot sue
April 16, 2016
DES MOINES, Iowa (AP) — The Iowa Supreme Court ruled Friday that defendants who enter plea agreements in criminal cases cannot later sue the state for wrongful imprisonment, even if their cases are eventually thrown out and charges are dropped.
In its interpretation of a 1997 Iowa law, the court acknowledged that it was significantly limiting the ability of criminal defendants who enter plea agreements to later seek damages for being wrongfully locked up if the conviction is reversed.
The ruling was made in the case of Nick Rhoades, 41, who was charged with criminal transmission of HIV in 2008 after having sex with a man he met in an Internet chat room. When the man later discovered that Rhoades had HIV, he reported it to the authorities.
Upon the advice of his attorney, Rhoades reached a deal with prosecutors under which he pleaded guilty to the charge. Nevertheless, the judge sentenced him to 25 years in prison, which was the maximum allowed. He served about a year in jail in 2009 before another judge reconsidered his case and reduced his sentence to probation and required Rhoades to register as a sex offender. Rhoades appealed his conviction in an effort to clear his name.
The case drew national attention as an increasing number of states passed laws making it a serious crime for people with HIV to intentionally engage in unprotected sex with someone and to risk transmitting the virus, which causes AIDS. Gay rights advocates and other critics said the laws were a sign that legislatures were ruled by fear and lack of knowledge about the virus and how it is transmitted.
Last May, Rhoades sued the state of Iowa, saying he had been wrongfully imprisoned. A judge dismissed the case in June and Rhoades appealed.
John McCormally, an attorney for the state, argued that Rhoades should not be eligible to recover damages because he had pleaded guilty and the 1997 statute excludes recovery of damages for those who admit guilt.
Rhoades' attorney, Dan Johnston, argued that the court ruled his plea was invalid, which means it should be treated as if it never existed.
The justices unanimously concluded that they were required to follow the language the 1997 law, and the best interpretation "is that it categorically excludes all persons who plead guilty from Iowa's wrongful imprisonment statute," wrote Justice Brent Appel for the court.
"This interpretation leads to a narrow but not impractical or absurd result," he said. "As we have stated before, if we have missed the mark, the Legislature may respond to correct it."
The court rejected Rhoades' contention that he had demonstrated that he's innocent. It said that in overturning his conviction, it never concluded he was innocent — only that there was not enough evidence to support a guilty plea. It sent the case back to district court for further proceedings and state prosecutors, rather than trying the case, dropped the charges.
"The discretionary decision of the state to dismiss the case does not establish actual innocence," Appel wrote.
Johnston said he was surprised by the decision and declined to further comment until he's read it through.
If he had won Rhoades could have sought repayment of fines, court costs, attorney fees, payment of $50 for each day spent in jail and lost income up to $25,000.
Rhoades continues to pursue a legal malpractice lawsuit against his trial defense attorney.
Appeal
Iowa justices weigh Rhoades HIV case for second time
March 9, 2016
Source:
Des Moines Register
A man's overturned conviction for criminal transmission of HIV has sparked debate at the Iowa Supreme Court over who should be able to win damages for being wrongfully imprisoned by the state's prosecutors and judges.
Nick Rhoades, 41, spent almost one year in the Black Hawk County Jail and a state prison stemming from the 2009 felony conviction for having protected sexual intercourse with a man he met online but without disclosing his positive HIV status.
A split Iowa Supreme Court vacated Rhoades' guilty plea in a 2014 ruling, swayed by arguments from LGBT advocates who criticized the state's criminal transmission law as being out of step with medical advancements in treating HIV and modern understandings of how people become infected with the virus.
It's now up to the seven justices to decide whether that ruling paves the way for Rhoades to win monetary damages under an Iowa law that allows people to sue the state if they're imprisoned for a crime they did not commit. The law bars a person who pleaded guilty to the crime from being eligible to sue, which Rhoades did.
That provision led a district court judge to dismiss Rhoades' wrongful imprisonment lawsuit after it was filed in May 2015.
The court's ruling will have a significant impact on Rhoades, who said he filed the lawsuit after the legal battle over his prosecution left him financially drained and stigmatized by potential employers.
"I thought this would all be behind me by now, but it just feels like it's never going to end," he said.
But Justice David Wiggins noted during oral arguments Tuesday that a decision will affect wrongful imprisonment claims from all manner of defendants who admit to crimes in court for reasons other than actual guilt.
"Let's say for some reason your client pleads guilty to a sexual assault charge, and 20 years later DNA exonerates your client," he asked during arguments from Rhoades' attorney, Dan Johnston. "Would they be able to collect under the statute?"
"I think it depends upon the facts," Johnston replied. "I think probably not."
The court vacated Rhoades' 2009 guilty plea after finding that his lawyer at the time, James Metcalf, provided ineffective legal advice by letting Rhoades enter the plea when evidence called into question whether a crime had occurred under the scenario alleged by prosecutors.
Wiggins wrote in that majority opinion that because Rhoades used a condom during sex, he did not break a provision of the criminal transmission law that made it illegal to "intentionally expose" a partner to the virus.
Rhoades' viral load, the amount of the HIV virus in his blood, was also so low at the time that the risk of transmission was greatly reduced, Wiggins wrote. The man went to police and a hospital after learning about Rhoades' status but did not contract the virus himself.
Johnston, a former Polk County attorney, said during the afternoon oral arguments that the court's last ruling effectively erased Rhoades' 2009 guilty plea, clearing the way for his lawsuit to move forward. Johnston said he's also filed a legal malpractice suit against Metcalf on behalf of Rhoades, but he's still unsure whether the lawyer will be able to pay any judgment against him.
"This statute, I think, may very well be Mr. Rhoades' only hope for getting any remedy at all for the year he spent in jail and prison," he said. "… Mr. Rhoades desperately needs some resources to get his life back on track and put together. Every time he applies for a job, this comes up."
However, Assistant Iowa Attorney General John McCormally urged the justices to stick to the bright-line rule laid out by legislators.
Rhoades' imprisonment was not because of any intentional wrongdoing by prosecutors or a judge, such as purposefully withholding evidence that might have proved his innocence, McCormally said. Iowa case law at the time of Rhoades' conviction suggested that any purposeful exposure to the virus was enough to win a conviction, he said.
"Somebody who is wrongfully prosecuted — where there is some kind of prosecutorial misconduct or some kind of malfeasance that railroads a person into prison — presents a clear avenue where somebody should be able to recover for the wrong that was done to them," he said. "When there is a guilty plea and somebody has said, 'Yes, I did it,' and admits to the evidence, as Mr. Rhoades did, to me that presents a different circumstance. "
Rhoades was initially sentenced after his plea to serve 25 years behind bars, but a district court judge months later re-sentenced him to probation and released him from prison. Rhoades was also initially ordered to register as a sex offender, but that requirement was removed after the 2014 ruling, he said.
Rhoades said he's still dealing with the fallout from the years-long legal battle to get his conviction overturned. He's unemployed and living in Des Moines.
He recently applied to be a driver for the ride-sharing service Uber, but a company that performed a background check wrongly determined that he was still a sex offender, he said.
"It was this huge mess of just trying to show that I wasn't a sex offender," he said. "The department of public safety did write an email indicating that I was not, that they had no idea where that company got that information. So at this point in my life it's entirely conceivable that another company would do a background check and the same thing could come up.
"This conviction has put me on the sex offender registry, it's ruined my reputation, I spent over a year in jail or prison and I just need some sort of means to get my life back on track," he said.
Appeal
Charges dropped in HIV transmission case
Source:
Des Moines Register
Black Hawk County prosecutors are asking a judge to drop criminal transmission of HIV charges against an Iowa man, saying they cannot proceed with prosecution after the Iowa Supreme Court threw out his conviction in June. The dismissal, if approved, means Nick Rhoades, 40, of Plainfield, will not be a convicted felon and will not be branded a sex offender for life.
Appeal won
Victory! Iowa Supreme Court Reverses Conviction in Lambda Legal HIV Criminalization Case
June 13, 2014
Today the Iowa Supreme Court set aside the conviction of Nick Rhoades, an HIV-positive Iowan who was initially sentenced to 25 years in prison, with required registration as a sex offender, after having a one-time sexual encounter with another man during which they used a condom.
In reversing the conviction, the Court recognized that HIV-positive individuals who have a reduced viral load as a result of effective treatment pose little risk of transmitting HIV.
Christopher Clark, Counsel for Lambda Legal, said:
We applaud the Court for applying the law in light of current medical understanding of how HIV is and is not transmitted. An individual who takes precautions to prevent transmission should not be considered a criminal for choosing to be sexually active, and we are very pleased that the Court agrees.
Justice Wiggins wrote for the majority opinion:
Based on the state of medicine both now and at the time of the plea in 2009, we are unable to take judicial notice that an infected individual can transmit HIV, regardless of an infected individual's viral load, when that individual engages in protected anal or unprotected oral sex with an uninfected person.
Appeal
Iowa's Supreme Court will hear Nick Rhoades HIV criminalization case
January 28, 2014
Source:
Desmoinesregister
An Iowa man who pleaded guilty in 2009 to criminal transmission of HIV will have his case heard before the Iowa Supreme Court. Nick Rhoades, 39, was arrested after he had sex with a man who went to police after finding out about Rhoades' HIV-positive status. Rhoades has argued he used a condom during sex, and the man did not contract the virus. But Rhoades was advised by his lawyer to plead guilty in a Black Hawk County District Court. A judge initially sentenced Rhoades to 25 years in prison after he pleaded guilty to the crime, but he was later resentenced to the time he'd already served.
Rhoades has garnered national attention for fighting his case, taking it first to the Iowa Court of Appeals in September. The court upheld Rhoades' conviction, finding that because he did not use a condom during oral sex with the man there could have been a chance for transmission.Rhoades and his attorneys, however, have argued the charge and conviction was not based on current science. Rhoades' viral load – the amount of the HIV virus in his blood – is too low to be detected by his doctor, greatly reducing the risk of transmission.
Rhoades' attorneys with Lambda Legal, an organization that advocates for the rights of gays and lesbians, appealed the court's decision in October. The Iowa Supreme Court granted an order for further review in the case on Thursday, according to online court records. Rhoades' legal battle has been a rallying cry for activists across Iowa and nationally who are calling for states to retool laws making criminal transmission of HIV a crime. He's been featured in news stories on CNN and BuzzFeed.
HIV criminal transmission laws are outdated in light of scientific advancements that reduce transmission risks and they encourage people not to get tested, advocates say. The Iowa Attorney General's Office, however, has held that the laws help to ensure sexual partners tell each other about HIV statuses. Hearing Rhoades' case will give Iowa's justices an opportunity to review the court's decisions in two HIV criminal transmission cases decided in 2001 and 2006. In State v. Keene in 2001, the court ruled that even though a man did not ejaculate during sex, he'd still exposed his partner to the virus and violated the law. In State v. Stevens in 2006 the court held that oral sex can be considered a method of HIV transmission under the law. Both cases have been heavily cited by attorneys in Rhoades' case.
Appeal
Man appeals HIV transmission conviction to Iowa Supreme Court
October 28, 2013
DES MOINES (AP) | An Iowa man on Tuesday asked the Iowa Supreme Court to review his conviction on violating the state's HIV transmission law. Lambda Legal, a Chicago-based gay rights group, is representing Nick Rhoades, an HIV-positive Iowan who had a one-time sexual encounter in 2008 with another man during which they used a condom.
Appeal
Lambda Legal Appeals Conviction of HIV-Positive Man
October 10, 2012
"This conviction cannot stand because someone who engages in safe sex is not guilty of criminal transmission of HIV."
(Des Moines, IA, June 14, 2012) – Today Lambda Legal filed an appeal on a petition for post-conviction relief in the Iowa Supreme Court on behalf of an HIV-positive Iowa man, Nick Rhoades. Rhoades was sentenced to 25 years in prison and lifetime registration as a sex offender after having a one-time sexual encounter with another man during which they used a condom.
"The law only applies to those who intend to expose others to HIV," said Christopher Clark, Senior Staff Attorney for Lambda Legal. "This conviction cannot stand because someone who engages in safe sex is not guilty of criminal transmission of HIV. Nick's use of a condom clearly indicates that he was protecting his sexual partner from exposure."
In June 2008, Rhoades had a one-time sexual encounter with Adam Plendl during which they used a condom. Several days later, Plendl was told by a friend that Rhoades might be HIV-positive, and he contacted the police. The police arrested Rhoades in September 2008, and on the advice of his counsel, he pled guilty. Despite the fact that a condom was used and Mr. Plendl did not contract HIV, Rhoades was convicted of intentionally exposing Plendl to HIV. He received the maximum sentence: 25 years in prison and lifetime registration as a sex offender. Several months later, the court suspended his prison sentence, and he was placed on supervised probation for five years. On March 15, 2010, Rhoades filed an Application for Post-Conviction Relief, arguing that he had received ineffective assistance from his counsel who advised him to plead guilty. In December 2011, the court denied the application. Lambda Legal is representing Mr. Rhoades in his appeal to the Iowa Supreme Court.
"To think that for the rest of my life I'll be branded as a felon and sex-offender, all because of a one-time safe sex encounter where no HIV was transmitted, is unimaginable," said Nick Rhoades.
Thirty-nine states have HIV-specific criminal statutes or have brought HIV-related criminal charges resulting in more than 80 prosecutions in the United States in the past two years alone. Among other things, HIV criminalization perpetuates the many myths and misconceptions that fuel other types of discrimination against people living with HIV. It sends an inaccurate message regarding prevention responsibility, creates a disincentive to getting tested, and may actually discourage disclosure of HIV status.
"Criminal laws, like the one in Iowa, unjustly target people living with HIV and subject them to unwarranted prosecution and punishment," said Scott Schoettes, HIV Project Director for Lambda Legal. "By representing people like Nick Rhoades, we are doing what we can to ensure these outdated and unnecessary laws are not abusively misused against people whose conduct is not actually prohibited under them."
The case is Nick Rhoades v. State of Iowa, read the brief here: http://www.lambdalegal.org/in-court/legal-docs/rhoades_ia_20120613_proof-brief-of-applicant-appellant-and-request-for-oral-argument
Arrest
Iowa man arrested for unprotected sex without disclosure
October 2, 2008
A 34 year-old Iowa man has been arrested under Iowa's criminal HIV exposure laws for allegedly have unprotected sex with another man without disclosing his HIV-positive status.
There was obviously no evidence of HIV transmission before the complaint, since the alleged 'crime' took place on June 26th and the 'victim' had already been to the police on July 10th.
For this apparently one-off incident of unprotected sex without disclosure, the man remains in custody until his trial, and faces up to 25 years in prison.
Plainfield man faces charges for allegedly spreading HIV

CEDAR FALLS — A Plainfield man was arrested this week after he allegedly exposed another person to HIV.

Nick Clayton Rhoades, 34, was arrested by Cedar Falls police Monday on a warrant for criminal transmission of the human immunodeficiency virus. The arrest took place at University of Iowa Hospitals and Clinics in Iowa City.

Cedar Falls police say Rhoades met an unidentified Cedar Falls man online in a chat room. On June 26, Rhoades traveled to the victim's home, where the pair had "intimate contact," according to court records. Later on, the victim learned from friends that Rhoades had HIV.

The virus, which develops into AIDS, often takes months or years before incubation sets in. Police did not say whether the victim was infected with the virus.

Cedar Falls police arranged for the victim to contact Rhoades again by phone July 10, where Rhoades admitted he was HIV positive. He admitted it again during an interview with police July 14, according to court documents. He also admitted that he didn't tell the victim he was HIV positive during their initial contact.

Police did not release the age of the victim, who was identified as John Doe in court documents. Rhoades is being held at the Black Hawk County Jail on $150,000 bond. He faces up to 25 years in prison, if convicted as charged.