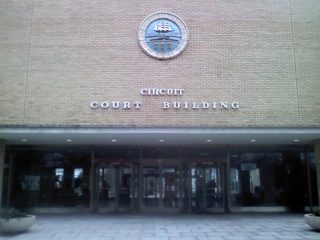 Sentencing
Woman with HIV convicted of biting sister during fight
April 13, 2016
NORFOLK
A 49-year-old woman with HIV was convicted Wednesday of biting her sister, who prosecutors said believes her sibling was trying to infect her with the virus. Experts say that's an extremely hard thing to do.
KW of Newark, N.J., pleaded guilty to unlawful wounding in a deal in which prosecutors reduced the charge against her.
Circuit Judge Michelle Atkins sentenced W to six months in prison. W's mother, Betti, said she expects her daughter to get out Wednesday because she's been locked up more than six months at the Hampton Roads Regional Jail.
On Sept. 26, W got into an argument with her sister, TH, 48, and it turned violent, W said in court documents.
H told police that during the fight, her sister grabbed her at their mother's house and the two started wrestling, Norfolk Officer Steven Haag said in court documents. During the tussle, W bit her sister's right thigh four times, breaking the skin.
In court documents submitted at Wednesday's sentencing, W admitted that she told police she had bitten her sister's leg, and prosecutors said that had the case gone to trial, they would've shown that H thought her sister was trying to give her HIV.
W told police she's known she was HIV-positive since 2011, Haag said.
W's trial was originally scheduled for January, but lawyers on both sides asked to delay it so they could get test results back from the victim, court documents show.
Contracting HIV from a bite is rare, and getting it through saliva alone is nearly impossible, said Edward Oldfield, a professor at Eastern Virginia Medical School's infectious disease division. Saliva contains substances that kill HIV, so people who are infected need to have a fair amount of blood in their mouths to transmit the disease, Oldfield said. Even then, someone would have to have a high amount of the virus in their blood, which would rule out patients undergoing treatment .
"It's pretty difficult to do," he said.
There are a few cases in which people with HIV have transmitted the disease by biting someone, usually accidentally, Oldfield said. In two or three cases, people with the virus bit their tongues during seizures and then bit someone trying to help by sticking a hand inside their mouths.
A small number of people with HIV have intentionally infected others, either through unprotected sex or by filling syringes with their infected blood and injecting it into victims, Oldfield said.
Both intentional infections and infections through bites are "extremely rare," Oldfield said.
Not all people with HIV pose the same risk of infecting others, which prosecutors need to take into account, lawyer and LGBT advocate Ari Ezra Waldman argues in his academic paper "Presumptive Criminals: U.S. Criminal Law and HIV-Related Aggravated Assault."
Patients have different viral loads and engage in behavior with varying risk, Waldman argues. An Iowa jury ignored both when they hit a man with a 25-year prison sentence even though he had an undetectable viral load and used a condom during sex.
Waldman argues aggravated assault charges in such cases run afoul of logic and violate defendants' rights to due process.