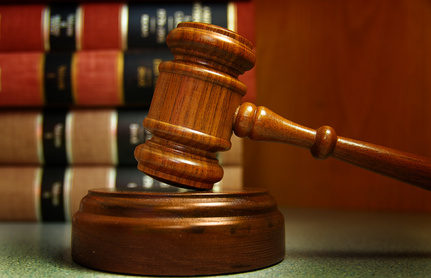 Sentencing
Man who infected woman with HIV sentenced to 8 years in prison
January 31, 2018
RX first learned he was HIV-positive in 2004. On Wednesday, the Toledo man was sentenced to eight years in prison for failing to tell his late girlfriend of his status.
Kimberly Klempner, 51, died from acquired immunodeficiency syndrome, or AIDS, last year.
"No one deserved to give my mother her death sentence. No one," Joshua Klempner told the court in a statement read by his mother's sister, Michele Dail. "The defendant did just that. A selfish act that could have been avoided if the defendant would have just spoke up and told the truth about the disease."
X, 52, had been indicted for murder but pleaded no contest to a reduced charge of involuntary manslaughter. Lucas County Common Pleas Judge Stacy Cook found him guilty and immediately sentenced him to prison.
X, who faced up to 11 years in prison, apologized to Ms. Klempner's family.
"Me and Kim had a great friendship," he said. "I took her everywhere. I was her transportation. … I apologize if I harmed her, did anything to her. I cared about Kim a whole lot."
Judge Cook asked X if he informed his wife that he was HIV-positive. He said that he had but admitted he did not tell Ms. Klempner.
The judge said Ms. Klempner's death "was avoidable had disclosure been given. It would have been her choice then. If she chose to still engage in a relationship, it would have been done with full knowledge."
Drew Wood, an assistant county prosecutor, told the court X and Ms. Klempner had engaged in a sexual relationship between June 1, 2011, and Oct. 1, 2016. She learned she was HIV-positive in August, 2016, and died Feb. 5, 2017.
Before her death, Ms. Klempner told Toledo Police detective Diana Trevino that when she told X about her test results, "The defendant did not seem to react in any significant way. She described it as the defendant acting as if she had told him that she had a cold," Mr. Wood said.
X is believed to be the first person prosecuted in Lucas County for murder under such circumstances.
Defense attorney James Popil pointed out that Ohio law is silent about all other sexually transmitted diseases.
"Ohio's HIV laws automatically treat HIV-positive individuals like they are criminals," he said. "It's currently the only disease in Ohio that is treated like a weapon."
Still, he pointed to a recent Ohio Supreme Court ruling in a related case that upheld the idea that an HIV-positive individual who infects a sexual partner without disclosing his or her status may be prosecuted.
Mr. Popil asked for a three-year sentence in part because X did not have a serious criminal record and because the victim continued to engage in a relationship with X even after she learned he had infected her.
He said X intends to appeal.
Appeal
Man accused of HIV murder may have charges reduced
September 19, 2017
TOLEDO, OH (WTOL) –
Prosecutors may have to file new charges against a man who is currently charged with murder, depending on Ohio's Supreme Court's ruling on the case.
RX was charged with murder after allegedly never telling Kimberly Klempner that he was HIV positive and passed the virus onto her.
Klempner contracted AIDS and died at the age of 51.
Since her death, Klempner's son, Josh, fought to have X charged with murder.
Attorneys for X argue the charge violates their client's First Amendment rights as well as the American Disabilities Act.
"Nothing that happens in this case will bring back his mom but that's our focus getting justice for the victim in this case," said Lucas County Prosecuting Attorney, Clint Wasserman. "So if we have to be methodical about it, we will because we want to make sure we're doing it right."
The ruling from the state's Supreme Court is expected to come back any day. If the Supreme Court decides that X's case is unconstitutional, the prosecutors office will have to file new charges against X.
The new charges may possibly be misdemeanours rather then felonies.
Charged
Man charged with murder for allegedly infecting woman with HIV
June 13, 2017
TOLEDO, Ohio (13abc Action News) – A Toledo man is charged with murder for allegedly having sex with a woman and giving her HIV. Her son is angry and has a message everyone should hear.
"If you're going to be in a relationship make sure you get checked period," said Josh Klempner.
Toledo police charged RX with murder and felonious assault. The married man is accused of having unprotected sex without disclosing he was HIV positive to his girlfriend Kimberly Klempner. Her death certificate says she died in February of 2017 from AIDS.
"It would be different if he would let people know that he had it before he got in that relationship. He didn't so that right there tells me and everybody else that he has no care.The only person he's worried about is himself," said Klempner.
According to a police report his victim told police she was in a relationship with X for the last five years. She told investigators she learned she was HIV positive in 2015 and when she told X he didn't seem bothered by it.
"My mother found out about some pills he had. She stayed the night at his house one night and she felt something was up. She did some snooping and ran across a few pill bottles. She did a little research on them and found out that way," said Klempner.
The police report also states X's wife discovered that X and Klempner were having an affair and told Klempner that X was HIV positive. He claimed that was a lie.
"He should of warned her. He should have told her. I don't want him out here on the streets. The way I see it they should just bury him under the jail."
According to Ohio law, you are required to tell your partner if you are HIV positive or have AIDS. If you don't you can be charged with murder or felonious assault.
13abc went to X's home to get a comment, but nobody answered the door. He'll face a judge on Tuesday.