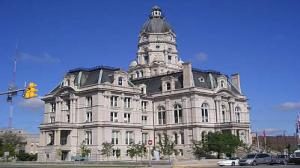 Sentencing
Benford gets 20 years in prison for HIV-battery, robbery Takes plea for HIV-battery, robbery; other charges dropped
March 14, 2017
Terre Haute man accused of knowingly spreading HIV has been ordered to serve 20 years in prison on a 30-year sentence in a plea agreement that resolved five pending criminal cases.
IX, 32, appeared Tuesday in Vigo Superior Court 6 for sentencing in two separate cases. One involved charges of robbery, while the other involved battery by bodily waste.
The plea agreement dropped several criminal counts related to the HIV case.
Prosecution
There's new movement in a disturbing case out of Vigo County.
June 1, 2016
VIGO COUNTY, Ind. (WTHI) – There's new movement in a disturbing case out of Vigo County.
A man stands accused of knowingly spreading HIV for more than a decade. On Tuesday afternoon, IX appeared via video conference in a Vigo County courtroom.
X faces 27-criminal counts ranging from aggravated battery to failure to warn his partners of his status, which is called "duty to warn." The charges are based on accusations from seven different women who claim X gave them HIV; one who has developed AIDS.
X was set to face a jury of his peers on May 31. According to court documents, as discussion of discovery continues, the original trial date has been vacated.
X will face separate trials, which is what the defense was hoping for when they recently filed a motion to have the cases severed.
"It's very complicated, because theoretically you could end up having eight trials, so it's a very complex case, and its unique circumstances too as far as the allegations and the charging information," Vigo County Prosecutor Terry Modesitt told News 10 after the hearing.
X is set to go to trial on Aug. 15 for the five charges alleged by "Partner D."
For now, BX remains in the Vigo County Jail. He will appear for a motion's conference on June 14.
Charged
Terre Haute man charged for not telling sex partners he has HIV
June 23, 2015
A Terre Haute man has been arrested for failing to tell women with whom he had sexual intercourse that he is HIV positive. IX, 31, is facing 16 criminal charges related to his sexual activity between 2003 and 2014. State police investigators allege X had sexual intercourse with four women in that time frame and failed to tell any of them about his health issues.
WTHI-TV in Terre Haute reports court documents show three of the women have been diagnosed with HIV.
The charges include multiple counts of aggravated battery, battery by body waste, battery resulting in serious bodily injury, failure to warn and failure to comply. Indiana law requires people with HIV to warn their sex partners.
X has been held in the Vigo County Jail since April 2014 on unrelated charges.