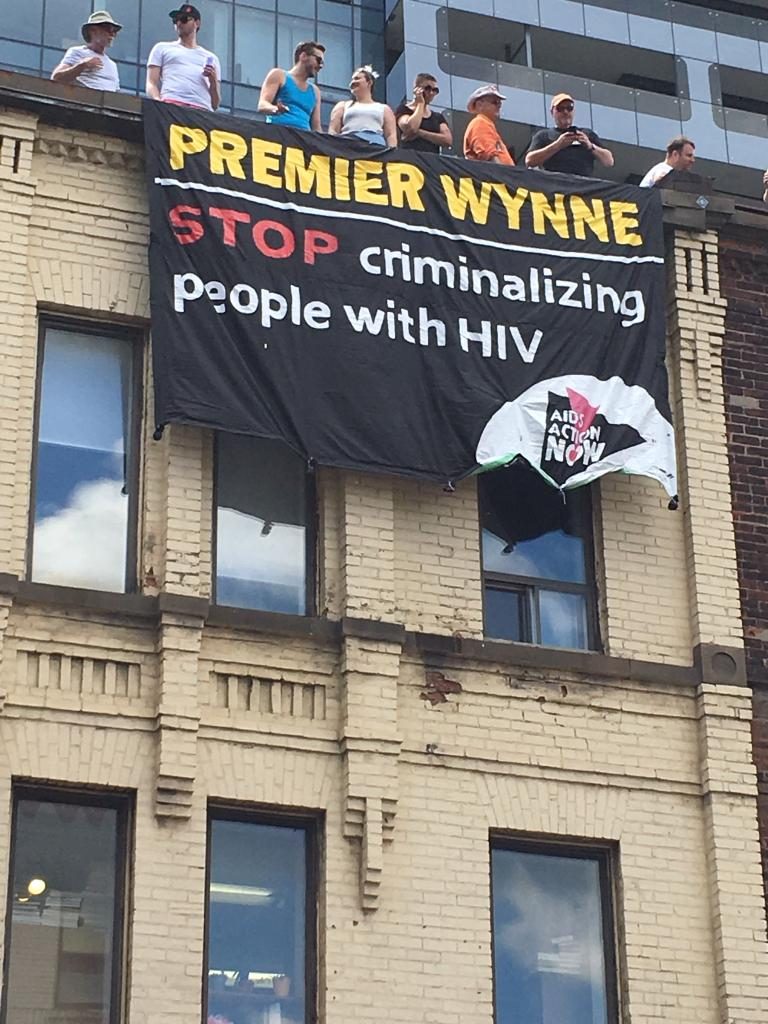 Banner drop! Stop criminalizing people living with HIV!
STOP THE WITCH-HUNT:
Activists drop banner with message to Ontario Premier
during Toronto Pride parade
TORONTO, July 3, 2016 —This afternoon, as the Ontario Premier marched in the country's largest Pride parade, AIDS ACTION NOW! (www.aidsactionnow.org) dropped a huge banner overlooking Yonge Street, calling on Kathleen Wynne to "stop criminalizing people with HIV."
Ontario continues to lead Canadian provinces in charges against people living with HIV for not disclosing their status, even when they have taken precautions to protect their partners, when there is little to no risk of transmission, and when no transmission has taken place. People are being prosecuted for aggravated sexual assault, one of the most serious charges under the Criminal Code. Conviction carries a maximum penalty of life imprisonment and a mandatory designation as a sex offender for a minimum of 20 years. Analysis of prosecutions shows a disproportionate number of charges against racialized people and a growing number against vulnerable women.
Overly broad criminalization is not only unjust, it also undermines public health. Fear of being criminalized discourages people from testing for HIV or seeking counselling. Fear of prosecution also makes it more difficult for people to disclose their status. This can contribute to the spread of HIV. Two years ago, nearly 80 of Canada's leading HIV scientists issued a ground-breaking consensus statement reviewing the scientific evidence about HIV transmission risk and expressing their concern about the increasing divergence between that science and the overly broad use of the criminal law.
In 2010, Ontario's then-Attorney General Chris Bentley committed to developing guidelines to limit such prosecutions. Six years later, his Ministry still refuses to develop guidelines to this effect. Meanwhile, Crown attorneys in Ontario continue to pursue such cases and even seek to expand the circumstances in which people can be convicted. This is not in the public interest.
We call on Premier Wynne to intervene. Her Attorney General must instruct Crown attorneys to respect scientific evidence about HIV transmission and stop unnecessary, unjust prosecutions which undermine public health efforts to control the spread of HIV.
– 30 –
For further information:
▪ AIDS ACTION NOW!: Darien Taylor (Sunday, July 3, only), 416-516-3147
▪ For legal background: Richard Elliott, Canadian HIV/AIDS Legal Network, 416 898 3313
▪ For a timeline on efforts to engage the Ministry of the Attorney General: www.clhe.ca