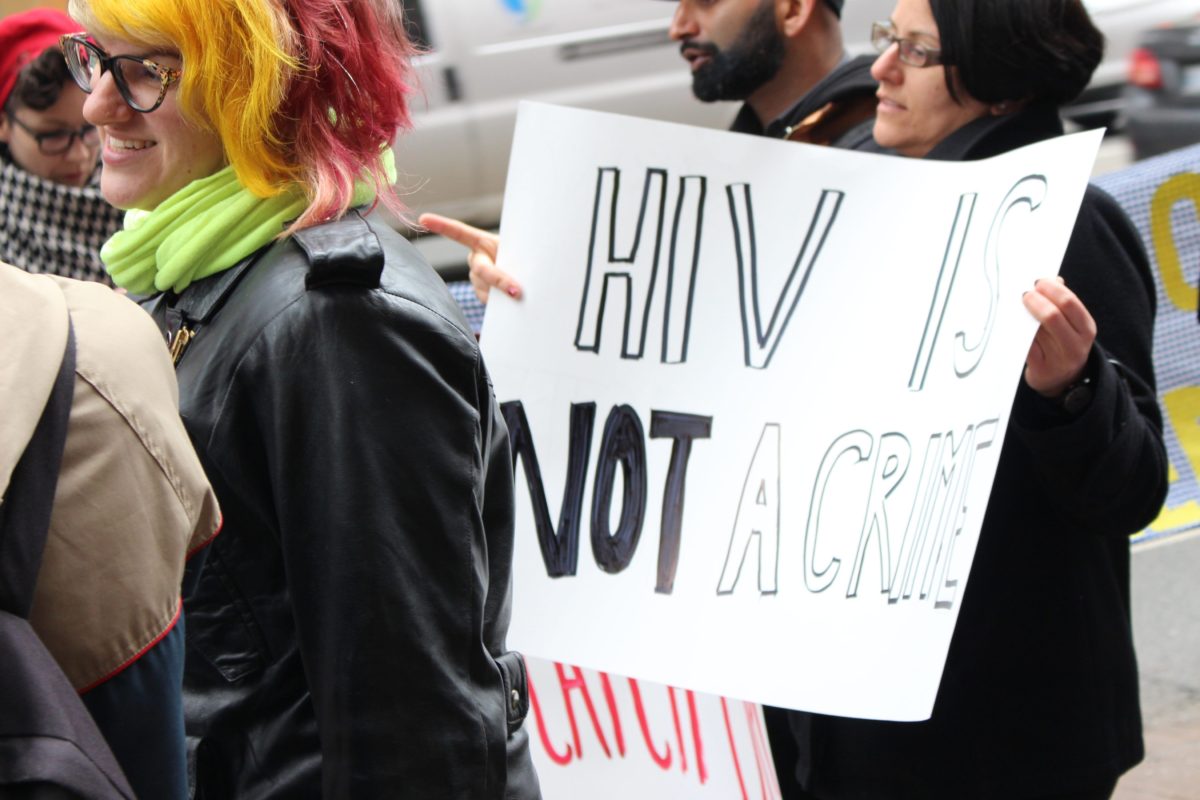 Protesting the Criminalization of HIV
Lives are being destroyed because the laws have not caught up to science.
A couple dozen demonstrators gathered outside the office of the Ministry of the Attorney General on Wednesday to protest the continued criminalization of HIV-positive people in Ontario.
Protesters are demanding an end to the stigmatization of positive status, as well as the ongoing inaction on the part of all levels of government to develop prosecutorial guidelines for legal cases involving HIV-positive people, who are legally required to disclose their status to all partners regardless of the actual risk of transmission.
While there are no official laws criminalizing those with HIV, the precedent of using existing offences—aggravated sexual assault, for instance—against those who fail to inform their partner of their HIV-positive status effectively criminalizes those who have the disease. This is despite the fact that there is growing scientific consensus [PDF] that those who are positive but have a low viral load pose little to no risk of infecting their partner, especially if safety measures (like condoms) are used.
The criminalization of HIV status is part of a larger structure of marginalization, activists say. "This is an intersectional issue, which involves race and class," says Jonathan Valelly of Queers Crash the Beat. "We know that the people being most affected by this are immigrant men and men of colour. We know that gay men are being targeted, and we know that poor people are being targeted."
The issue of HIV criminalization, and the stigma of being HIV-positive, came up recently when a Toronto police officer threatened a citizen peacefully filming an arrest. The officer claimed that the man being arrested was "going to spit in your face; you're going to get AIDS." This is, of course, patently false—but it reflects the immense stigma that HIV-positive individuals face.
The crowd heard statements read aloud from individuals who were affected by HIV criminalization. One man was incarcerated for not disclosing his status, despite having a low viral load and using a condom. They also heard a statement from Michelle Whonnock, a sex worker from Vancouver who was was jailed for nearly two and a half years for not disclosing her positive status to a client. Her statement described how working as a sex worker was a necessity for her to get by, how she was portrayed in the media as an "HIV infected prostitute," and how she remains on a sex offender registry—all because she has a disease.
In 2010, then-Attorney General Chris Bentley agreed to develop prosecutorial guidelines that would help protect HIV-positive individuals, but such guidelines simply never materialized. "We have now a growing consensus in the scientific community internationally that if you are a person living with HIV with a low viral load, it's very difficult for you to transmit HIV," says Eric Mykhalovskiy, who works with the Ontario Working Group on Criminal Law and HIV Exposure.
"That science has not being taken into account in the approach to criminal prosecutions that the ministry takes. Nor has efforts to ensure that people who are following public health advice, who are using condoms, who don't present a risk, aren't prosecuted."
Published in the Torontoist on February 22, 2017