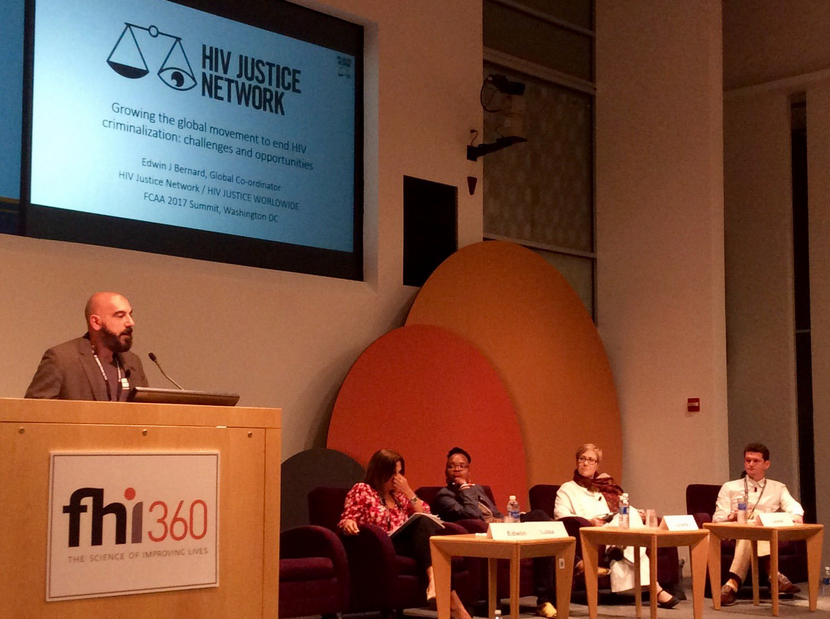 In September, three HIV JUSTICE WORLDWIDE founding members – Laurel Sprague, Executive Director of the Global Network of People living with HIV (GNP+), Lynette Mabote, Regional Programmes Lead at ARASA and I – presented at the Funders Concerned About AIDS (FCAA) Philanthropy Summit in Washington DC on the worldwide movement to end HIV criminalisation, alongside our key partner, Luisa Cabal, Special Adviser on Human Rights and Gender at UNAIDS. The session was chaired by Sergey Votyagov, Executive Director of the Robert Carr civil society Networks Fund, which funds the HIV JUSTICE WORLDWIDE (HJWW) coalition.
As you can see from the video of our session, we were already pretty proud of our achivements to date, but the last few months of 2017 have seen some remarkable advances in HIV justice.
Hot on the heels of the modernisation of the HIV criminalisation law in California (advocated for by our in-state partners, Positive Women's Network-USA), we saw the emergence of a new national network of Mexican anti-criminalisation advocates (supported by SERO, and funded through the HJWW coalition) and an immediate victory with a lawmaker's U-turn in Quintana Roo state. (Watch a short video about the meeting and its impact here.)
And in Canada, following years of advocacy from our key partner, the Canadian HIV Legal Network and their allies in the Canadian Coalition to Reform HIV Criminalisation, it was announced by Federal and Provinicial ministers on World AIDS Day that – finally! – the latest science relating to the prevention benefit of HIV treatment should be taken into consideration when prosecuting alleged HIV non-disclosure: an important, but modest advance.  There is a now a call for both a moratorium on all HIV-related prosecutions and a review of existing convictions and for a more radical overhaul of Canada's framing of HIV non-disclosure as aggravated sexual assault.
But perhaps our proudest moment of 2017 was HJWW's financial and technical support that led to the galvanising of (mostly) women activists in Malawi, who managed to persuade lawmakers to remove all of the problematic provisions of the HIV/AIDS (Prevention and Management) Bill, including provisions to make HIV testing and treatment mandatory for select populations on a discriminatory basis, and provisions that would have criminalised negligent, reckless and intentional HIV exposure and transmission. You can read the press release from some our HJWW partners (ARASA, GNP+ and SALC) amongst others, but to really understand the power of these women, go over to Twitter to watch some short videos here and here of their advocacy messaging to parliamentarians.
And speaking of amazing women, please visit the IAS website, where for Human Rights Day (December 10) they highlighted an interview with Ugandan nurse, Rosemary Namubiru, who was wrongfully accused of exposing a child to HIV whilst administering an injection.  I was also asked to write an accompanying blog post which summarises the current state of HIV criminalisation around the world.
Finally, please check out our new HIV JUSTICE Toolkit, which will continue to expand in both scope and languages in 2018.  It includes one of our latest videos, The Colorado Story, which explains how the law was modernised in that US state last year.  Why not subscribe to the HIV JUSTICE WORLDWIDE YouTube Channel and be the first to be notified when we upload our next videos.
Wishing you all a safe and happy holiday season: here's to even more HIV JUSTICE WORLDWIDE in 2018!