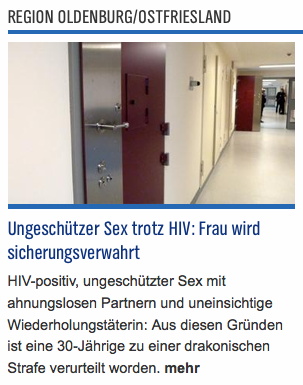 The District Court of Oldenburg has sent a 30-year-old female sex worker to prison for at least nine years under Germany's 'preventive detention' law, because she has shown a pattern of not disclosing to clients that she was living with HIV before they chose to have condomless sex with her.
The judge sentenced the woman from the north German port town and naval base of Wilhelmshaven to four years after finding her guilty of two counts of attempted aggravated assault (for perceived HIV exposure), with at least five years further 'preventive detention'.
The woman had previously been found guilty of of attempted aggravated assault (for perceived HIV exposure) and sentenced to two and a half years in prison by the District Court in Wilhelmshaven in early 2010. This was increased to three and a half years by the Oldenburg District Court in late 2010.
According to the prosecution, this latest case involved three different male clients between August and November 2013.
This trial took place in private without any members of the media or public able to attend, apparently to protect the privacy of both the accused and her clients.
A spokesperson for the Oldenburg Regional Court told NDR.de that 'preventive detention' can be imposed for offenses "directed against life and limb. Also, for repeat offenders, the courts may order a preventive detention. In addition, preventive detention serves to protect the public from dangerous offenders."
The Court believed they were justified under all three criteria.
The woman has been in custody since March 2014. After serving four years in prison for the 'attempted aggravated assault' charges (for perceived HIV exposure), she will remain in custody for a minimum of five more years. She will then be examined by an expert who will decide whether or not she can be released.
Source: NDR.de Ungeschützer Sex trotz HIV: Frau wird sicherungsverwahrt 15 October 2014 and NWZ online Justiz soll Prostituierte aus Verkehr ziehen 17 September 2014.
Update 17 October 2014
Deutsche AIDS Hilfe has reacted to the ruling with a strongly worded press release, confirming that this is the first German HIV-related case to involve preventive detention, and stating that anyone who has condomless sex – especially with a sex worker – needs to be aware of the risk of acquiring HIV since "HIV cannot be locked up".
Germany's top HIV legal expert, Jacob Hösl, is now supporting the woman, and hopes to take her case to the Supreme Court.
The press release (in German) can be read here. An approximate English translation is below.
Deutsche AIDS Hilfe: HIV cannot be locked away!

The Oldenburg District Court has imposed a prison sentence and preventive detention against HIV-positive woman – a fatal signal for HIV prevention.

The District Court of Oldenburg has sentenced a 30-year-old HIV-positive woman from Wilhelmshaven to four years in prison and five years of preventive detention because the sex worker had unprotected sex with multiple clients. No HIV transmission is alleged.

Manuel Izdebski, from the Board of Deutsche AIDS-Hilfe (DAH) notes:

"This ruling sends a completely wrong signal and harms HIV prevention. That the criminal law only places the responsibility for HIV prevention on people with HIV remains a scandal. Imprisonment and preventive detention create a dangerous false sense of security. Everyone needs to know that with unprotected sex there is a risk of HIV infection received, and must protect themselves. HIV cannot be locked away!"

To the knowledge of Deutsche AIDS-Hilfe, this is the nation's first case of this kind, in which preventive detention was ordered. The female accused had already been convicted several times for similar "offenses". To our knowledge no actual HIV transmission occurred  in any of the cases.

In the current case, the court informed us on request that the woman had interrupted her HIV treatment during the relevant time and so HIV transmission was therefore possible.

In an earlier judgment, the Oldenburg District Court noted that the woman had a "personality disorder" and suffered from "multi-year alcohol abuse". And before the sexual encounters she is said to have consumed alcohol to a considerable extent.

"That makes it all the clearer that you have to protect youself against HIV and not be allowed to rely on your partner," says DAH Board member Manuel Izdebski. "Maybe they are just not in a position to assume this responsibility."

The criminalisation of (potential) HIV transmission is considered by Deutsche AIDS-Hilfe to be counterproductive in every way. Criminal liability is also made ​​on false premises. Manuel Izdebski notes:

"The victim-offender paradigm of criminal law is totally inappropriate for consensual sex without a condom, because it 'takes two to tango'. The condition [that might support a prosecution] that the person with HIV wants to harm their partner has not been met here. The reasons for the abandonment of protection are much more complex. For example, it may be unspeakably difficult to address their own HIV infection, because it is associated with a great deal stigma and the fear of rejection".