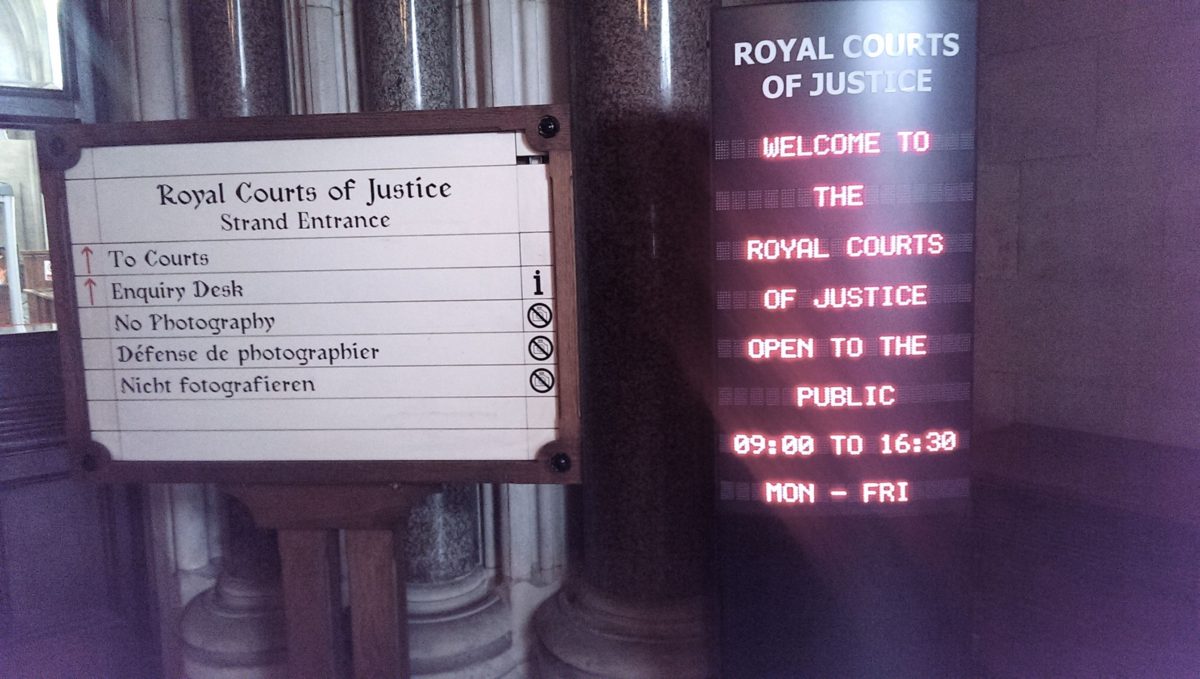 Today, the Court of Appeal upheld David Golding's 2011 conviction for 'recklessly' infecting his ex-girfriend with genital herpes (HSV-2) during a brief relationship.  However, his original 14 month sentence was reduced to three months (as time served, Mr Golding was released on bail in September 2011 after spending six weeks in prison) because of the exceptional delay in bringing the case to appeal. "Accordingly," wrote Lord Justice Treacy on behalf of fellow judges Mr Justice Bean and His Honour Judge Lakin, "notwithstanding our view as to the propriety of the initial sentence, we exercise our power to reduce that sentence in the light of what has occurred subsequently."
The Court found that Mr Golding understood both that he had the infection and how it is transmitted, and by not preventing transmission – or disclosing his condition thereby allowing the complainant to make an informed decision whether or not she wanted to risk acquiring herpes – was guilty of reckless grievous bodily harm under Section 20 of the Offences Against The Person Act 1861.
Notably, the Court reaffirmed that in this case herpes was a "really serious bodily harm", although it noted that in a future contested trial it would be up to a jury to consider whether the herpes infection was, indeed, really serious, on a case-by-case basis.
20. As to the impact of herpes, the evidence was that whilst it was not a life threatening condition, it is incurable. The initial infection is described as an unpleasant and painful acute illness with debilitating effects. On occasion admission to hospital may be required, (not in this case), and most affected people can return to work within a week or so. Episodes may recur throughout life. Generally when they do, they are milder and shorter in impact. Psychological disturbance is common in the immediate aftermath of the initial episode. HSV-2 has a higher recurrence rate than HSV-1.

62. ….The evidence of the painful symptoms, their effect at the time, their recurrence, and the prospect of their recurrence without effective cure for an indefinite period was in our judgment sufficient for a jury to consider that it amounted to really serious bodily harm.
During the Appeal, Mr Golding testified that he had not been given clear information that genital herpes might be transmtted even in the absence of a "flare up". The Court did not believe Mr Golding, and because there were no medical notes regarding how he had been counselled (despite him testifying that he only received confirmation of his herpes diagnosis over the phone from a GUM receptionist and a general leaflet on STIs at his initial visit) and because both medical experts – Dr Kenneth Mutton (for the Crown) and Professor George Kinghorn (for the defence) –  said that "best practice" would be for a newly diagnosed person to be counselled about "the possibility of infectivity even when a person is asymptomatic" the Court found Mr Golding was, in fact, reckless.
22. The available medical notes were not specific as to advice provided to the appellant. According to Dr Mutton, he would have expected a full discussion to have taken place in April 2008 at the Genito-urinary Clinic following the guideline of the British Association for Sexual Health and HIV. This refers to condom use when lesions are present, the possibility of infectivity even when a person is asymptomatic, and disclosure of the condition to a partner.

23. Professor Kinghorn, in the absence of particular evidence as to the advice given to the appellant, thought that it was less likely that the appellant would have been told that he was infectious when no lesions were present. However, he conceded that since the turn of the century, the state of medical knowledge in this respect available to general practitioners had improved. He also acknowledged that a GP following best practice would have included advice about asymptomatic transfer.
This will have important future implications for the clinician-patient relationship, not only at GUM clinics, but also for GPs. It suggests that courts will assume this "best practice" has taken place – even if it hasn't – and it will be hard for a future defendant to prove that he or she hadn't been counselled in this way if there is nothing in their medical notes.
Given the public policy implications of this ruling, there may well be an application to appeal the case to the Supreme Court.
Unusually, it was the CPS that had initiated this appeal after seeing a report from Dr Mutton, produced after Mr Golding was sentenced (following an initial guilty plea) which raised the issue of whether genital herpes could be described as "really serious bodily harm" so as to come within Section 20. In the latest (unpublished) version of its legal guidance on prosecuting Intentional or Reckless Sexual Transmission of Infection it had suggested that genital herpes could be prosecuted under Section 47 of the OAPA 1961, actual bodily harm.
Mr Golding had been prepared to plead guilty under Section 47 in his original trial, but the judge had made it clear that he would only accept a plea (or a full trial) under Section 20. In effect, however, the Court of Appeal has dodged a bullet by avoiding a clear statement that sexual herpes transmission is always serious bodily harm.
As it stands, the reckless (or intentional) transmission of any sexually transmitted infection (whether or not it is considered to be objectively serious by, for example, BASHH or other medical experts) could be prosecuted in England & Wales and a jury will decide whether the infection is subjectively serious according to the testimony of the complainant and medical experts.
It should be recalled that the original draft of the CPS guidance, published in 2006, covered not only the intentional or reckless sexual transmission of HIV, but also chlamydia; genital herpes; gonorrhoea; hepatitis A, B and C; LGV (lymphogranuloma venereum); non-specific urethritis (NSU), and syphilis.
Back in 2007, in response to the draft, the Government's Expert Advisory Group on AIDS (EAGA) noted that including so many non-serious STIs was "one of the most disturbing aspects of the document." It conceded that "broadening the policy to cover other infections may be desirable to avoid stigmatising HIV," but added that "there is a danger of confusion because of significant differences between the infections listed." It questioned the CPS's understanding of the nature of STIs, how they are transmitted and whether they actually cause any serious harm in pragmatic terms.
As an example it used the case of genital herpes, which "is simply a cold sore on the genitals, indeed half of all cases in the UK are thought to be caused by transmission of herpes from the mouth to the partner's genitals during oral sex. It causes little serious physical harm and most people who contract it are not even psychologically disturbed by it in the longer term. Even given the definition in the document, it seems to defy common sense that this could constitute grievous bodily harm."
EAGA added that HSV, the virus that causes genital herpes, is often passed from parent to child with a kiss on the cheek. "Why should it be grievous bodily harm to infect a partner with genital herpes through sex, but not when an adult infects a child by kissing their cheek, or another adult by kissing their mouth?"
It stressed that "the CPS needs to take the advice of experts regarding the seriousness of [STIs]. In the vast majority of cases, seeking to prosecute transmission would be an entirely disproportionate response."
The Herpes Viruses Association (HVA) issued a press release following today's verdict which stated that "we are appalled at the court's failure to overturn the guilty verdict. Herpes virus transmission should not be in the legal arena at all."
HVA charity director Marian Nicholson said: "This charity represents around forty million people in the UK who carry herpes simplex infections. Over half the cases of genital herpes are caused by the common facial cold sore type (HSV-1) usually by oral sex. The implications of the judgment are that any of them could be sent to prison if they transmit this infection to a partner."

She said: "I am pleased that David Golding has not been sent back to prison – but this ruling is inappropriate. It is not in anyone's interest to send people to prison for passing on such a common and usually unnoticed condition."

She continued, "We should take responsibility for our own sexual health and not assume that a partner is infection-free. Many infections are caught from people who don't know they have them so blaming someone else is pointless."