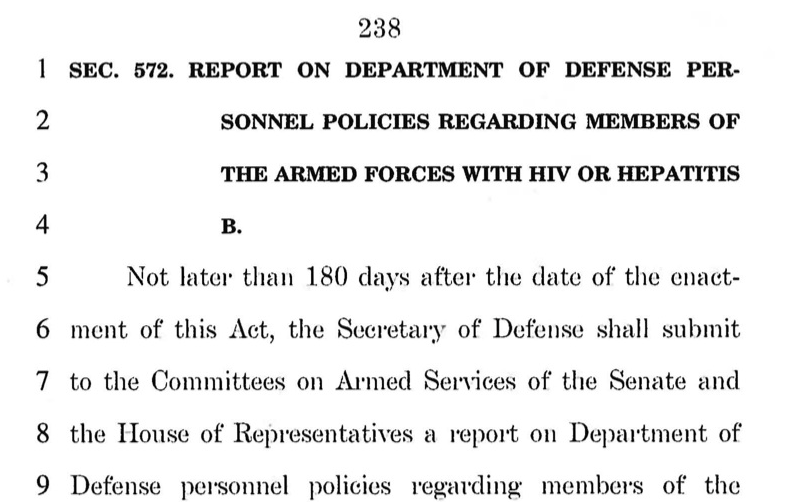 On December 19th, the United States Senate passed the National Defense Authorization Act (fiscal year 2014) which, according to a press release from the Sero Project, "is a significant first step toward reforming the military's HIV-related policies, and is the first time that Congress has taken action of any kind to address HIV criminalization."
President Obama is expected to sign the bill by Christmas Day.
Both Sero and the Positive Justice Project have issued press releases which can be read in full at the bottom of the page.
The key provision, according to Sero Executive Director, Sean Strub's, own blog,
is an amendment that was added in the U.S. House, before it passed the bill a few days ago. It included language from H.R. 1843, the REPEAL HIV Discrimination Act, co-sponsored by Rep. Barbara Lee (D-CA) and Ileana Ros-Lehtinen (R-FL), that requires the Secretary of Defense to prepare a report for Congress concerning members of the Armed Forces who have HIV or Hepatitis B.

The report is to include a description of policies "addressing the entlistment or commissioning of individuals with these conditions and retention policies, deployment policies, discharge policies, and disciplinary policies regarding individuals with these conditions" and an assessement of whether these policies "reflect an evidence-based, medically accurate understanding" of how these conditions are contracted, transmitted to others and the risk of transmission. The exact language can be found here.
Another provision in the bill will end criminal prosecutions under the Uniform Code of Military Justice for "consensual sodomy," which was maintained even after the 2011 end to the "Don't Ask, Don't Tell" policy.
The review has been welcomed by service members who have faced HIV-related prosecutions, including Lieutenant Colonel Ken Pinkela who was convicted in 2012 on HIV-related charges and served nine months in a military prison, and Monique Moree, who was prosecuted by and ultimately discharged from the U.S. Army for not disclosing her HIV status to a partner, even though she told him to use a condom.
Both are member of Sero's Advisory Board and are quoted in Sero's press release.
"This is a unique opportunity for Secretary of Defense Hagel to take care of our all volunteer force by removing HIV discrimination from Armed Forces policies and advancing the military to reflect modern medical times," said Lieutenant Colonel Ken Pinkela. "Removing 'consensual sodomy laws' and reviewing HIV and Hepatitis B-related policies are positive steps that should help stop the prosecution of consensual sex—gay or straight—and enable scarce resources to be devoted to improving the military's criminal justice process to ensure fair and well-informed investigations before pursuing a prosecution," Pinkela added.

"My personal dignity and my respect for my country and the Army made me want to take a stand for what I truly believed—which is that the military needs to be better informed about HIV/AIDS," said Monique Moree. "I hope that this law will help make sure others are not treated like those of us who have been prosecuted under these outdated HIV-related policies."
In a separate press release, Positive Justice Project member organisations urged the Secretary of Defence to take the forthcoming report seriously.
"This is an essential step in helping to modernize and improve the military's response to HIV. A review and assessment of policies regarding members of the Armed Forces who are living with HIV will provide commanders, military lawyers and judges with current scientific information about how best to promote the health of military members while dismantling HIV-related stigma at odds with that goal," said Ronald Johnson, Vice President of Policy and Advocacy for AIDS United.  "We commend the Senate and House Armed Services Committees, Congressional leaders, and Representatives Ros-Lehtinen and Lee and Senator Coons for diligently prioritizing this issue."

Dr. Michael Horberg, a board member and former chair of the HIV Medicine Association and a member of the President's Advisory Council on HIV/AIDS (PACHA), hailed the defense bill's HIV directive. "The notion that people with HIV cannot enlist and serve in any aspect of the military, or that their health status warrants special "safe sex" orders or punishments for consensual sex, seems rooted in a 1980's understanding of HIV, and flies in the face of national efforts to get people with HIV tested and into treatment."

"Bringing existing military policies on the treatment of people living with HIV into the twenty-first century is long-overdue," said Catherine Hanssens, Executive Director at the Center for HIV Law and Policy (CHLP), which staffs and coordinates the Positive Justice Project. "For too long, qualified individuals have been refused consideration for military service. And those who become HIV positive following enlistment are targeted with "safe sex" orders, prosecutions, discharge and imprisonment on the basis of gross misinformation about how HIV is transmitted and the scientific and everyday realities of living with HIV."

Terrance Moore of the National Alliance of State and Territorial AIDS Directors, stated: "HIV criminalization can provide cover for lingering homophobic reactions to LGBT service members. Special penalties for otherwise legal conduct by those with HIV can reinforce stereotypes of LGBT people as predatory, dangerous and deviant. We need government agencies, including the Department of Defense, to show positive leadership against ugly stereotypes, and to lead through the example of rational policies."

Carole Treston, RN, of the Association of Nurses in AIDS Care, added: "Nurses are in the business of counseling people with HIV, and part of that counseling is assuring those who are newly infected that they can lead a normal life that includes intimate relationships. It can be an uphill battle when government agencies are still telling people living with HIV that they are too dangerous to serve in the armed forces or too infectious to have a love life. That message is not just counterproductive; it's cruel."
This significant victory suggests that 2014 will be the most crucial yet for advocacy against overly broad HIV criminalisation in the United States.
Earlier in December, Senator Chris Coons (D–Del.) introduced the REPEAL HIV Discrimination Act in the Senate.  The Act had previously been introduced in the House by Representatives Barbara Lee and Ileana Ros-Lehtinen in May.
"It's simply not fair that someone having been diagnosed with a chronic, treatable medical condition should automatically be subjected to a different set of criminal laws," Senator Coons said in a November 26th press release. "A disturbing number of state and local criminal laws pertaining to individuals with HIV/AIDS are rooted not in science, but in outdated fear. They run counter to effective public health strategies, discourage HIV testing, and perpetuate unfair stigma and discrimination against people living with HIV/AIDS – people who are our friends, family, and neighbors. Rather than recognizing that HIV/AIDS is a treatable medical condition, these laws perpetuate the idea that HIV is a deadly weapon and people with HIV/AIDS are dangerous criminals. Our laws need to catch up to our science, and this bill would take an important step in that direction."
Senator Coons also gave a very good interview on the issue to National Public Radio which can be heard here.
These Federal actions are also helping move state-wide reform efforts forward.  Next year all eyes will be on Iowa, which will host the first-ever national US HIV criminalisation conference in June (details to be confirmed) and where efforts to reform its draconian and unscientific HIV-specific statute are continuing apace.
"Knowing that the U.S. Congress has recognized the problem of HIV criminalization and addressed it in a bi-partisan manner will be extremely useful to local advocates trying reform these laws," says Tami Haught, community organizer at Community HIV and Hepatitis Advocates of Iowa Network (CHAIN). "In Iowa, we also have bipartisan support to replace Code 709C, Iowa's HIV-specific statute, and we have the backing of the State Attorney General and Iowa Department of Health for a law that improves public health by removing barriers to HIV testing and treatment."