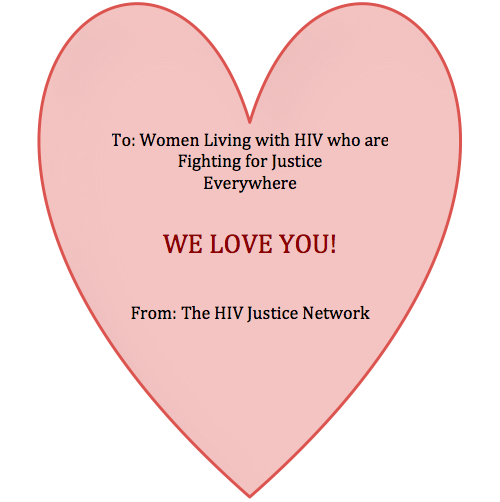 We Love Positive Women!
This is a love letter from the HIV Justice Network to the more than 18,000,000 women living with HIV in the world today.
The HIV Justice Network exists to end the inappropriate use of the criminal law to regulate and punish people living with HIV.
On this Valentine's Day, we are thinking of the thousands of positive women in all of our diversity, inclusive of transgender women, who are currently incarcerated in jails, prisons, and detention centres.
We send love and support to all of the women living with HIV who have survived incarceration around the world.
We highlight the reality that many positive women who are incarcerated around the world are criminalised because of punitive and discriminatory laws on sex work, drug use, LGBT relationships, domestic violence, and HIV status. These laws serve no public health benefit yet lock people away from their homes, families, and communities.
Women living with HIV are actively fighting for justice and against discriminatory legal systems. Positive women have often led the way in the struggle against HIV criminalisation.
We ask everyone to take a quiet moment to send respect and appreciation to these accomplished and dedicated women.
We are you and you are us.
The HIV Justice Network is proud to support the Love Positive Women campaign developed and led by International Community of Women Living with HIV (ICW), one of seven founding partners of HIV JUSTICE WORLDWIDE.