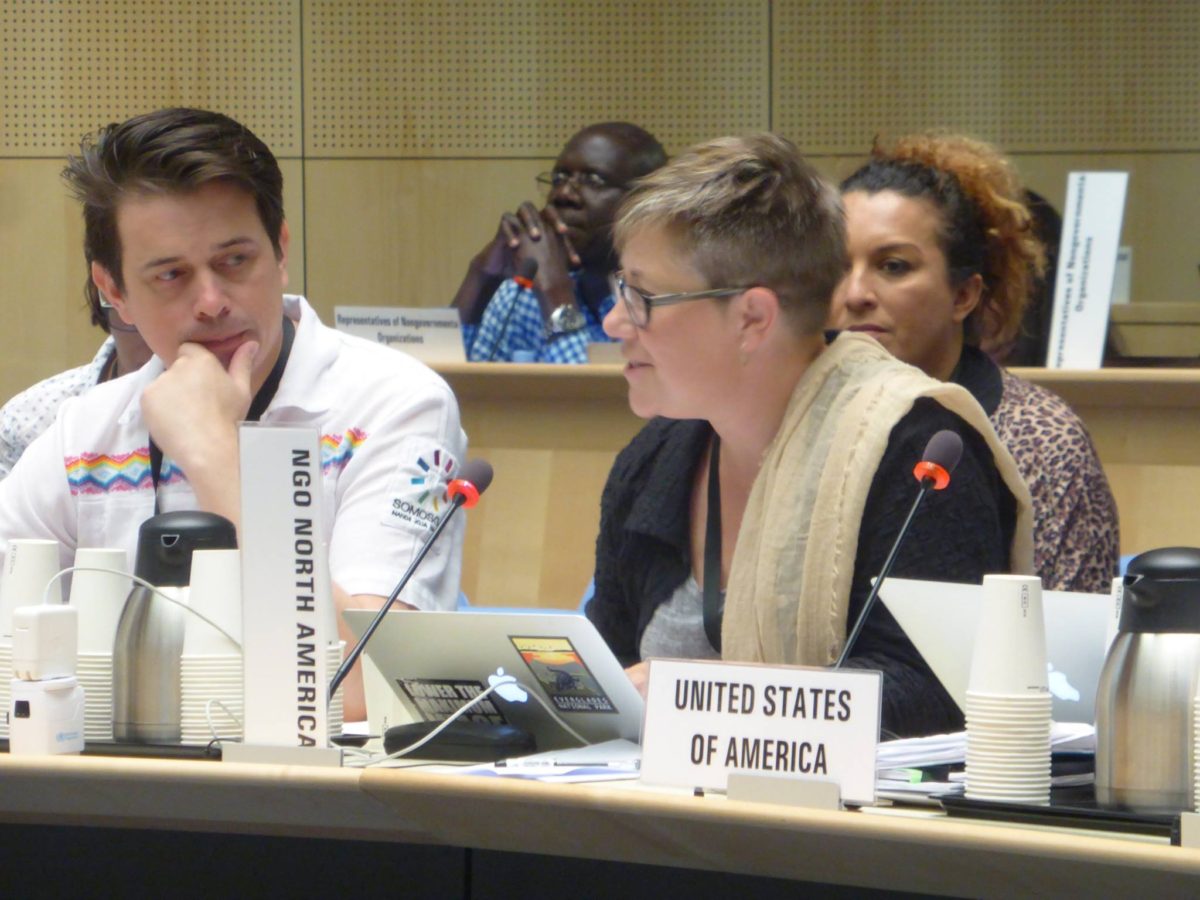 By Laurel Sprague Ph.D.
Global Research Fellow on HIV, Gender, and Justice, HIV Justice Network
As the dust settles from the 2016 High Level Meeting on Ending AIDS, our communities need to take stock of where we are now and what we have to work with in the 2016 Political Declaration[1].
This blog post, focused primarily on the paragraphs dealing with legal environments, is one contribution to that effort.
Good analyses are available already about the overall advances and inadequacies in the Declaration; the disregard for the leadership of key populations and the refusal to call for protective legal environments or anti-stigma initiatives from MSMGF[2] and GNP+[3]; and the importance of realising the commitments on access to medicines from MSF[4].
Communities have been united overall in our resistance to the Political Declaration's claim to be part of "a virtuous cycle of progress" in responding to HIV/AIDS. However, when it comes to support for enabling legal environments, we can identify progress from the 2011 Political Declaration[5] to the 2016 Declaration.
In 2016, the UN Member States greatly increased their focus on the role of laws and policies in the HIV response.
HIV criminalisation finally recognised as an important barrier to 'Ending AIDS'
Both the 2011 and 2016 declarations highlight the importance of:
removing unequal legal status of women and the relationship between discriminatory laws and violence against women;
ensuring legal frameworks to protect the rights of young people, including addressing barriers to HIV prevention created by age of consent laws;
ending barriers to HIV prevention, treatment, care, and support that are created by discriminatory legal environments; and
removing restrictions on the free movement of people with HIV.
In the 2011 Declaration, explicit attention was focused only on one kind of restrictive law: laws regarding entry, travel, and stay restrictions based on HIV status. By contrast, in the 2016 Declaration, UN Member States specifically committed:
To review and reform:
Laws related to HIV non-disclosure, exposure and transmission; and
Laws related to mandatory testing, including of pregnant women
To adopt, review and accelerate:
Effective implementation of laws that criminalize violence against women and girls, as well … prosecutorial measures … to eliminate and prevent all forms of violence against all women and girls
As well as continuing to focus on eliminating:
Restrictions on entry based on HIV status
The 2016 Political Declaration also extends recognition of the importance of the law in protecting the fundamental human rights and freedoms of children and adolescents, with Member States committing to promote:
Laws and policies that ensure the enjoyment of all human rights and fundamental freedoms for children, adolescents and young people, particularly those living with, at risk of, and affected by HIV.
A similar provision existed in the 2011 Political Declaration but only included young people within its purview.
Perspective shifts in legal environments
Regarding legal environments for people living with HIV, an important shift in perspective is found in the 2016 Declaration. The 2011 Declaration noted the need for "legal literacy and legal services."
In 2016, the same paragraph has been reworked in much stronger language. It now commits Member States to empower PLHIV, those at risk, and those affected "to know their rights and to access justice and legal services to prevent and challenge violations of human rights."
Further, as in 2011, the paragraph commits Member States to train and sensitize law enforcement officials, judges, and health care workers, but it now also includes a commitment to sensitize members of the legislature.
The 2016 Declaration also contains weaker paragraphs that "call attention to" the restrictive laws that marginalise and discriminate against people who use drugs, and "note grave concern" about legal discrimination against people with disabilities.
What about other key populations?
The 2016 Declaration is weak in its attention to key populations, scarcely improved from 2011. The few bright spots are that transgender people and people who are incarcerated are included in the list of key population groups for the first time (and the term "key populations" makes its first appearance in a General Assembly document). Yet, if we are smart in our approach, there can be more than meets the eye for key populations and we can do our best to push for strong interpretations of the Declaration's language.
Throughout the Declaration, variations of the phrase "people living with and affected by HIV and those at higher risk" can be found. Although clearer wording would have been preferable, it can[6] and should be argued that this phrase includes key populations every time it is used. The Declaration describes key populations as those "at higher risk of infection" and specifically includes people who inject drugs, sex workers, men who have sex with men, transgender people, and prisoners.
When understood in this way, the Declaration calls for all of the following for people living with HIV and for key populations:
realisation of the GIPA principle for greater and meaningful involvement in the HIV response;
protection of human rights for all ages;
recognition of the right to equal participation in civil, political, social, economic and cultural life;
empowerment to know one's rights and to access justice and legal services to prevent and challenge violations of human rights; and
removal of prejudice, stigma, or discrimination.
Something to watch out for regarding the Declaration language and key populations: conservative Member States were successful in getting language that would appear to allow individual countries to make their own determinations regarding who counts as a key population.
This language includes phrases such as, "populations at highest risk, depending on local circumstances," and "taking into account national context." However, it is crucial for civil society groups working in this space to consistently press the point that these determinations must be evidence based.
In the Declaration, key populations are described as those that epidemiological evidence shows are at higher risk of HIV infection. Further, Member States agreed to emphasize, "that each country should define the specific populations that are key to its epidemic and response based on the local epidemiological context."
Call to action
In concluding this blog, I have a few reflections on the political environment in which we find ourselves: the extent of open and unabashed global hostility toward people living with HIV and key populations, especially toward gay men – combined with what was either a lack of political will by friendlier UN Member States or a genuine belief that they could do no better – was and should continue to be sobering.
More than sobering, it is an urgent call to action.
We are not going to get better commitments without an immense, intensified, and well-coordinated effort to move governments at national levels. And while we wait, and waste time bemoaning the outcome of the Declaration, members of our communities who live under these hostile governments suffer, facing threats to their dignity, liberty, and survival.
Further, the level of discord amongst UN Member States regarding this Declaration run very deep. This was demonstrated by the reservations expressed by Member States after the adoption of the Declaration and by paragraphs throughout the Declaration that are packed with so many clauses as to make them incomprehensible. This is evidence that every word and punctuation point was debated to its death.
Championing the advocacy successes in the Declaration
Some quick initial thoughts about next steps:
If advocacy organisations can let go of the dreadful experience of the High Level Meeting, then we can get busy championing the advocacy successes in the Declaration. It will be critical to lead the conversation with our understanding and interpretations, turning them into facts on the ground before there can be any reversal.
In addition to the progress on legal frameworks, one key advocacy success – with years of planning behind it — is the call for funding for civil society organizations.
UN Member States called for "at least 6%[7] of all global AIDS resources [to be] allocated for social enablers including advocacy, community and political mobilization, community monitoring, public communication, outreach programmes … as well as human rights programmes such as law and policy reform, and stigma and discrimination reduction" and called for "community-led service delivery to cover at least 30% of all service delivery."
Finally, it is worth keeping in mind that the UNAIDS Strategy, 2016-2021,[8] has much stronger commitments in the areas of SRHR and key populations than those in the Declaration and can be used whenever possible to advocate for the things that communities need to survive this epidemic.
Footnotes
[1] http://www.unaids.org/sites/default/files/media_asset/2016-political-declaration-HIV-AIDS_en.pdf
[2]http://msmgf.org/gay_men_transgender_people_and_sex_workers_express_outragemsmgf-expresses-outrage-unacceptably-weak-political-declaration-adopted-today-united-nations-high-level-meeting-ending-aids/
[3] http://www.gnpplus.net/political-declaration-will-not-end-aids/
[4] http://www.doctorswithoutborders.org/article/doctors-without-borders-response-2016-united-nations-political-declaration-ending-aids
[5] http://www.unaids.org/sites/default/files/sub_landing/files/20110610_UN_A-RES-65-277_en.pdf
[6] Tremendous debt of gratitude to Richard Elliot of the Canadian HIV/AIDS Legal Network for first noticing this link.
[7] In 2014, UNAIDS estimated that only 1% of global AIDS funding went to the civil society and community response.  See: http://www.unaids.org/sites/default/files/media_asset/JC2686_WAD2014report_en.pdf
[8] http://www.unaids.org/sites/default/files/media_asset/20151027_UNAIDS_PCB37_15_18_EN_rev1.pdf