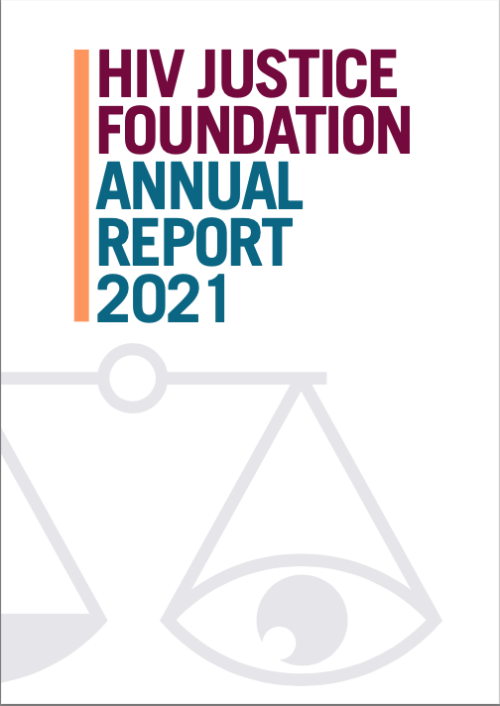 Our Annual Report 2021 is published by the HIV Justice Foundation, an independent non-profit legal entity registered in the Netherlands as Stichting HIV Justice to specifically serve as the fiscal organisation for the HIV Justice Network (HJN) and other related activities.
Kevin Moody, who served as Chair of the Foundation's Supervisory Board during 2021, said: "HJN has once again in 2021 demonstrated its ability to impact the fight against HIV criminalisation, as outlined in the Foundation's Annual Report 2021. Executive Director, Edwin J Bernard, and his team succeeded in continuing operations while developing a new strategic plan to shape the future of its work to curb HIV criminalisation."
Much of the work undertaken by HJN and the global HIV JUSTICE WORLDWIDE coalition – which HJN co-ordinates – has been funded by the Robert Carr Fund for civil society networks through the HIV Justice Global Consortium. Since 2019, HJN has been the lead grantee of the Consortium. Throughout the year, we oversaw the distribution of small grants either directly or through our Consortium partners working in Eastern Europe and Central Asia (EECA), Francophone Africa, Anglophone Africa, and Latin America and Caribbean.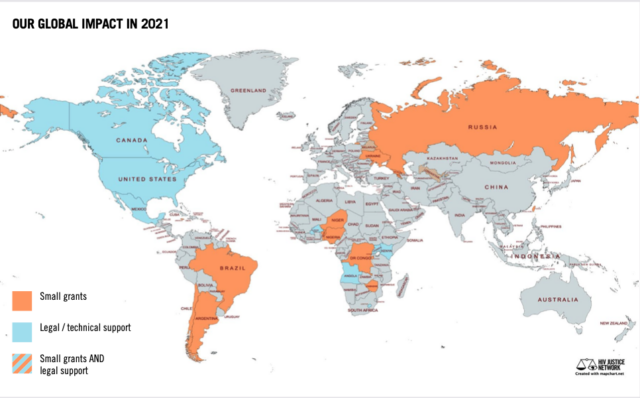 Looking to the future
In June 2021, we published our 2022-26 Strategic Plan, which was developed incorporating the Global AIDS Strategy 2021-2026 goal of fewer than 10% of countries with punitive laws and policies including those that allow for HIV criminalisation. The HIV Justice Network is ready to take on the challenge to support advocates help countries achieve this target. That's why we were delighted to receive news in December 2021 that two separate funding applications to the Robert Carr Fund were successful, placing us on firm footing to continue our work to end HIV criminalisation and support advocates pushing for their countries to achieve the Global AIDS Strategy goals.
Richard Elliott, who was appointed the Foundation's Chair in March 2022 as Kevin Moody became Treasurer said: "In just a decade, HJN has made extraordinary contributions to the growing global movement against HIV criminalisation. Indeed, it is hard to imagine a global movement as such without HJN. The important victories against injustice show that resistance is worthwhile! Guided by a new strategic plan, input from advocates and experts from around the world, and the deep expertise and vision of our Executive Director, the HIV Justice Network will continue to be a key force for change in the years ahead."
Download the report here (English, 36 pages, pdf)