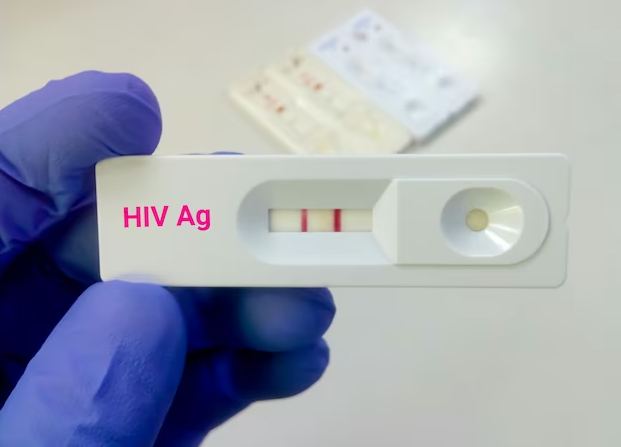 Arrest
An HIV-positive schoolgirl was detained in Moscow for sleeping with her 18-year-old acquaintance
October 12, 2023
Translated via Deepl.com. Scroll down for original article in Russian
A 13-year-old HIV positive schoolgirl was detained in Moscow TAO – tentatively, for knowingly infecting with HIV her 18-year-old acquaintance, who now faces an article for defilement of a minor.
Lolita (name changed) lives with her brothers and sisters, who are also sick with the terrible disease. They inherited it from their drug-addicted mother. The children are looked after by an elderly grandfather, who is not able to deal with the moral education of the whole gang. It was also because of this that a couple of years ago the girl began to lead an immoral lifestyle, knowing about her disease. Lolita drank, changed sexual partners like gloves and neglected contraceptives. And all this since she was 11 years old.
The day before, she had a beer and went to an acquaintance's house. The 18-year-old owner of the flat Victor kindly accepted the girl. They got drunk and, according to the guy, Lolita began to molest him. He initially refused, but could not resist and slept with the schoolgirl without a condom. After drinking, the couple went out for some fresh air and came across police officers.
The teenagers were detained and taken to the police station, where the details of the incident were revealed. The boy now faces a possible HIV infection and four years in prison for defilement.
---
Больную ВИЧ школьницу задержали в Московском ТАО, она переспала с 18-летним знакомым
13-летнюю вичинфицированную школьницу задержали в Московском ТАО — предварительно, за осознанное заражение ВИЧ своего 18-летнего знакомого. Которому теперь грозит статья за растление несовершеннолетней.
Лолита (имя изменено) живёт с братьями и сёстрами, которые тоже больны страшным недугом. Им он достался от матери-наркоманки. За детьми присматривает пожилой дедушка, которому не под силу заниматься нравственным воспитанием всей ватаги. В том числе из-за этого пару лет назад девочка начала вести аморальный образ жизни, зная о своём заболевании. Лолита пила, меняла половых партнёров как перчатки и пренебрегала контрацептивами. И всё это — с 11 лет.
Накануне она выпила пива и отправилась к своему знакомому домой. 18-летний хозяин квартиры Виктор любезно принял девочку. Они напились и, со слов парня, Лолита начала приставать. Тот сначала отказывался, но устоять не смог и переспал со школьницей без презерватива. После выпившая парочка вышла подышать свежим воздухом и наткнулась на сотрудников полиции.
Подростков задержали и отвезли в отделение, где и выяснились подробности произошедшего. Теперь парню грозит вероятное заражение ВИЧ и четыре года тюрьмы за растление.