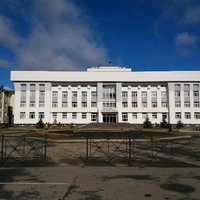 Sentencing
HIV-positive girl convicted for biting a policeman
August 27, 2018
Google translation - For Russian article, please scroll down
The court in Vologda found her guilty and appointed a suspended sentence
A court in Vologda sentenced to a suspended sentence a 16-year-old HIV patient, who bit and scratched a policeman, the press service of the regional department of the Investigative Committee reports.
A young Vologda woman was found guilty of committing a crime under part 2 of Article 318 of the Criminal Code of the Russian Federation (the use of violence endangering life and health against a representative of the authorities).
According to the report, the defendant left the children's social institution on her own, she was searched by the police.
"On the night of March 9, 2018, the girl was in a state of intoxication on the Chekhov street in the regional center when she was discovered by a police squad. When trying to escape, the accused scratched and bit the policeman on the hand, which caused physical pain to the representative of the authorities and created a threat of infection with HIV, "the report said.
The Office reports that the juvenile has been sentenced to one and a half years of probation with a probationary period of two years. In addition, a sum of 10 thousand rubles was levied in favour of the victim, RIA Novosti reported.
---
ВИЧ-инфицированная девушка осуждена за укус полицейского
Суд в Вологде признал ее виновной и назначил условный срок
Суд в Вологде приговорил к условному сроку 16-летнюю больную ВИЧ девушку, которая укусила и оцарапала полицейского, сообщает пресс-служба регионального управления Следственного комитета.
Юная вологжанка признана виновной в совершении преступления, предусмотренного частью 2 статьи 318 УК РФ (применение насилия, опасного для жизни и здоровья, в отношении представителя власти).
По данным СК, обвиняемая самовольно покинула детское социальное учреждение, ее разыскивала полиция.
«В ночь на 9 марта 2018 года девушка находилась в состоянии алкогольного опьянения на улице Чехова областного центра, когда ее обнаружил наряд полиции. При попытке убежать обвиняемая оцарапала и укусила полицейского за руку, чем причинила представителю власти физическую боль и создала угрозу заражения ВИЧ-инфекцией», — говорится в сообщении.
Ведомство сообщает, что несовершеннолетней назначено наказание в виде полутора лет лишения свободы условно с испытательным сроком два года. Кроме того, с нее взыскано в пользу потерпевшего 10 тысяч рублей, передает РИА Новости.