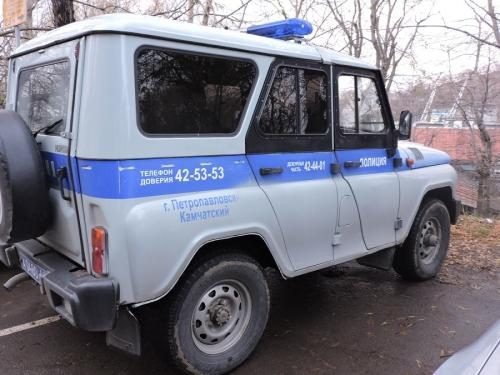 Arrest
HIV-infected resident of Kamchatka will go on trial for threatening to infect a policeman
July 13, 2019
Google translation, scroll down for Russian article
The investigation of the criminal case on charges of a resident of Petropavlovsk-Kamchatsky, who threatened to infect a police officer with HIV, was completed, the KAMCHATKA-INFORM agency was told in the Investigation Department of the TFR in the Kamchatka region.
According to investigators, in August 2018, a drunk 31-year-old man was detained for appearing on the streets while intoxicated. He was taken to the duty department of the Ministry of Internal Affairs in the city of Petropavlovsk-Kamchatsky. There, a citizen dissatisfied with the lawful actions of the police officers, knowing for certain that he was an HIV-infected person, cut his hands and threatened to infect the police officer.
The investigative department in the city of Petropavlovsk-Kamchatsky SU IC RF in the Kamchatka region initiated a criminal case against a resident of the regional center, accused of committing a crime under part 1 of article 122 of the Criminal Code of the Russian Federation (deliberately placing another person in danger of acquiring HIV infection). The sanction of the article provides for restriction of liberty for up to 3 years, or forced labor for up to one year, or arrest for up to 6 months, or imprisonment for up to one year.
As reported, the indictment in a criminal case was approved by the prosecutor and sent to the court for consideration on the merits.
---
ВИЧ-инфицированный житель Камчатки пойдет под суд за угрозу заразить полицейского
Завершено расследование уголовного дела по обвинению жителя Петропавловска-Камчатского, который угрожал заразить ВИЧ-инфекцией полицейского, сообщили агентству «КАМЧАТКА-ИНФОРМ» в Следственном управлении СКР по Камчатскому краю.
По версии следствия, в августе 2018 года пьяный 31-летний мужчина был задержан за появление на улицах в состоянии алкогольного опьянения. Его доставили в дежурную часть УМВД по городу Петропавловску-Камчатскому. Там недовольный правомерными действиями сотрудников полиции гражданин, достоверно зная, что он является ВИЧ-инфицированным лицом, порезал себе руки и пригрозил заразить сотрудника полиции.
Следственным отделом по городу Петропавловск-Камчатский СУ СК РФ по Камчатскому краю было возбуждено уголовного дела в отношении жителя краевого центра, обвиняемого в совершении преступления, предусмотренного ч.1 ст. 122 УК РФ (заведомое поставление другого лица в опасность заражения ВИЧ-инфекцией). Санкция статьи предусматривает ограничение свободы на срок до 3 лет, либо принудительные работы на срок до одного года, либо арест на срок до 6 месяцев, либо лишение свободы на срок до одного года.
Как сообщается, обвинительное заключение по уголовному делу утверждено прокурором и направлено в суд для рассмотрения по существу.