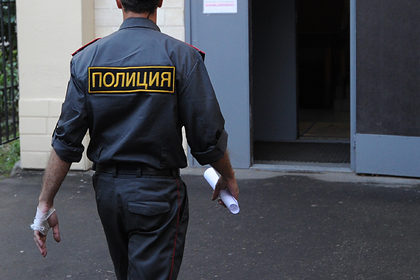 Sentencing
A Russian man with HIV bit a policeman and paid the price
October 21, 2019
Google translation, for article in Russian, scroll down
A court in the city of Votkinsk (Udmurtia) found a local resident with HIV infection guilty of violence against a police officer. On Monday, 21 October, reports the press service of the regional management of the Investigative Committee of Russia (MRS).
According to the agency, the incident occurred last January. The policeman made a remark to a man who was intoxicated – and received a bite in return for his right hand. At the same time, the man, knowing that he had HIV infection, "put the policeman in danger of infection by his act."
Criminal proceedings were instituted against him under part 1 of article 318 ("Use of violence against a representative of authority") and part 1 of article 122 ("Knowingly putting the other at risk of HIV infection") of the Criminal Code of the Russian Federation. By court decision, the accused received three years in prison in a penal colony .
On April 19, 2018, it was reported that the Petrograd District Court of St. Petersburg sentenced Maksudzhon Sattorov, who bit the policeman during an identity check. The man was found guilty under article 318 of the Criminal Code of the Russian Federation ("Use of violence not dangerous to life or health against a representative of the authorities") and a fine of 20 thousand rubles was imposed.
---
Россиянин с ВИЧ укусил полицейского и поплатился
Суд в городе Воткинск (Удмуртия) признал местного жителя с ВИЧ-инфекцией виновным в применении насилия в отношении полицейского. Об этом в понедельник, 21 октября, сообщает пресс-служба регионального управления Следственного комитета России (СКР).
По данным ведомства, инцидент произошел в минувшем январе. Полицейский сделал замечание мужчине, который находился в состоянии алкогольного опьянения — и получил в ответ укус за кисть правой руки. При этом мужчина, зная о наличии у него ВИЧ-инфекции, «своим поступком поставил полицейского в опасность заражения».
В отношении него были возбуждены уголовные дела по части 1 статьи 318 («Применение насилия в отношении представителя власти») и части 1 статьи 122 («Заведомое поставление другого в опасность заражения ВИЧ-инфекцией») УК РФ. По решению суда обвиняемый получил три года лишения свободы в исправительной колонии общего режима.
19 апреля 2018 года сообщалось, что Петроградский районный суд Санкт-Петербурга вынес приговор Максуджону Сатторову, укусившему полицейского во время проверки документов. Мужчину признали виновным по статье 318 УК РФ («Применение насилия, не опасного для жизни или здоровья в отношении представителя власти») и назначили штраф в 20 тысяч рублей.