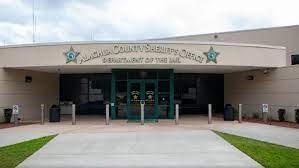 Charged
Jail inmate with HIV gets added charges for allegedly biting detention officer
May 27, 2022
Source:
Alachua Chronicle
X, 40, an inmate in the Alachua County Jail, was charged yesterday with criminal transmission of HIV after allegedly biting a detention officer.
According to the arrest report, detention officers were trying to take X to court, but he initially refused; when he finally came out of the holding area, his pant legs were rolled up, and he allegedly became hostile when he was ordered to unroll his pants to ensure that he wasn't hiding weapons or contraband.
Video surveillance reportedly captured jail staff trying to escort X to a separate room, but he pulled away and was eventually taken to the ground. While on the ground, he allegedly grabbed the leg of a detention officer and bit him on the thigh through his uniform pants, drawing blood. X was eventually restrained after more officers arrived.
X is reportedly known to be diagnosed with HIV, and he allegedly licked the wound after biting the officer, in an attempt to put as much saliva into the open wound as he could. He has been charged with battery on a law enforcement officer, resisting an officer with violence, and criminal transmission of HIV, all third-degree felonies. X was already being held without bail on other charges; he was arrested on April 11 on a warrant and a domestic battery charge and allegedly hit a K9 in the head during the arrest.