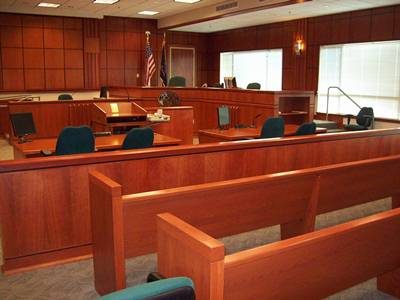 Appeal lost
Breaking: Kerry Thomas HIV Criminalization Appeal Dismissed
May 5, 2016
The Idaho man serving 30 years for non-disclosure must now put his hopes in the Ninth Circuit Court of Appeals.
MAY 05 2016 7:57 PM EDT
Kerry Thomas's case, in which his attorney argued that Idaho's HIV disclosure law is unconstitutional, has been dismissed. Thomas has been locked up in an Idaho penitentiary after being convicted of violating Idaho Code Section 39-608 by "transferring or attempting to transfer any of his bodily fluid, to-wit: semen and/or saliva by genital to genital and/or oral to genital contact, without disclosing his infection of the human immunodeficiency virus (HIV)."
Many activists were moved by what they see as Thomas's unjust incarceration when he spoke, via remote television feed from his Idaho prison, at the first HIV is Not a Crime conference in 2014. It was a galvanizing moment for many, inlcuding Thomas.
"Kerry Thomas is suffering from an injustice that is difficult to comprehend," says Sean Strub of the Sero Project, which is leading efforts to modernize HIV criminal statues based on hard science, not myths from the pre-treatment era. "[He's] serving 30 years in prison for consensual sexual contact under circumstances where both parties agree that he always insisted on using condoms and during a period when his medical records show he had an undetectable viral load."
Experts agree that it is highly unlikely to transmit HIV in those circumstances; even without the use of condoms, transmission while one person is virally suppressed are extremely rare, proof both legal and medical experts argue, that treatment as preventionworks. But many in many jurisdictions around the U.S. these facts have no bearing on the outcome of HIV criminal cases. Thomas explained the latest court decision to Plus: "Last month my case was dismissed. I'm still recovering from the disappointment. In short, the judge chose not to make a decision. His ruling focused on my past, not the issues raised in my petition, namely the constitutionality of the statute."
He's now in the process of filing an appeal. Thomas, whom Strub calls a "loving father," once broke probation by going out of state to visit his son. Like many HIV-positive people who have been locked-up, Thomas has been incarcerated several times. [See more about HIV in prison in our special report, which also features Thomas.] In the years since being convicted of non-disclosure, Thomas has connected with activists and organizations, like the Sero Project, who are fighting the criminalization of HIV.
"While incarcerated," Strub says, "Kerry has become an important advocate for reform of HIV criminalization statutes, including serving on the board of the Sero Project. He was an inspiring keynote speaker at the 2014 HIV is Not a Crime conference held at Grinnell College and is scheduled to speak at the 2016 HIV is Not a Crime conference to be held later this month in Alabama."
Having exhausted his options at the district level, Thomas will now need to appeal to to the Ninth Circuit Court of Appeals.