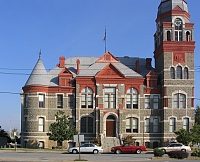 Sentencing
NLR man put on sex registry in trial on HIV
October 25, 2017
Source:
Northwest Arkansas Democrat Gazette
He's said to have transmitted virus to 2 former girlfriends
A 29-year-old North Little Rock man accused of infecting two women with the virus that causes AIDS was ordered on Monday to register as a sex offender by a Pulaski County circuit judge who said he worried the defendant could have had other sex partners whom he did not tell about having HIV.
In exchange for a sentence of four months in jail and six years on probation, Deanthony Holmes pleaded no contest last month to a felony charge of knowingly exposing another person to the human immunodeficiency virus. He faced up to 30 years in prison.
The law leaves the decision on whether defendants are placed on the state's sex-offender registry up to the judge, and Judge Leon Johnson ordered X to register after two of X' former girlfriends testified that he had infected them without warning.
Johnson said he was concerned there could be other ex-girlfriends whom X had not told. The judge also noted that X' sister described how she had learned about his health situation from a Facebook post and testified that X had never personally told her about being infected.
Authorities said he was notified by state health authorities that he was HIV-positive in December 2013.
X did not testify. Deputy prosecutor Erin Stroman observed that X did not begin treatment for the condition for more than a year after his diagnosis, although the medicine can reduce the chance that he would infect anyone else.
The intentional-exposure charge was based on a July 2015 report by Yolanda Jackson, 36, of Greenville, S.C., who testified she dated X for about a year and only learned after the relationship ended that she had been infected. Her doctor called and told her, she said.
"I cried and I cried for days," Jackson said, recalling her reaction to the news and addressing X directly. "I gave you my heart. I gave you my soul and I gave you my body. How can you do this to someone you love?"
Jackson said she and X became acquainted through Facebook in 2014 and that she moved to Little Rock in May 2014. She told the judge she had asked X directly about HIV and other sexually transmitted diseases when their relationship became intimate and that he had denied having any problems.
She said X later told her in a phone conversation that he did not tell her because he didn't believe she would have dated him if she'd known about his medical condition.
"He said he was sorry he did this to me," Jackson testified. "He said he didn't tell me because I wouldn't have accepted him if I had known."
Jackson, who has since returned to South Carolina, said there's no relief from what X has done to her and that the situation has also devastated her family, especially her young daughter.
"Every day my daughter asks me, 'Mamma, are you going to die?'" she told the judge. "I'm a prisoner still. I wouldn't wish this on my worst enemy."
One of his accusers testified that she only learned what had happened to her after Little Rock police announced publicly that detectives were looking to arrest him. X was taken into custody in September 2015, about two weeks after Little Rock police got an arrest warrant.
Desiree Fitzgerald testified that she dated X for a few months beginning in December 2014 and that he never told her he was exposing her to HIV. She tested positive in 2015 and went to police after investigators announced they were looking for him, although he was not charged over her accusations.
She told the judge X was the only man she had been intimate with who could be responsible for her condition.
"He's the one who gave me what I have," she said.
Defense attorney Lou Marczuk urged the judge not to impose the registration requirement, pointing to testimony from X' fiancee that the sex-offender designation could ruin his chances to adopt her 3-year-old daughter after they get married next year.
X' sister Shalonda X and her 14-year-old daughter, Shaveunna, also asked that the requirement be withheld, telling the judge how X had come to play an important role in their lives. They said he has become a strong father figure to the girl, whose own father was murdered in 2011.
In Pulaski County, 10 men have been charged with the Class A felony over the past five years. Six of those defendants have been convicted, while the charges were dropped against a seventh. Three cases are pending.
Earlier this month, California lawmakers reduced the charge in that state to a misdemeanor. The law, which also decriminalizes knowingly donating HIV-contaminated blood, will go into effect next year. California has four HIV-specific criminal statutes.
Supporters of the measure derided the original law as outdated and ineffective, saying that almost all of the charged defendants were sex offenders who were required to get tested after being convicted for prostitution-related offenses.
A University of California, Los Angeles School of Law study of the 379 cases charged in California between 1998 and 2014 showed that no defendant was proved to have transmitted the disease.
Only seven of those cases involved defendants accused of deliberately infecting partners, according to the Williams Institute at the law school, which released its findings earlier this month