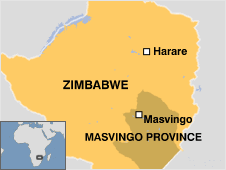 Trial
Policewoman in court for 'infecting' hubby with HIV
March 25, 2016
MASVINGO – A 34-year-old HIV positive policewoman is appearing in court after her husband, a teacher in Gutu accused her of willfully infecting him with the HIV virus.
The Mirror will not disclose the name of the Policewoman for ethical reasons.
The case is before Masvingo Magistrate Collet Ncube and was adjourned to April 5, 2016 after deliberations last Friday.
The same husband has taken the Policewoman to court in another matter in which he is demanding $10 000 for being made to look after a child who is not his.
It is the State case that on an unknown date, but between December 2007 and December of 2015, the accused deliberately infected the complainant with the virus when they engaged in unprotected sex.
The Policewoman knew that she was HIV positive as she was already taking Anti-Retroviral Drugs (ARVs) allegedly without the knowledge of her husband.
She pleaded not guilty and in her defense she claimed that her husband was already HIV positive after a brief separation soon after their marriage in 2006. She added that after the brief breakup, the husband went to have unprotected sex with his girlfriend while she returned to her former boyfriend who is also a Police officer and they also had unprotected sex.
"I tested HIV positive in 2010 when I got pregnant with our second child and l started taking ARVs in 2013. My husband knew about my HIV status as I kept my medication in the wardrobe at an open place.
"I even encouraged him to go and get tested but he kept on saying he was busy with his studies. We had protected sex until 2013 when we decided to have our third child," said the accused.
The accused told the court that she fell in love with her husband in 2006 but during that year they separated for a short time after discovering that he was cheating on her.
It was also alleged that the woman altered the birth records of the second and third child from HIV positive to HIV negative but she denied the allegations.