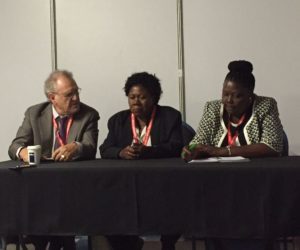 DURBAN, SOUTH AFRICA—
Ugandan nurse Rosemary Namubiru spent 10 months in jail for accidentally pricking herself with a needle while treating a patient in 2014.
For that, she was called a "killer nurse" in the courts and tried for attempted murder.
That's because Namubiru is HIV-positive. The child she was treating tested negative for HIV.
Activist Paula Donovan of advocacy group AIDS-Free World said Namubiru is one of many HIV-positive people who have been unfairly prosecuted.
"This happens frequently with cases of criminalization of HIV — that with no transmission whatsoever, and even when there's no possibility of transmission, they are still being brought up in front of courts and charged with heinous crimes," she said on the sidelines of the International AIDS Conference in Durban, South Africa.
No known law makes it illegal to have HIV, but human rights lawyers say people with the virus are often treated as criminals. Seventy-two nations have laws that specifically apply to people with HIV, most of them concerning disclosure.
The U.S. Centers for Disease Control and Prevention reported last year that 24 U.S. states require people who know they are HIV-positive to disclose their status to sexual partners, and that 25 states criminalize actions that have little chance of spreading the virus.
'They stigmatize people'
"All those laws are quite problematic, in terms of the fact that they stigmatize people who are living HIV, they put unnecessary burdens on people living with HIV," said Nairobi-based human rights lawyer Allan Maleche, who sat in a small, private booth with other lawyers at the International AIDS Conference and dispensed free legal advice to all comers.
Off the top of his head, Maleche rattled off a number of current cases. He's fighting a request from the president of Kenya for a public list of all children living with HIV, which lawyers argue is a gross privacy violation. He's represented numerous tuberculosis patients who have been jailed for not taking their medication.
"And my worst horror story — I have an ongoing case before the high court of Kenya — is doctors carrying out tubal ligation of women who are living with HIV, without their consent," he said. The idea seems to be that women who could get pregnant would put their lives at risk because their immune system will be suppressed, he said. He called the practice another "gross violation of human rights."
Donovan said the laws themselves don't need to change.  Instead, she said, everyone, regardless of HIV status, should be treated equally under the law.
"The essential thing that needs to be remembered, though, is that we have criminal codes, and that if every citizen in a particular country is held to the same standard, then that's the way the rule of law should apply," she said.