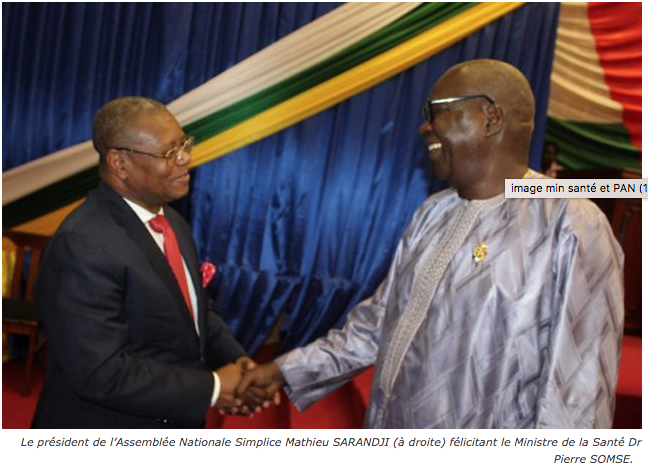 Central African Republic: HIV and AIDS bill passed
Translated via DEEPL.com – For the original article in French, please scroll down.
The bill was passed by acclamation by parliamentarians at the plenary session of 6 October 2022. The Central African Republic is one of the countries most affected by the HIV/AIDS pandemic in Central Africa with a prevalence rate of 2.7% (2021). This bill reinforces Law n°06.030 of 12 September 2006 establishing the rights and obligations of people living with HIV/AIDS, with a focus on the social protection of people living with HIV (PLWHA).
The Minister of Public Health and Population, Dr Pierre SOMSE, validly defended the draft law in front of the elected representatives who did not hesitate to give their approval by acclamation.
In the report of the Joint Commission presented by Deputy Armel BIROT, it emerged that the Central African Republic is still one of the countries most affected by the HIV and AIDS pandemic in Central Africa. Thus, the CAR, through the Ministry of Health with the support of partners, wants to take up the challenge of an AIDS-free generation by taking into account all the issues raised by this pandemic and preserving human capital.
Although there are shortcomings in the document, this did not prevent the MPs from appreciating the content of the document, unlike the 2006 law, which was full of gaps and shortcomings relating to the rights of PLHIV.
The HIV/AIDS pandemic continues to have consequences on the national economy, the low mobilization of financial resources for the fight, stigmatization and discrimination against people living with HIV/AIDS, shortcomings in the psycho-social and legal care related to this pandemic.
Minister Pierre SOMSE emphasized the elements contained in the present law, among which are HIV testing which is now from 18 to 12 years old, prevention against the disease, repression of discrimination which raises a legal problem and the promotion of human rights.
"The bill meets the expectations of the Ministry of Health," said Minister Pierre SOMSE.
UNAIDS Country Director Cris FONTAINE welcomed the vote saying: "This is a great victory for people living with HIV and people at high risk of HIV infection. The protections in this law improve access to HIV services. It is also a victory for all the people of the Central African Republic. When people have access to HIV services, we can eliminate this terrible disease.
The UNAIDS country director said the process of implementing this bill is to "make sure that the population is aware of the law, what it says, and why it is important. Then plan the next step which is to ensure that mechanisms are in place to enforce the law.
According to the national coordinator of the Central African Network of People Living with HIV (RECAPEV), Bienvenu GAZALIMA, access to a balanced diet before taking antiretrovirals (ARVs) remains one of the difficulties to overcome. In the Central African Republic, the number of PLWHA is estimated at around 88,000 people. About 54,000 are on ARV treatment according to the UNAIDS country office, said the national coordinator of RECAPEV. "ARVs are available, but you need a balanced diet to be able to take these drugs.
The situation of PLHIV in CAR still remains a challenge with regard to human rights violations linked to stigmatisation and discrimination.
The new law can be previewed in French at https://academy.hivjustice.net/fr/resource/loi-relative-au-vih-et-au-sida-en-republique-centrafricaine/
---
Centrafrique : le projet de loi relatif au VIH et au SIDA est voté
Le projet de Loi est voté par acclamation par les députés réunis en session plénière le 6 octobre 2022. La République Centrafricaine est l'un des pays les plus affectés par la pandémie du VIH/SIDA en Afrique Centrale avec un taux de prévalence de 2,7 % (2021). Ce projet de loi vient renforcer la Loi n°06.030 du 12 septembre 2006 fixant les droits et obligations des personnes vivant avec le VIH/ SIDA avec un point d'orgue sur la protection sociale des Personnes Vivant avec le VIH (PVVIH).
Le Ministre de la Santé Publique et de la Population, Dr Pierre SOMSE, a valablement défendu le projet de Loi devant les Elus du peuple qui n'ont pas hésité à donner leur approbation par acclamation.
Dans le rapport de la Commission Mixte présenté par le député Armel BIROT, il ressort que la République Centrafricaine reste toujours l'un des pays les plus affectés par la pandémie du VIH et du SIDA en Afrique Centrale. Ainsi, la RCA à travers le ministère de la santé avec l'appui des partenaires veut relever le défi d'une génération sans SIDA en prenant en compte toutes les questions soulevées par cette pandémie et préserver le capital humain.
Il y'a des insuffisances dans le document certes, cela n'a pas empêché les députés d'apprécier le contenu du document contrairement à la loi 2006 qui a regorgé des lacunes et insuffisances relatives aux droits des PVVIH.
La pandémie du VIH/SIDA ne cesse d'enregistrer des conséquences sur l'économie nationale, la faible mobilisation des ressources financières pour la lutte, la stigmatisation et discrimination à l'égard des personnes vivant avec le VIH/SIDA, des faiblesses quant à la prise en charge psycho-sociale et juridique liée à cette pandémie.
Le Ministre Pierre SOMSE a mis l'accent sur les dimensions contenues dans le présent texte de loi entre autres le dépistage qui passe désormais de 18 ans à 12 ans, la prévention contre la maladie, la répression des discriminations qui pose un problème de droit et la promotion des droits humains.
« Le projet de loi répond aux attentes du Ministère de la Santé », a souligné le Ministre Pierre SOMSE.
Le directeur-pays de l'ONUSIDA, Cris FONTAINE, s'est réjoui de ce vote en ces termes : « Il s'agit d'une grande victoire pour les personnes vivant avec le VIH et les personnes à haut risque d'infection par le VIH. Les protections prévues par cette loi améliorent l'accès aux services liés au VIH. Il s'agit également d'une victoire de tout le peuple de la République Centrafricaine. Lorsque les gens ont accès aux services VIH, nous pouvons éliminer cette terrible maladie ».
Le directeur pays de l'ONUSIDA a précisé que le processus de mise en œuvre de ce projet de loi est de « s'assurer que la population est consciente de loi, de ce qu'elle dit, et pourquoi elle est importante. Ensuite projeter la prochaine étape qui consiste à s'assurer que des mécanismes sont en place pour appliquer la loi ».
Selon le coordonnateur national du Réseau Centrafricain des Personnes vivant avec le VIH (RECAPEV), Bienvenu GAZALIMA, l'accès à une alimentation équilibrée avant de prendre les Antirétroviraux (ARV) reste l'une des difficultés à surmonter. En République Centrafricaine, l'effectif des PVVIH est estimé à environ 88 000 personnes. Environ 54 000 sont mises sous traitement ARV selon le bureau-pays de l'ONUSIDA, a précisé le coordonnateur national du RECAPEV. « Les ARV sont disponibles certes, mais il faut une alimentation équilibrée pour pouvoir prendre ces médicaments ».
La situation des PVVIH en RCA reste toujours un défi concernant les violations des droits humains liées à la stigmatisation et la discrimination.