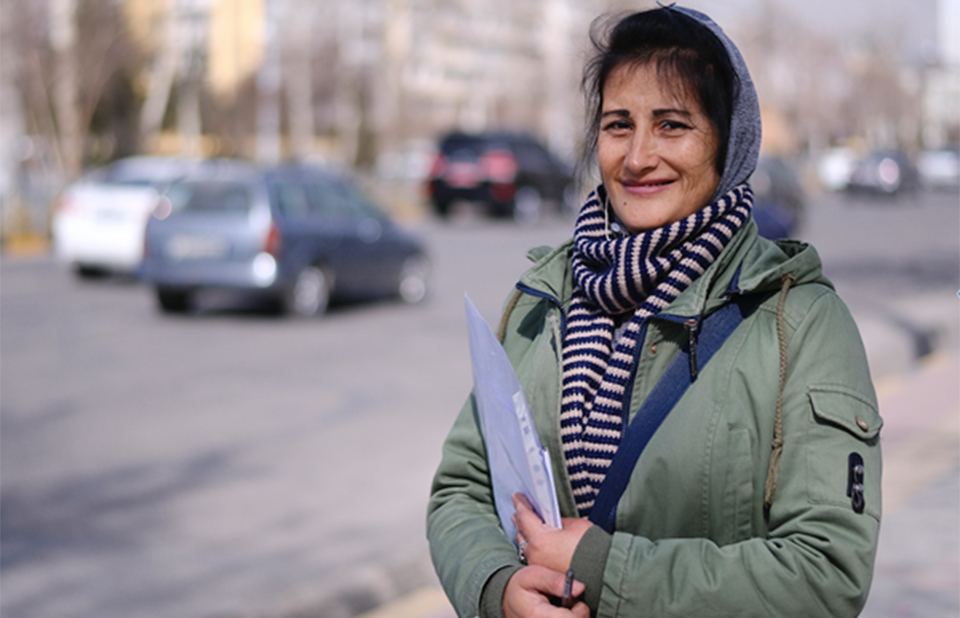 "An HIV diagnosis should not be a guilty verdict—it's just a diagnosis"
Nargis was born in Dushanbe, Tajikistan, into a large family. Life was not easy, and she was sent to a boarding school for low-income families. Her favourite subject at school was physical education, excelling at basketball and swimming. She hoped that after graduating from school in 1991 with a diploma in physical education she would continue her studies at a technical school.
However, because of unrest in the country, she couldn't carry on with her schooling. "I cried for six months, I really wanted to continue my studies, but instead of going to a technical school, my parents married me off. I was not yet 16 years old then," said Nargis. When she was 17 years old, she gave birth to a son; five years later, while pregnant with her second child, she learned that her husband was involved in drug trafficking, and he was sent to prison.
From that time on, Nargis had to provide for herself and her family on her own. She got a job in a casino. The earnings were good, but it was there that she started taking drugs. "I was a shy girl, so to make me feel relaxed, I used drugs. From there, I became a drug addict. I didn't even notice how it happened," she recalled.
She was eventually fired from her job because of her drug-taking and was forced to look for other ways to survive.
Nargis injected drugs for 14 years, but she started on opioid substitution therapy when it was made available in the country. "While I was on methadone, I was hired as a peer counsellor. I worked with drug users, with people living with HIV. I worked as a consultant in several HIV prevention projects," said Nargis.
Nargis remained on methadone until May 2021. "Last year, I had to stop methadone because I was sent to prison and there was no methadone in prison. It was very hard, I was in the prison hospital for several months, but as a result I got off methadone and, so far, I am holding on."
Nargis was imprisoned under Article 125 of the Criminal Code of Tajikistan, under which it is a criminal offence to infect someone with HIV or to put them at risk of HIV infection. Based on this article, law enforcement agencies initiate criminal cases against people living with HIV just on the basis of the potential threat of HIV transmission or simply just based on their HIV-positive status.
"I have been taking antiretroviral therapy since 2013. I have never interrupted it. I have an undetectable viral load. No one wrote a statement against me. I did not infect anyone. The accusation was made on the basis of a note from a man I knew, because we were dating," Nargis said.
The legislation does not take into account the informed consent of the other sexual partner, regardless of whether there was a risk of HIV infection, or whether the person living with HIV takes precautions against HIV transmission. In addition, the legislation does not define how someone living with HIV should declare their HIV status. In effect, all people living with HIV who have sex can be held criminally liable.
Nargis explained her shame, "Law enforcement agencies called everyone, doctors, my colleagues, relatives, and told them about my HIV diagnosis, asked what kind of relationship we were in, dishonoured me."
"Article 162 of the Health Code gives doctors the right to disclose the status of HIV-infected patients at the request of the investigating authorities, and does not contain any justification for this. Some criminal cases under part 1 of Article 125 were initiated after the HIV clinic disclosed information about HIV to law enforcement agencies. During the investigation and trial, the defendants' right to confidentiality regarding their HIV status is not ensured, since investigators, officials, court clerks and judges can request medical information in accordance with the provisions of the Health Code without any specific conditions," said Larisa Aleksandrova, a lawyer.
Nargis is now free, but she said that she was just lucky. "I was released under an amnesty in connection with the 30th anniversary of the republic."
She is out of prison, but there are still dozens of other people convicted under Article 125. Now that everyone knows that she is living with HIV, Nargis is ready to fearlessly fight for the right to live, work and love, despite her HIV status.
Nargis continues to work as a volunteer peer consultant on HIV prevention. She has many plans, but the main goal that she is striving for is the revision of articles criminalizing HIV in Tajikistan.
"I always say that there should be more information about HIV, about people living with HIV, so that they don't fear us the way they do now. Now everything has changed, there is treatment, there is prevention. An HIV diagnosis should not be a guilty verdict—it's just a diagnosis."
Most countries in the eastern Europe and central Asia region have criminal penalties and various types of punishment, including imprisonment, for concealing a source of HIV infection, for putting someone at risk of HIV or for transmitting HIV. HIV criminalization disproportionately affects marginalized populations, especially women. Women are more likely to find out their HIV status when accessing health care, such as for pregnancy, and are more likely to be criminalized and punished.
"We know for certain that laws that criminalize HIV are counterproductive, undermining rather than supporting efforts to prevent new HIV infections. We hope that by consolidating the efforts of governments and public organizations it will be possible to revise outdated laws in the near future, taking into account the latest data on HIV, which will allow people living with HIV, or those who are most at risk of infection, to be open in their relationships with medical organizations, to disclose their HIV status and use affordable medical services," said Eleanora Hvazdziova, Director, a.i., of the UNAIDS Regional Support Team for Eastern Europe and Central Asia.